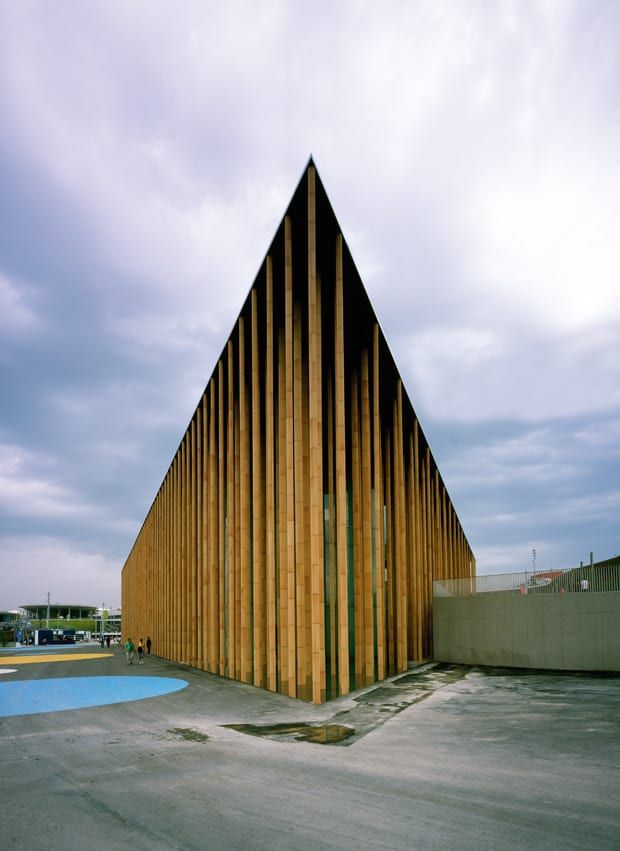 words Oliver Wainwright
A forest of terracotta columns surrounds the Spanish Pavilion at the Zaragoza Expo. The work of Navarrese architect Francisco Mangado, the building is one of the few highlights of this overblown extravaganza, a sober counterpoint to the chaotic frenzy of forms jockeying for position in the site's barren deserts of tarmac.
"This all came about when I was lying down on the back seat of my car," recounts Mangado, "when I saw how the light from the setting sun shone over a dense, geometrical, vertical forest of poplar trees."
The delicate austerity of this vast field of slender pillars creates a compelling haven of calm, drawing visitors across pools of water into the deep shaded area.
"It is a humble, simple material," says Mangado, who runs workshops in the use of ceramics at Harvard's Graduate School of Design, "but it can become very attractive, beautiful even, when it is handled intelligently."
The 750 columns support an impossibly thin roof studded with photovoltaic panels and water collectors. Down the road is Zaha Hadid's Bridge Pavilion, the expo's other highlight (icon 062).
---