words Johanna Agerman
A fibreglass church has been erected by the bay at Jyllinge on Denmark's Jutland island. It's a luminous volume in the open landscape. "From the distance it looks like polished cement and once you come closer it looks like marble. It isn't until you are really close that you realise that it's fibreglass," says Jan Søndergaard, principal of Copenhagen practice KHR and professor in architecture at the Royal Danish Academy of Arts.
He selected the material because he wanted a seamless link between the walls and the roof, so that he could concentrate on the form of the church, not detailing.
Søndergaard first visited the site seven years ago and decided to create a building that integrated the church with the surrounding terrain while still striving heaven-wards. One wall of the church opens on to the seashore and the aisle extends onto a platform outside, enabling ceremonies to be moved into the open air.
From the outside there is no indication that this is a church. There are none of the usual protestant symbols, although the skylights form a cross that can only be seen from above. "Although I haven't yet seen it myself I have been told that on foggy days the light from the church projects a crucifix on the sky," says Søndergaard.
The Jyllinge church council, which commissioned the building, supported the design from the beginning, but the locals were less enthusiastic. "They thought it was ugly and unchurchlike," says Søndergaard. But since opening in August it has gained in popularity. The first service had 650 people attending, 150 over capacity.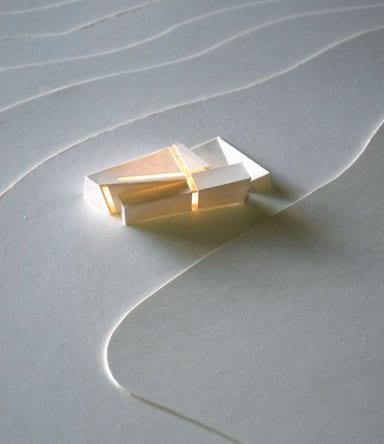 ---