Guangzhou Opera House. Photo by Iwan Baan
The 'Queen of the Curve' was a forward thinking architect whose work seemed more from the realm of science fiction than reality
The first and only woman to receive the RIBA Gold Medal and the first woman to be presented with the Pritzker Award, Zaha Hadid was a legend during her lifetime and has left a significant design legacy. When she died unexpectedly of a heart attack in March 2016, she left behind many unfinished and unbuilt buildings, as well as a multitude of innovative, unusual, often controversial, and much decorated buildings.
Most recognisable work includes the dynamic London Aquatic Centre, the Guangzhou Opera House – her first project in China, inspired by the pebbles in the river it sits beside – and the Heyday Aliyev Cultural Center, which won the London Design Museum's Design of the Year in 2014.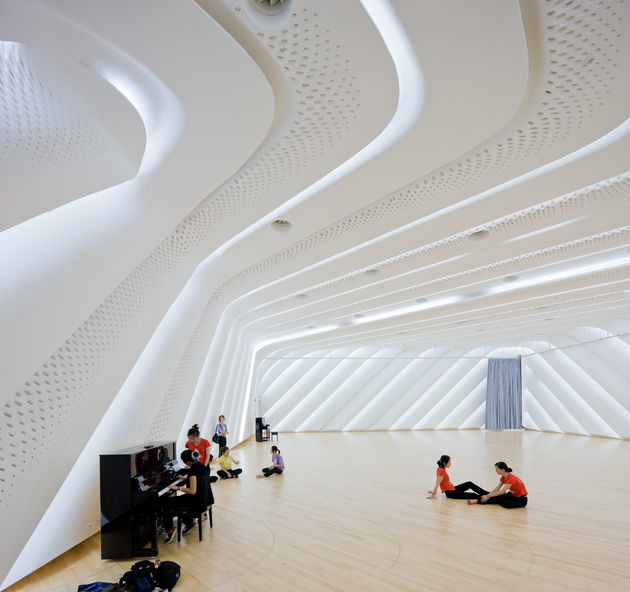 Guangzhou Opera House. Photo by Iwan Baan
Her work was a combination of architecture, design and urbanism. It spanned buildings, furniture, footwear, cars and even an almost absurdly sculptural tea and coffee set, and the rounded profiles of her architecture led to the Guardian giving her the title 'Queen of the Curve' after she died. She was famous for taking the world's toughest materials and manipulating them into soft, enveloping forms.
Hadid was born in Baghdad, Iraq, in 1950. She studied at the highly competitive Architectural Association School of Architecture in London where among her professors were Rem Koolhaas and Elia Zenghelis. Both recognised and praised her for being an outstanding student with an outlandish style. She went on to work with them at Koolhaas's OMA (Office of Metropolitan Architecture) in Rotterdam. She founded her own practice Zaha Hadid Architects in 1979 in London, and ran it with Patrik Schumacher. He still runs the firm today.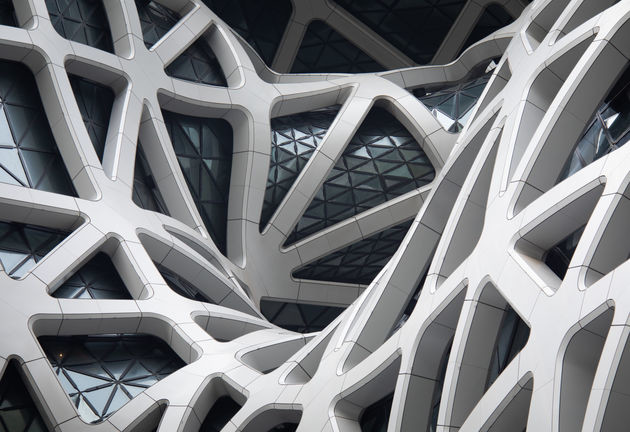 Morpheus Hotel in Macau. Photo by Ivan Dupont
In 1983, Hadid won a competition for a clubhouse in Hong Kong called The Peak. It was never built, but its distinctive design ensured her inclusion in the 1988 Deconstructivist Architecture show at MoMA in New York, alongside Frank Gehry and Daniel Libeskind. It is not the only conceptual piece of work she is known for: many of her unbuilt pieces were as illustrious as those that went into construction. Only a few years ago, her 'bike helmet' shaped Japanese Olympic Stadium was ridiculed and canned, though it is more recognisable than the round stadium that replaced it.
To say that Hadid's work was futuristic is an understatement. She redefined geometry in the built environment, intentionally brushing off the 90 degree angle as too boring and obvious and instead constructing radical buildings from diagonal lines and folding, dynamic curves. Her work was not always popular, in fact neither was she – she had a reputation for being having a quick temper and a harsh management style.
Heydar Aliyev Cultural Centre. Photo by Iwan Baan
Hadid's first major commission was the Vitra Fire Station in Weil am Rhein, Germany for the Swiss furniture brand Vitra. Though her later career was marked by pursuit of fluid lines, the fire station was one of the buildings from her "spiky" phase, and consists of sharp, diagonal lines in concrete and glass. Completed in 1994, the building served only briefly as a private fire station, before becoming an exhibition space.
After the Vitra Fire Station, Hadid continued to bring her abstract ideas to life. Many of her later pieces, like the London Aquatic Centre and the Guangzhou Opera House, were interpretations of natural forms and movement and featured undulating roofs and folding facades.
Vitra Fire Station. Photo by Christian Richters
Hadid taught architecture at several schools around the world, including the Graduate School of Design at Harvard University, the University of Illinois, Columbia University, Yale University and the University of Applied Arts in Vienna.
As well as the RIBA Gold Medal, which she received just the month before she died, she also won the RIBA Stirling Prize twice, one for the MAXXI Museum in Rome and again for the Evelyn Grace Academy. For more than three decades, Hadid's visionary work transformed the perception of what was possible with a building.
---