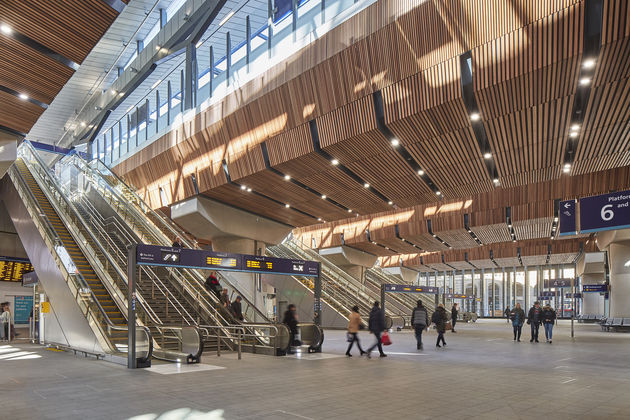 London Bridge Station by Grimshaw. Photo by Paul Raftery
This year's six shortlisted project vary widely in terms of scale and function
RIBA has announced the six projects shortlisted for the UK's best known architecture award. The list is one of the most diverse in years, spanning projects from a whisky distillery to social housing and including nominations for some of the biggest names in British architecture.
Grimshaw's transformation of London Bridge station could become the first major transport infrastructure project to win since Richard Rogers' terminal at Madrid's Barajas Airport in 2006. It's the notably different project in a list made up of cultural venues and housing projects.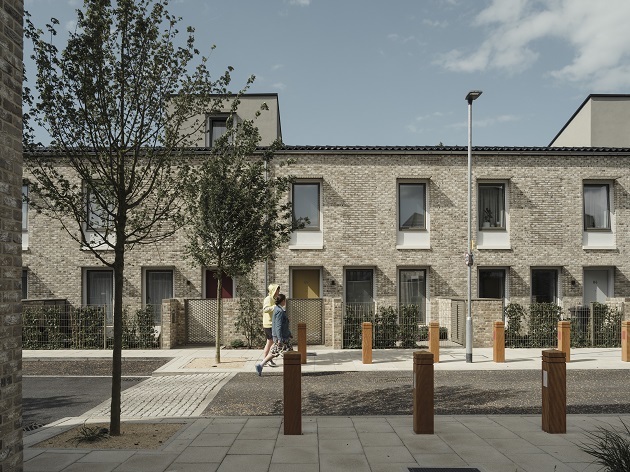 Goldsmith Street by Mikhail Riches. Photo by Tim Crocker
Every project on the shortlist has already gained a variety of awards, including regional RIBA awards given out earlier in the year. Both housing projects nominated won sustainability awards in their region: Mikhail Riches with Cathy Hawley won the RIBA East prize for Goldsmith Street, a group of seven terraces in Norwich built to Passivhaus energy efficiency standards, and Matthew Barnett Howlan, Dido Milne and Oliver Wilton won the RIBA South sustainability award for Cork House, a building made of structural cork that came from by-products of the cork industry. The project is especially notable for its low whole life carbon footprint and recycled materials that are designed to assembled by hand – moves towards lower carbon construction methods called for in the Architects Declare pledges on climate change.
Cork House by Matthew Barnett Howland. Photo by Ricky Jones
The three final projects are loosely linked by a common theme of culture and leisure. The Macallan Distillery and Visitor Experience by Rogers Stirk Harbour + Partners has the most unusual form of all the projects, with a swooping green roof becoming part of a landscaped walkway and the container for a visitor centre and technical distillery.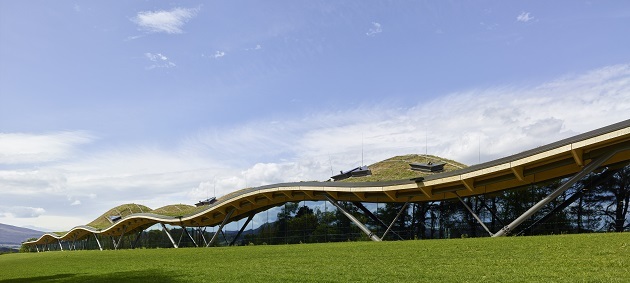 Macallan by Rogers Stirk Harbour + Partners. Photo by Mark Power
Feilden Fowles Architects are nominated for their visitor centre The Weston at the Yorkshire Sculpture Park that provides views across the park from a terrace and inside, under a timber structure, holds a cafe. Its 50m external wall, created using local aggregate is perhaps its most notable feature, stretching across two small hills and appearing to disappear into them.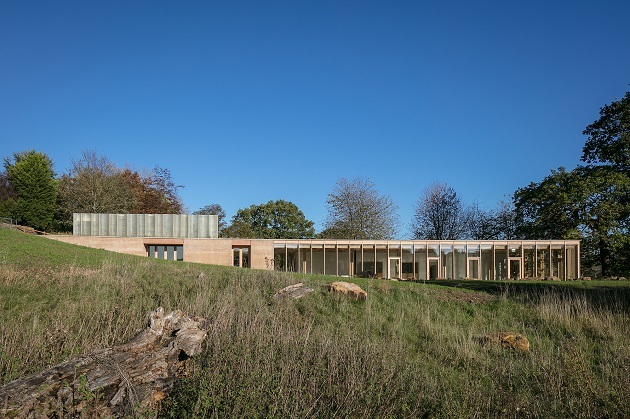 The Weston by Feilden Fowles Architects. Photo by Mike Dinsdale
Finally, Witherford Watson Mann Architects are shortlisted for the Nevill Holt Opera building, formed within a former stable block. The unusual performance space was created through a series of interventions in the space – the orchestra pit and stalls cut into the ground, for instance – and the foyer is formed our of the walled gardens surrounding the building.
Nevill Holt Opera by Witherford Watson Mann Architects. Photo by Hélène Binet
The full list offers the potential for less controversy than last year's prize, when the £1 billion Bloomberg headquarters by Foster + Partners won over a range of strong projects, including Jamie Fobert Architects Tate St Ives, which took decades to complete. The nomination of social housing this year has been particularly noted by architecture critics – such projects rarely win the top award, but Goldsmith Street's unusual model of appealing, energy efficient l social housing has gained much acclaim among critics.
The full list of nominees is:
London Bridge Station by Grimshaw for Network Rail
Goldsmith Street by Mikhail Riches with Cathy Hawley for Norwich City Council
Cork House by Matthew Barnett Howland with Dido Milne and Oliver Wilton for Matthew Barnett Howland and Dido Milne
Nevill Holt Opera by Witherford Watson Mann Architects for Nevill Holt Opera
The Weston, Yorkshire Sculpture Park by Feilden Fowles Architects for Yorkshire Sculpture Park
The Macallan Distillery and Visitor Experience by Rogers Stirk Harbour + Partners for Edrington
---