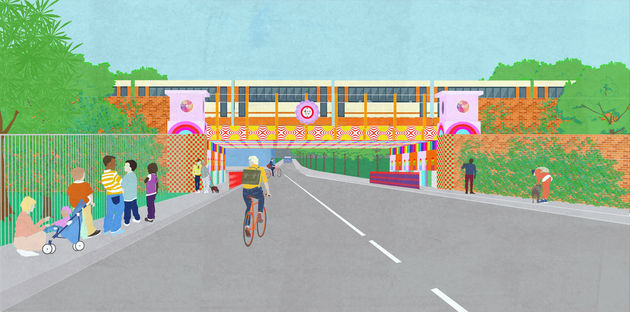 An image showing the concept for Happy Street by Yinka Ilori
The London Festival of Architecture runs throughout June. See our pick of the programme below
The London Festival of Architecture takes place across the whole capital throughout June, with over 400 events, installations and exhibitions open to the public. This year's theme is 'boundaries', from the literal, fences and walls, to the psychological and unconscious divisions between areas and people. The events are roughly divided between four hubs – London Bridge, Royal Docks, City of London and the West End – though studio openings happen in a different area of the city each week, with a range of practices opening their doors after hours to showcase their work, environment and expertise.
Here, we pick some of the most intriguing events at the festival from Lego-based building techniques to a happiness-inspired underpass.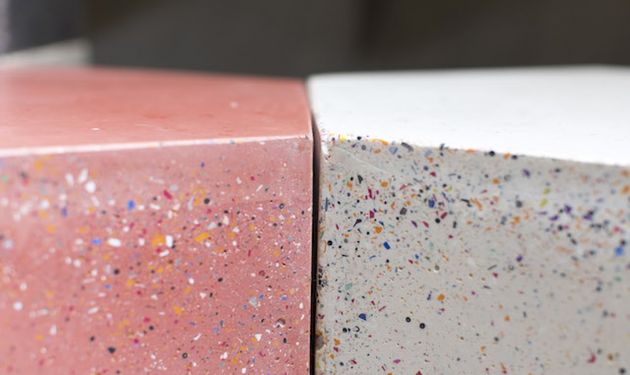 Detail from one of the benches in Cheapside designed for the London Festival of Architecture
Contemporary Cartography exhibition, 3 June-30 August, free
The Building Design Centre in central London plays host to an exhibition exploring contemporary mapping techniques and how they relate to design. It promises to engage with cartography as 'creative generative processes' and cultural tools that help us look at boundaries and environments in a different way. Among the areas discussed will be 3D mapping and scanning tools, including ideas pursued by ScanLAB.
Brutalism on a Human Scale. Post-war architecture by Leon Stynen, 6-30 June, free
One of the highlights of the festival is this exhibition exploring the work of Leon Stynen, a Belgian architect who designed buildings, interiors and landscapes in a brutalist style in the post-war period. The photos of Stynen's work and designs from his archive are accompanied by a sculpture exploring the human scale of Stynen's facades, all displayed at the brutalist Silver Building, a former brewery in the Royal Dock area. To attend the launch with a lecture, register for free here.
Charterhouse in London by Eric Parry. Photo by Dirk Lindner
Charterhouse Talk: Eric Parry RA, 13 June, £15
See Eric Parry discuss his work on the Charterhouse, a former monastery, boys' school and private mansion that is now an almshouse to provide support for older people. He completed a tk on the buildings in 2017 and will talk about the historical context of the work, as well as the social and architectural significance of the location. Book tickets here.
Yinka Ilori: Happy Street, 22-30 June, free
London-based artist Yinka Ilori has transformed an underpass in south-west London with colourful shapes and patterns inspired by the sunset over the Thames. The artwork, on Thessaly Road, around and under a railway bridge, was a joint commission by the London Festival of Architecture and Wandsworth Council and is accompanied by an exhibition at StudioRCA, exploring 16 'types of happiness' and featuring a range of bespoke chairs painted in different patterns by Ilori.
Playing with Lego at the Royal Academy. Photo by Agnese Sanvito
RA Lego Architecture Challenge, 23 June, 2-4pm, free
As well as a programme of talks looking at the architecture of inclusion and the difference between thresholds and boundaries, the Royal Academy is hosting a Lego-based challenge during its architecture family day. Three practices will compete to create a new structure using Lego around a known heritage site, explaining their processes around creating relationships between old and new while avoiding a harsh division between buildings and functions within the city.
---