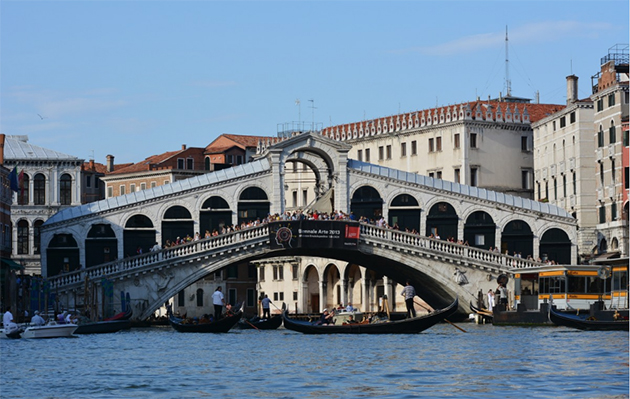 Connected by the loose theme of Freespace, this year's national pavilions were particularly eclectic.
Joe Lloyd

tours the highlights of the Venice Architecture Biennale 2018

Swiss Pavilion – Svizzera 240: House Tour

Switzerland's contribution came as a breezy delight. For Svizzera 240: House Tour, the country's pavilion has been divided into a labyrinth of rooms reminiscent of an unfurnished new build, all white-painted walls, and wooden tiled floors. Assembled by a team of young architects from ETH Zurich – Alessandro Bosshard, Li Tavor, Matthew van der Ploeg and Ani Vihervaara – its aesthetic was drawn from images of empty buildings taken from the websites of Swiss architecture firms.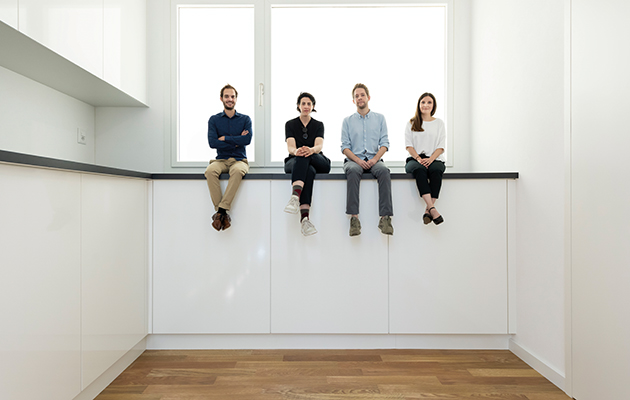 The Golden Lion-winning installation was designed by a team of young architects from ETH Zurich
As you walk in, the house seems conventional enough. Then, to your left, you encounter the building's first corridor, whose proportions and lay-out are perceptively askew. The further you venture within, the more things go wrong. There are doors you have to crouch to enter, windowless corridors that seem to terminate as soon as they begin, eerie prisons of tall glass windows that hover on the boundary of inside and out. There are echoes of the German artist Gregor Schneider's discomforting empty rooms, but Svizzera is less overtly melancholic.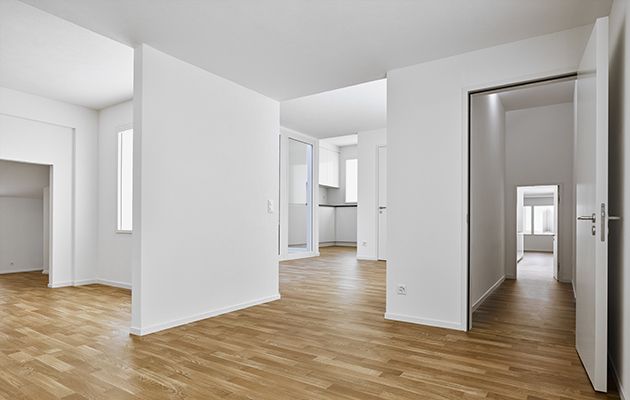 The aesthetic is derived from images on the websites of Swiss architects
It would be easy to reach for hyperbole, but much of the pavilion's deftness comes in its understatement. The design is a warping rather than a transformation of the show home, using small exaggerations and diminishments. The effect is not surreal but uncanny: there is little of the fantastical in these humdrum interiors. And as well as encouraging one to consider the mundane fixtures of contemporary domestic interiors, this shell of a building also captures the tenor of touring through architecture, of passing through rather than inhabiting. Foregrounding experience in an often text-centric national selection, Svizzeria 240 was a welcome dose of atmospherics – and a more than worthy winner of this year's Golden Lion.
Korean Pavilion – Spectres of the State Avant-Garde
In the early 1960s, the South Korean state established KECC: an architecture and engineering consultancy tasked with creating infrastructure for a country that, under the dictator Park Chung-hee, was pursuing a policy of industrialisation at all costs. Yet although KECC's pragmatic, utilitarian works played a significant role in the country's rapid economic transformation, its projects have not been properly chronicled or discussed. This year's Korean Pavilion, Spectres of the State Avant-Garde, represents a stab at rectification.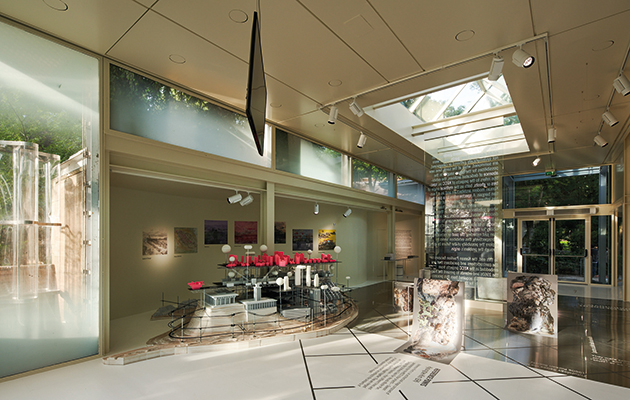 Installation view of the Korean Pavilion
At the exhibition's core is the Absent Archive, a collection of documents, photographs and assorted ephemera that trace KECC's incomplete projects: the mixed-used concrete megastructure Sewoon Sangga (1967), the 1st Korean Trade Fair (1968), the master plan for the island of Yeouido (1969), now Seoul's financial centre, and the pavilion for Expo '70 in Osaka. These four projects serve as the anchor to a series of creative responses to KECC's legacy – which, given the human cost and nationalist ideology behind them, remains up for debate.
Dream Cells by Jinhong Jeon and Yunhee Choi of BARE
The City of Radical Shift, by Sungwoo Kim of N.E.E.D. Architecture, is an enormous model of the Sewoon Sangga and its surrounding area. Red strings stream from the megastructure to unbuilt patches nearby, marking them out as worth transforming into public space. Another highlight is Dream Cells by BARE's Jinhong Jeon and Yunhee Choi, a honeycombed floating structure whose shape reflects the 'beehive' houses of Seoul's Guro Industrial District, where rooms would house up to eight workers sleeping in shifts. The structure, decorated with a timeline and the faces of the district's residents, can be collapsed and folded out: a bracing reminder of how workers are so often erased from history.
Finnish Pavilion – Mind-Building
Designed by Alvar Aalto in 1956 with the expectation that it would be a temporary space, the Finnish Pavilion is one of the Giardini's most compact. Yet Mind-Building is among this year's most expansive offerings. Curator Anni Vartola, a critic and scholar, has cannily taken the Biennale's theme of Freespace as an opportunity to delve into the history of Finland's public libraries – institutions that, open to all and devoted to fostering access to texts, could stake a claim as the ultimate 'Freespace'.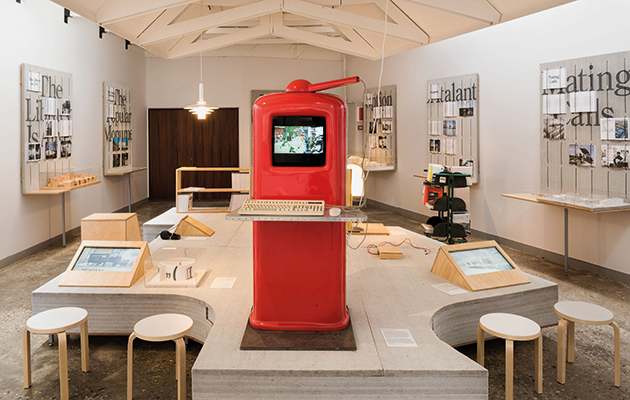 The pavilion has been turned into a library foyer, complete with issue desk
For the exhibition, Aalto's pavilion has been elegantly turned into a library foyer, with a central issue-desk-like unit surrounded by notice board-style displays tracking the history of, and trends within, Finland's public reading rooms. We begin in Helsinki, with Theodor Höijer's Neo-Renaissance Rikhardinkatu Library (1881), before embarking on a voyage through 16 further projects across the country. Aalto, as you might expect, features: it was the library in Viipuri (1935), now Vyborg, Russia, that brought him to international acclaim.
But there are also delightful relative obscurities, such as Reimi and Rili Pietilä's grouse-inspired domed structure in Tampere (1986) and Jyrki Tasa's constructivism-meets-pomo building in Kuhmo (1988). Some of the projects are more mundane architecturally, but interesting as sites of community gathering. Many of the older buildings have been handsomely refurbished in the past few years, indicating something of how much they are valued. The show closes with the Oodi Helsinki Central Library by AL_A, due to open this winter. Coming from a country that so often views libraries as an easy sacrificial lamb for council cuts, it's heartening, and a source of envy, to hear from a land where they are truly valued.
Dutch Pavilion – Work, Body, Leisure
While the Art Biennale can prove something of a tonal helter-skelter, moving from tongue-in-cheek spectacle to socially conscious lugubriousness, its architectural younger sibling tends towards earnestness. This year's manic, miscellaneous Netherlands pavilion was a pleasing exception.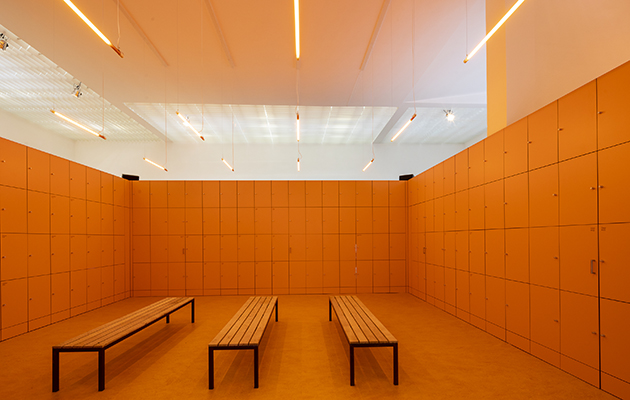 Orange lockers open to reveal secret rooms, windows, videos and images
Under curator Marina Otero Verzier, the central atrium has become a locker room in characteristic Dutch orange: a grid-lined form intended to reflect the country's status as a low-lying flatland, rigourously refashioned over the years for maximum productivity. It also evokes factories and gymnasiums, places where the body itself is transformed. Open the lockers, though, and a messier, more indeterminate world begins to encroach. Some contain documents and objects pertaining to the Netherlands' colonial enterprises. There are voyeuristic peepholes into other spaces of the pavilion. Others are doors to other places and times, like those in Herman Hesse's Magic Theatre.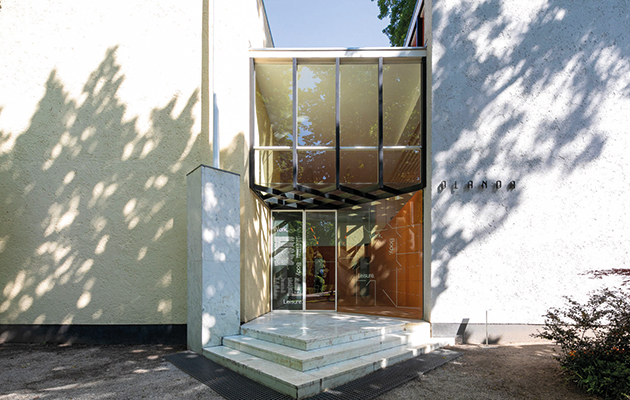 The pavilion was designed by Gerrit Thomas Rietveld in 1954
Each of these pocket realms tackles a different aspect of the relationship between the body and labour, and its future under automation. One leads to a replication of room 902 of the Amsterdam Hilton, where John Lennon and Yoko Ono staged a bed-in; the architectural historian Beatriz Colomina, who conceived this room, led a series of pyjama-clad conversations here on opening day. Another, by graphic designer Simone C Niquille, centred on a bouncy platform covered in frolicking inflatable figures modelled on the digital dummies now used to simulate workplace accidents. And a third, fascinatingly, tracks the spatial contortions of sex work. So various and dense is Verzier's pavilion that it could hold the seeds for numerous future investigations. That it achieves this with such sensory elan is remarkable.
German Pavilion – Unbuilding Walls
This year Germany continued scrutinising its own recent history, as it did with its migration-themed 2016 pavilion. Unbuilding Walls, timed to celebrate the 28 years that have passed since German reunification, which corresponds exactly with the time span of the Berlin Wall. Curated by Marianne Birthler – a human rights advocate, Green Party politician and official investigator into the crimes of the Stasi – along with the Berlin-based urban design studio GRAFT, it spotlights 22 architectural sites along the former borders of East and West Germany and East and West Berlin. With borders of various kinds recurrent in the present-day news cycle – Israel and Palestine, North and South Korea, the US and Mexico, Britain and the EU – this might be this Biennale's most timely contribution.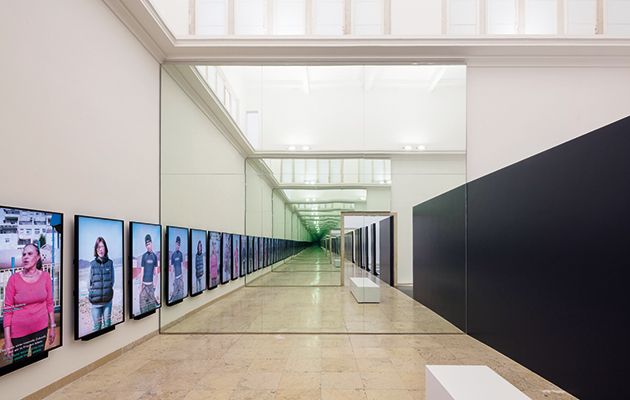 A video installation documents the voices of people who live in the shadow of walls
Upon entering the pavilion from the front, one appears to face a monolithic black wall, segregating the space into two halves. Move closer, however, and this vista fragments, revealing itself as a series of tall, gravestone-like panels, with shadowy tails painted on the floor behind each. It is a wall that has been shattered, albeit one that still survives as a gap-tooth remnant. Make your way through this morass, and you'll find images and descriptions of each project. These range from the familiar – Checkpoint Charlie, the Reichstag, Potsdamer Platz – to the more obscure, such as a colony of allotments in Treptow.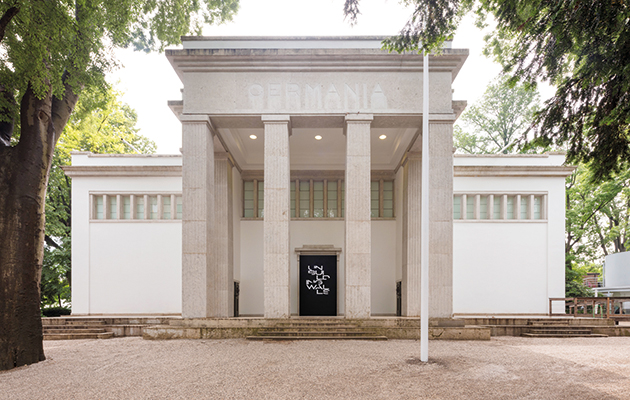 The German Pavilion, designed by Daniele Donghi (1909) and Ernst Haiger (1938)
Outside Berlin, the pavilion tracks the Brockenhaus museum atop northern Germany's tallest mountain, the demolished village of Jahrsau and Mödlareuth, a small settlement that was itself sequestered like a miniature Berlin. Throughout, the exhibition returns to the paradoxical nature of walls as both protective and exclusionary, and to the wounds that remain.
Honourable Mentions
Some of the most intriguing pavilions this year were those where the exhibition was not the only, or even ultimate, outcome. The Irish Pavilion, Free Market, focused on the regeneration of the country's ailing market towns and presented its ideas in a convincing and thorough pastiche newspaper – a welcome relief from wall text. The Czech-Slovak Pavilion, Venice's only shared national space, showed a livestream of the Bohemian city of Cesky Krumlov, a UNESCO World Heritage Site swamped by tourists.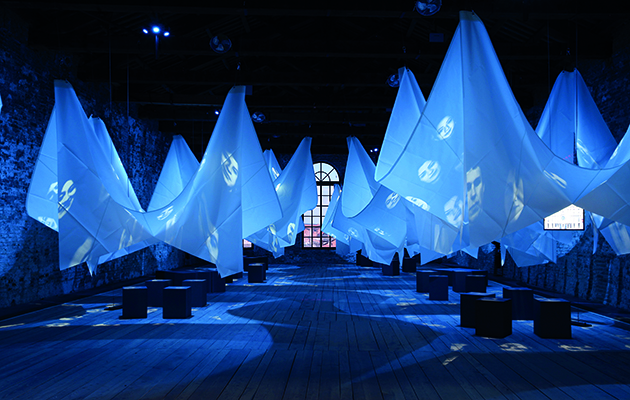 Turkey's sail-cloth installation featured student talks
The curators' scheme asked residents to reclaim the streets, whether by sweeping up, playing ball games or having a picnic: an apposite show for Venice. Turkey, whose sail-cloth based installation was the year's most beautiful, dispensed with texts and exhibits in favour of talks and workshops by international architecture students.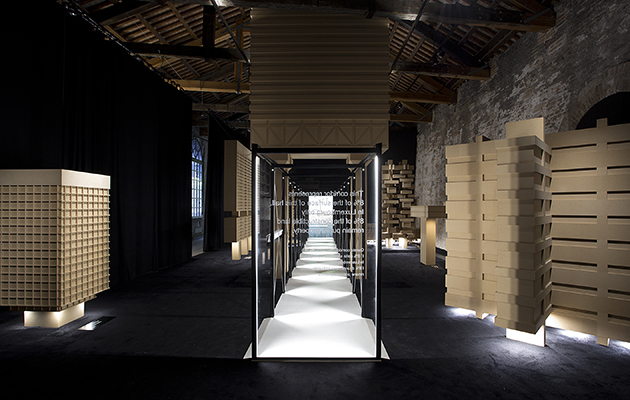 Luxembourg critiqued the poverty of its public space
It's always interesting to see how countries represent themselves. Both Saudi Arabia and Luxembourg thrummed critical: the former for the fragmented, car-heavy sprawl that chokes its major cities, and the latter on its country's poverty of public space. Greece effaced itself with a theatre-like stepped space displaying models of 56 educational buildings from around the world. At the other end of the scale, some pavilions felt fit for a tourist brochure.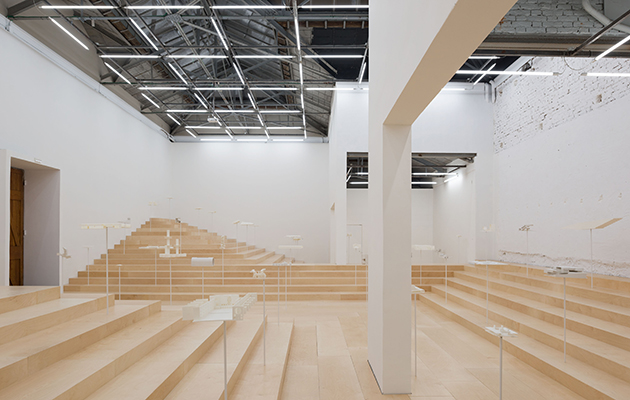 Greece examined the architecture of academia
Station Russia, though abounding with patriotic Romantic music and an encomium of its countries' railroads, was fascinating enough to swerve this. Its final room – a video tracking a journey along the Trans-Siberian Express – entranced.
Ireland explored the regeneration of its market towns
Away from the Giardini, the Vatican, with its 10 chapels by Souto de Moura, Foster, Radic, and others on the island of San Giorgio Maggiore, provided literal and figurative fresh air. And, on neighbouring Giudecca, the art centre Spazio Punch provided a profane counterpoint with its Cruising Pavilion, a red-lit dungeon exploring the spatial environments of cruising for sex, from public toilets to bathhouses. In its call for architects to embrace rather than suppress the insalubrious, it may be the most rousing pavilion of all.
The 16th Venice Architecture Biennale, Freespace, runs until 25 November 2018
---