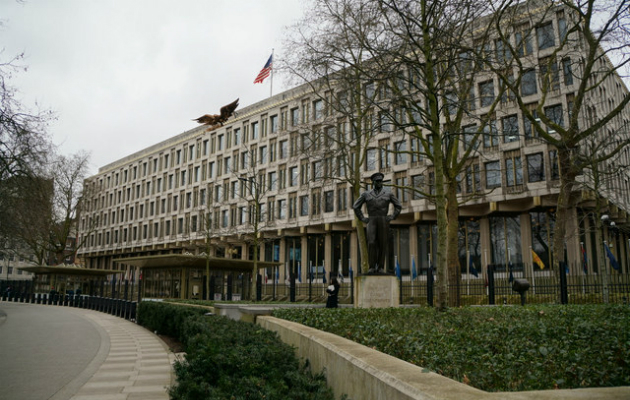 The US embassy's move to Battersea reflects the country's standing in the world, writes
Peter Smisek
Buildings may or may not have the power to convey any explicit messages in their own right – but the location of an embassy is apparently, still, 'yugely symbolic' as some might say. It turns out that the old developer adage 'location, location, location' is even more important, when it comes to building diplomatic ties and trying to impress foreign governments, than with other real estate.
Take the former American embassy in London: a gilded midmod extravaganza by Eero Saarinen that took up a whole side of Grosvenor Square in the middle of Mayfair, Or, as the US President tweeted in his inimitable style, 'the best located and finest embassy in London'. Incidentally, the UK version of the Monopoly board agrees, making you wonder if that's where Trump's knowledge of Prime Central London comes from. Sadly, neither Wandsworth, Nine Elms, Battersea nor Vauxhall – the neighbourhoods one might reasonably name as the location of the new US embassy – are to be found on the board. Sad!
And so the almost elegant glass-cube by Kieran Timberlake stands stranded on what is very much the wrong side of the Thames in real estate terms, surrounded by dreary New London Vernacular high-rises that, at least if current reports are to be believed, might not actually find buyers any time soon. If that wasn't enough to make you despair, the hoardings proudly declare: "London is our city, Embassy Gardens is our home, Eg: life, captured on Instagram".
Still, at least the tube extension is underway, which, as any Londoner knows, instantly makes at least a 'somewhere' out of a previous 'nowhere'. Not exactly a ringing endorsement of a glamorous locale, but it could be worse.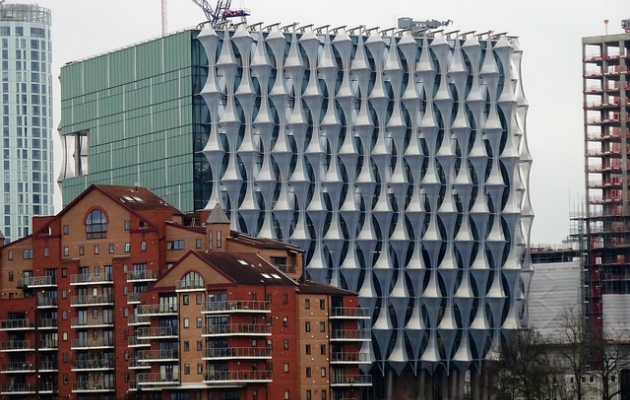 US Embassy in Battersea under construction, image courtesy of David Holt, CC 2.0
If US embassies once purported to be proud beacons of democracy designed by the country's finest architects, rightfully taking their place among the finest buildings of various global capitals. But with the US continually flexing its muscle on the world stage, the backlash against its symbols abroad began to become increasingly violent. Now, embassies hide behind layers of security measures: fences, soft landscaping, bollard-hedges, moats (though regretfully without sharks or crocodiles) and whatever else they can reasonably call street furniture. You can dress these up as nicely as you like – and the Embassy Perimeter Improvement Concepts and Design Guidelines document published by the US Department of State does present a number of attractive options – but ultimately a moat is a moat, a 3m fence a 3m fence, and soft landscaping is not a workable solution in densely urbanised areas. And so embassies move out to an off-location where there's room to spread out, hunker down and pull up the drawbridge.
The same thing happened in my adopted home town, The Hague. Here, the American embassy stood in the city centre, flanked by the country's High Court, across the street from the Ministry of Finance and the Royal Theatre. The Dutch parliament itself was about 5 minutes' walk away. The building was located on one of the grandest green spaces in town, its rather forbidding appearance courtesy of Marcel Breuer. But in the early noughties, a tall fence and a couple of supposedly temporary police boxes appeared. A few years later, it was concluded that even with this new, wide, unwelcome and unwelcoming perimeter, the embassy simply had to move somewhere with enough space to construct a new Fortress America. Opening later this year, the disappointing edifice is somewhere along a trunk road in Wassenaar, a leafy, but a rather bland suburb. Its immediate neighbour is a gardening centre. The bigger you are, the harder you fall…
The United States, after being the world's sole superpower for the last 25 years, seems unsure about continuing to play this role, hence the spectacular shock of the 2016 election. There are contradictions, of course: Trump wants to put America first, but cannot stand the inevitable the loss of the country's special status – he wants to have his cake and eat it. It's not a process that began with him: it was the Obama administration that sold off the Saarinen building to the Qatari Diar to be turned into a luxury hotel.
If those heady days of seemingly benign neoliberalism continued unbroken, president Clinton would have cut the ribbon in January and spoken about how the US embassy has relocated to a new centre of an open, cosmopolitan London, and how her country is dedicated to making the world a better place – just like the embassy's presence makes Battersea Nine Elms a better place. It may have rung hollow, particularly given how grim Battersea remains, but at least the message would have been positive.
But that's not the world we live in – Trump, rightly anxious about America's place in a newly emerging multi-polar world, lashed out to avoid any suggestion of his responsibility for the country's slowly diminishing international standing. The move of an embassy is only charged with meaning because of the convergence of international politics and the anxieties (or aspirations) of its proprietor. The new US Embassy is off location – but this perception is shaped as much by the president's insistence that this is the case as by its exclusive but ultimately drab and speculative surroundings. There is a small silver lining however: this should be a call to arms – both for our cities and for our politics – to develop a more grassroots, inclusive and positive version of both.
---