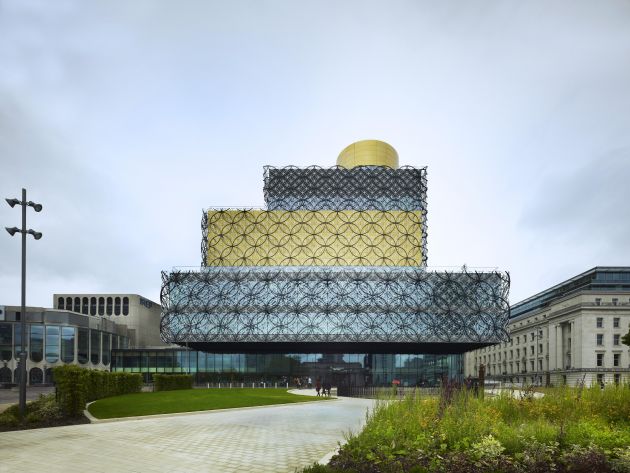 The Library of Birmingham was designed by Dutch architecture studio Mecanoo as a palace for the people, where anyone could access information and culture
Design by Dutch interdisciplinary architecture and design studio Mecanoo, the Library of Birmingham is the largest public library in Europe. The architects described it as a 'palace for the people', where anyone can come to learn, access information and experience culture in a way that unites people across ages and backgrounds.
It incorporates a rooftop garden, a sunken amphitheatre and a shimmering metal facade. The structure itself is comprised of four volumes stacked on top of each other to create terraces and shaded canopies throughout the library's vertical landscape. Mecanoo's design extends beyond the walls of the building and out onto the street, creating public space. The library building sits between a 1930s building and a 1960s theatre.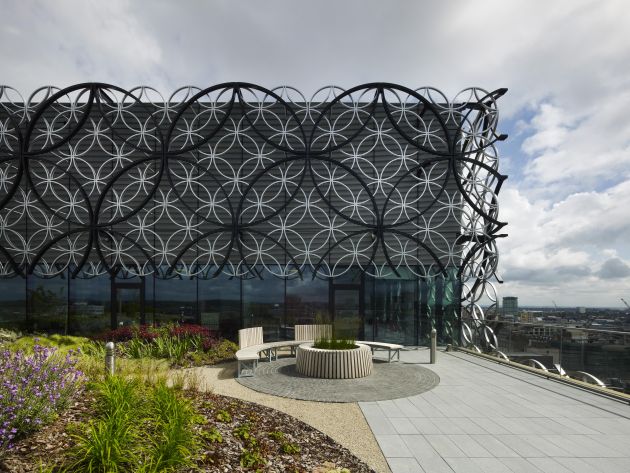 The building's cantilevered volume provides shelter around the entrance and also serves as a grand balcony. Inside, the library has various different reading rooms and research spaces.
Interlocking rotundas guide visitors from floor to floor whilst providing light and ventilation. As visitors climb upwards, they can enjoy changing views as they move around the circles.
The facades are covered with a skin of interlocking circles, inspired by the metalwork traditions of Birmingham and the city's jewellery quarter. The patterns sit in front of bright facades of gold, silver and glass. The metal screens also cast shadows on to the floors of the interior spaces, and these change throughout the course of the day, varying depending on the season.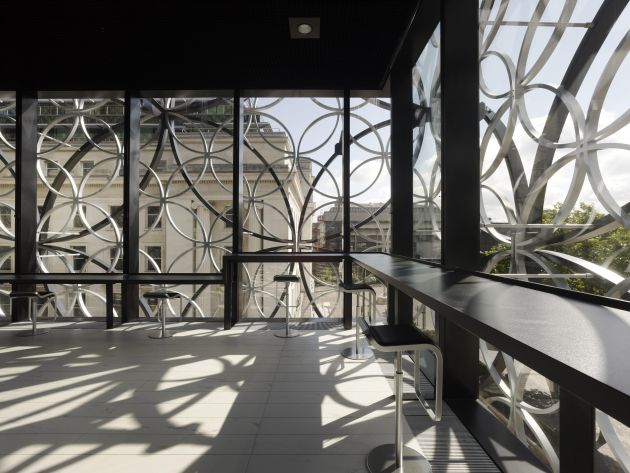 On the rooftop there is a dedicated space for the Shakespeare Memorial Room, dedicated to the library's collection of the works of William Shakespeare, one of the world's largest. The room itself, which was orginally created in 1882, has been relocayed from two former library buildings.
The stacking volumes allow for the creation of outdoor terraces on different levels. The lower volume creates a terrace that looks out over Centenary Square, and is the most public of the gardens. The rooftop features the intimate Secret Garen, with sloping flower beds that mimic the contours of the city. The landscaping and flowering plants aim to create reading spaces for visitors outside as well.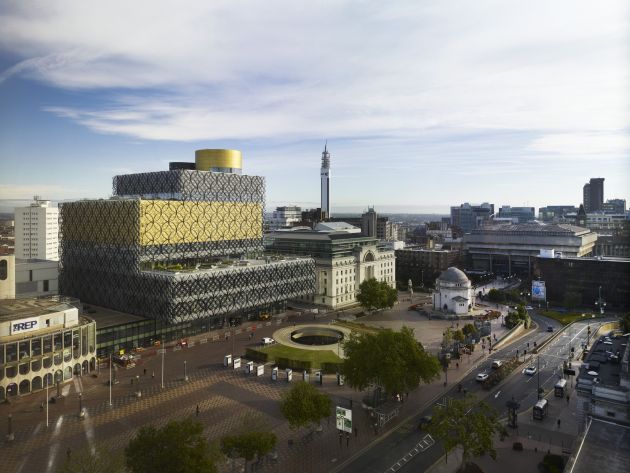 At the lowest level the library extends out underneath Centenary Square, where the architects have created a sunken courtyard that acts as an amphitheatre.
Mecanoo is a multidisciplinary office with a team that includes architects, engineers, interior designers, landscape architects, urban planners and architectural technicians.
All images by Christian Richters courtesy of Mecanoo.
---