The Elephant Study Centre in Surin Thailand, completed in 2015
With the Royal Academy's 2019 Dorfman Prize, the Thai architect Boonserm Premthada has received the recognition his exceptional talents deserve, says Tim Abrahams
There is real visual verve in the work that Premthada has done across Thailand in the last decade, but there's also something more profound at work. The way in which he grasps the potential of materials is a sign of solid architectural skills: be it the undulating facades of the Kantana Film and Animation Institute (2012), made from handmade brick; the resin-clad, plywood waffle and PVC curtain of the Wine Ayutthaya (2017) in central Thailand; or Code House (2012) in Bangkok, where Premthada has conserved the original structure and added a steel and glass louvred facade, allowing in natural light and improving air circulation. These innovations are not aesthetic whimsy, but products of Premthada's sympathy for the processes of construction and, above all, the builder.
'I came from the working class,' he says. 'Builders are often regarded as labourers and I want to lift them up as artists through my works. I tell them that no matter how others see them, to me they are artists. Together, we can show the world that humans are equal. We just have different roles.' Raised among blue-collar workers in Bangkok's Bon Kai district, Premthada is the son of a carpenter: 'I was always told that I had to measure twice before cutting a plank of wood because if we make a wrong cut, the plank must be discarded. I was familiar with making wooden buildings from when I was born, whether it was a house, a school, a market, a boxing stadium, or the bridges of my neighbourhood.'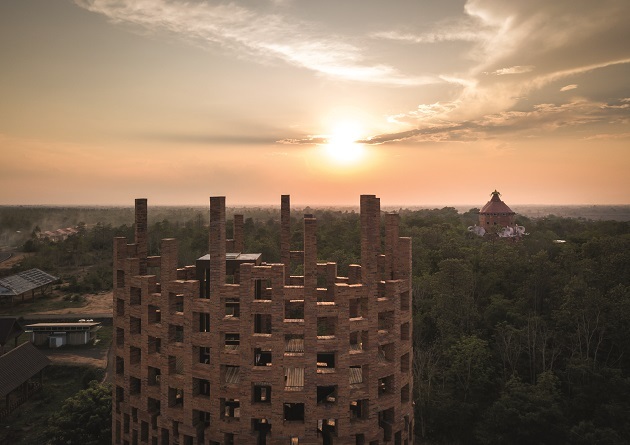 The Elephant Study Centre includes a brick observation tower for visitors
Born in 1966, Premthada began his formal studies as a young adult at a vocational school in Bangkok, majoring in technical architecture, before doing a bachelor's degree at Silpakorn University, where he learned about aesthetics. To complete his entirely Thai education, he then did a master's degree in architecture at Chulalongkorn University, where he says he learned about research methods and how to organise his ideas. And yet, as we see in his work – the astonishing tectonics in plywood and brick of the Elephant Study Centre (2015) in Surin, for example – there is an attempt to shrug off all preconceptions and create something utterly new.
The Elephant Study Centre has few analogies in contemporary architecture. From a completely different starting point, its pavilions arrive at a similar place to Swiss architect Valerio Olgiati's shelter at the beginning of the Pearling Path in Muharraq, Bahrain, completed earlier this year. The observation tower is without parallel in contemporary architecture, and has more in common with Bruegel's painting, The Tower of Babel. Although the use of brick at the Kantana Film and Animation Institute is redolent of Bijoy Jain's work with Studio Mumbai (such as Ahmedabad House, completed in 2014), Premthada's handling of it is more structurally daring. Brick's versatility as a sculptural medium may have been revealed by Louis Kahn with the National Assembly Building in Bangladesh, but again Premthada uses the material in a more expressive, demonstrative way than Kahn's sombre, monumental approach.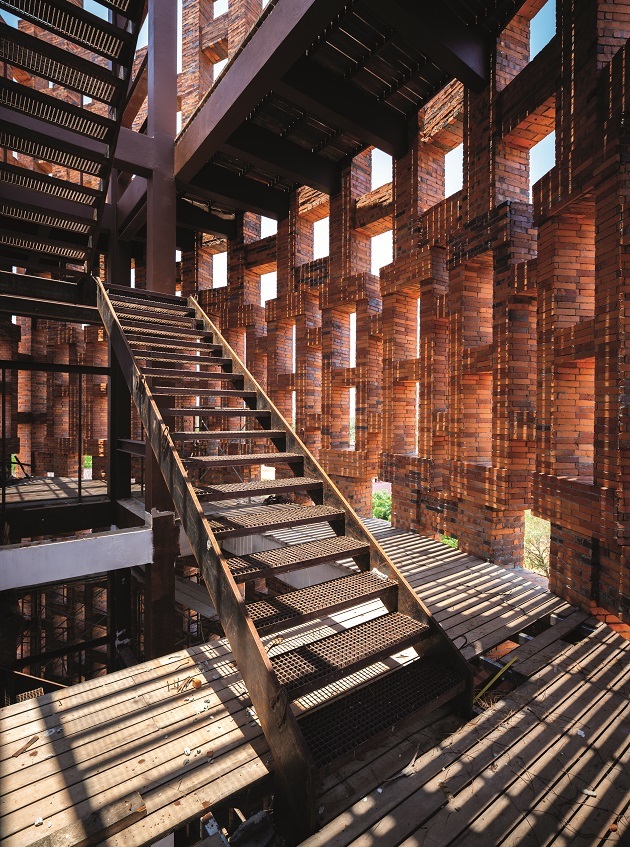 Inside the Elephant Study Centre tower
Premthada is embedded in the construction culture of his country. 'In Thailand,' he says, 'handmade bricks have the same price as machine-made bricks.' Although they take longer to produce, he says the handmade bricks have a more natural tone and feel. 'We can find brick factories, from a 400-year-old community factory to a large factory with machines, in every region of Thailand.' He uses bricks from both community-run factories and industrial factories that are close to the construction site, both to save costs and to generate income for locals. 'My work stands between the industrial system and the community business.'
Some of the singular qualities of Premthada's work derive from new typologies – there aren't too many elephant sanctuaries out there to copy, after all. But even with more established forms, his work still eschews pre-existing models from the West, or indeed the East. 'I try to find a way that is free from what I learned,' he says. 'Sometimes, to come up with an original idea, we may have to forget what we have learned. In school, I studied the guidelines and paths of famous architects. Now, I am trying to learn from buildings that are not designed by architects, but ordinary villagers.'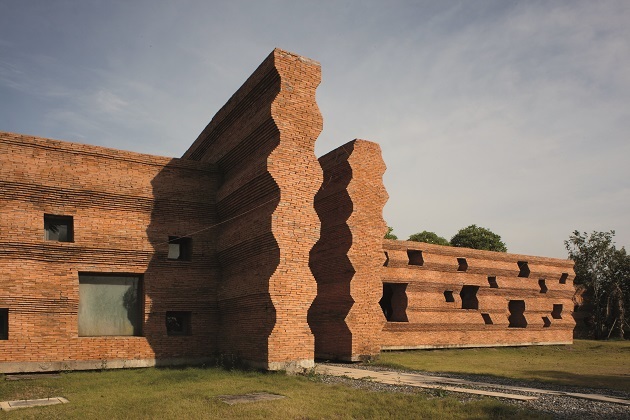 The Katana Film and Animation Institute in Nakhon Pathom was made with handmade bricks
While recognition from the Royal Academy and the steadily growing interest in Premthada's work outside Bangkok will certainly have an impact on his career in the future, for now he is interested in refining what architecture can do for Thailand. On the slate are projects like the Sawangkanives Mangrove Forest Conservation Learning Centre for the Thai Red Cross and Samut Prakan Province. This is exactly the kind of project that he believes architects can add value to. 'I believe that we can stimulate tourism, create jobs, generate income, and help locals become self-reliant by building small valuable buildings that they are proud of in rural areas,' he says.
Kate Goodwin, the Royal Academy's Drue Heinz curator of architecture, contends that, although his example operates locally, it has a broader appeal. 'Boonserm Premthada shows how architecture can be in harmony with nature and attuned to a way of life specific to a place and people,' she says. 'He uses materials with a deftness that offers an experiential richness and delight.' As to the long-term future, Premthada has no specific plans. 'No matter what happens, I will continue to do what I believe,' he says.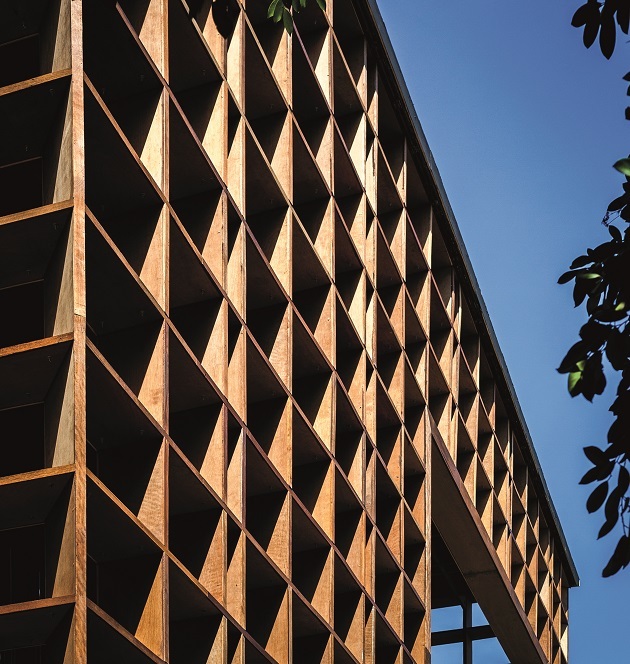 The Wine Ayutthaya has a facade made of PVC and latticed plywood
This article originally appeared in Icon 195, the September 2019 edition. Get your copy here
---