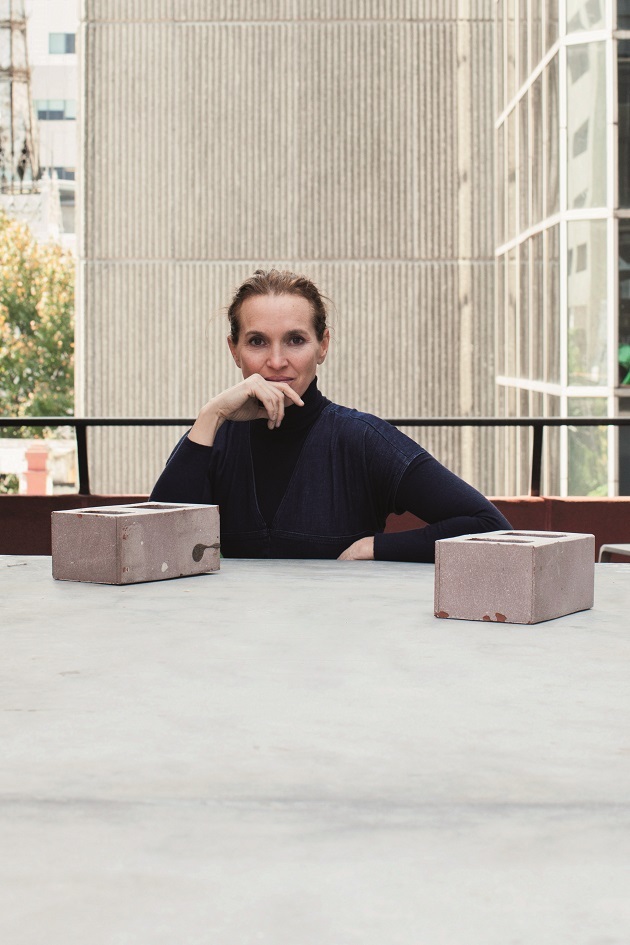 Tatiana Bilbao. Portrait by Ana Lorenzana
Priya Khanchandani speaks to Tatiana Bilbao about her take on housing and her high expectations of architecture
Tatiana Bilbao, a Mexican architect known for her human-centred approach, set up her practice, Tatiana Bilbao Estudio, in 2004. In Mexico, her diverse range of work has included a botanical garden in Culiacán, an open chapel in Jalisco, the Tangassi Funeral House in San Luis Potosí and a sustainable housing prototype costing just $8,000.
Her work has been collected by institutions such as the Centre Pompidou in Paris and the Art Institute of Chicago. Bilbao's accolades include the Global Award for Sustainable Architecture from the Locus Foundation and earlier this year, the Marcus Prize.
In this interview, Bilbao explores her malleability as an architect, the relationship between architecture and the environment, and a way of working that prioritises the occupants.
Priya Khanchandani: You have quite a varied practice, from a botanical garden to a house on a wooded mountain. How do you adapt to the different context that you work in, both ecologically but also geographically, given you are operating across different continents?
Tatiana Bilbao: I think that that's one of the challenges of our work, and I think also its richness. We have had the opportunity to work in super different contexts. I always say we have a range of work from a botanical garden, where you could say life starts, to a funeral house, where life ends.
PK: One of the things that has struck me about your work is its relationship with nature, from Ventura House, which grows out of a hillside, to a multistorey building that's inspired by a tree. How do you interpret the relationship between architecture and nature?
TB: It's vital. I think it's a relationship that we should understand better. If we did, we would probably have better conditions for living, all in all. I think that the idea of understanding nature, or architecture, should be changed to the idea that there's an in-between dialogue that is very important. And that's what we try to search for: an architecture that can dialogue with nature in ways that would then allow them to coexist in the best way possible.
PK: One project I'd heard about was your low-income housing solutions for Mexico as part of your Chicago Biennale intervention. Reflecting on that work, how do you think we can better design buildings with small budgets and affordable materials to solve the housing crisis?
TB: Again, it's very difficult as there's no one solution for all. The other day I read 'one size fits all ends up being one size fits nobody'. That's exactly what I think of the housing situation. So we didn't want to propose a final solution, but a platform that could become a solution for more people. Not for everybody, but for more.
It's modular housing to start with. So the programme is not completely designed. If you want to have your kitchen on the exterior because your social way of cooking is to cook outside, you can have it. But if you are more embedded in modern culture, and the contemporary idea of living where you have your kitchen integrated into the living space, or maybe no kitchen at all, you can also have that.
Our house proposes an idea of you choosing how you live. Do you want to have a kitchen? Maybe you don't. You want to have two floors? You can have two floors. You want to have one bathroom? You have one bathroom. You may not want to have bathrooms because in your rural area there's no sewage system, which happens very often.
You need the flexibility not to have a fixed house with two bedrooms, and one bathroom, and kitchen, one living space. That model doesn't always fit a family that is trans-generational, or mixed families, like kids from different marriages, or if you're living alone, or if you have a different type of partnership.
Read more: OMA's Ellen van Loon on avoiding 'macho' architecture
PK: When you're designing that sort of modular housing, what kind of precedent have you looked to as inspiration?
TB: I think that for us inspiration came from many things. We were told that a programme already exists in the government which had more than 100 models out there that can be built by anyone. My first hesitation was well, if there are more than 100 models, what could we add to that conversation? Also, there was so little money in it in terms of building a house, so what would we build?
I realised that we could really contribute something to the discussion if we were able to produce a project that would really be more flexible, would be more adaptable to social and cultural situations and to the conditions of people choosing their way of life. And adaptive to materiality, climate, in certain situations.
At the beginning, we started thinking of modular housing. We were very inspired by Jean Prouvé and these modular houses that can be built anywhere. Then we realised that we were not really thinking about the people who were going to live there. So we went out there and interviewed those people. And surprisingly enough, everybody said that their priority was for their house to look like a finished house.
I thought that this was because most people had this ideal life dream, like the American dream of living, because of media. But then I understood that people wanted a house that looks like a house because Mexico is full of houses where structures remain as concrete blocks, with no paint, with steel bars, wanting to have another set of bricks on top.
PK: From your experience in architecture education, as a visiting professor on the one hand, and your experience talking to the actual users of architecture on the other, do you feel there's a disconnect between the way architecture is taught and the way that we, as everyday people, perceive it?
TB: With no doubt I think there is a big gap. And the main problem is that architecture has lost the capacity to understand that we have a very important task to tackle. Architecture could represent the tools to tackle the second most important need of a human being, which is having a refuge. We are not animals that can survive just in the wilderness, you know? That is what architecture could be.
To read the full version of the article, pick up a copy of Icon 193, the July issue
---