The low-carbon FarmED project by Timothy Tasker Architects educates communities on the role of regenerative farming in tackling climate change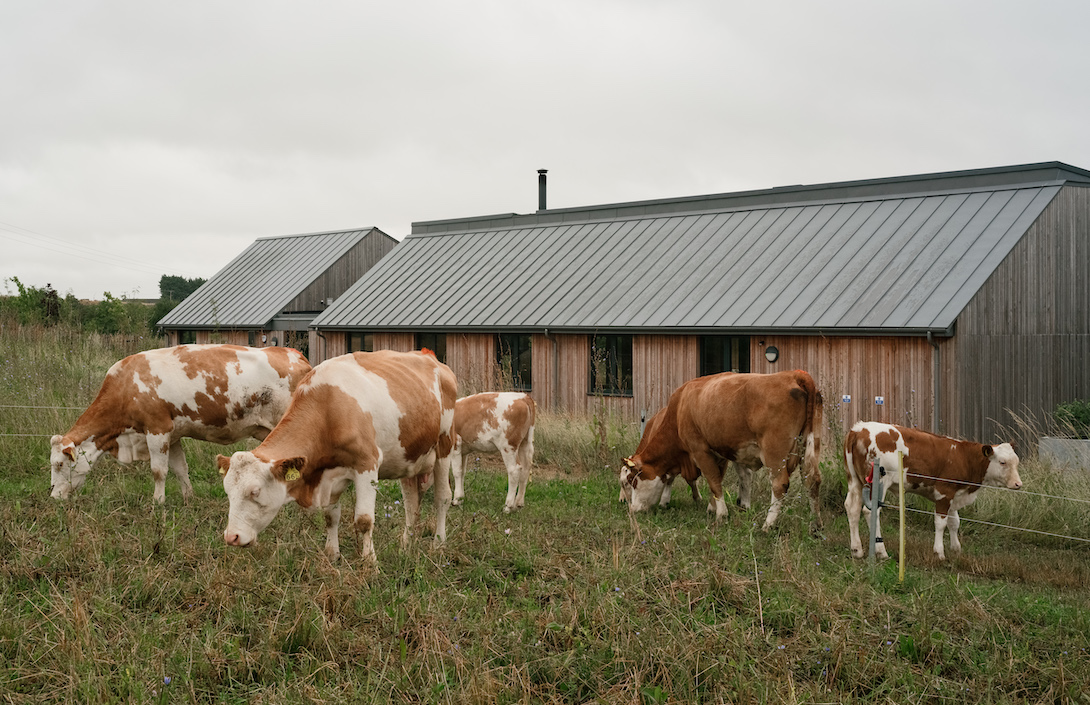 Timothy Tasker Architects has completed FarmED, a sustainable farming education centre at Honeydale Farm in the Cotswolds, UK. The 1,266 sq m project – comprising three timber barn-like buildings arranged around a central courtyard – works to educate communities on the role of regenerative farming in combatting climate change.
The buildings and courtyard – modelled on traditional Cotswolds farmsteads – were mapped out using the golden ratio to create harmonious proportions, while their orientation and pitched roofs were designed to shelter and protect the centre from strong winds. Paved paths beneath deep eaves connect the three buildings which open onto the wildflower meadow in the courtyard.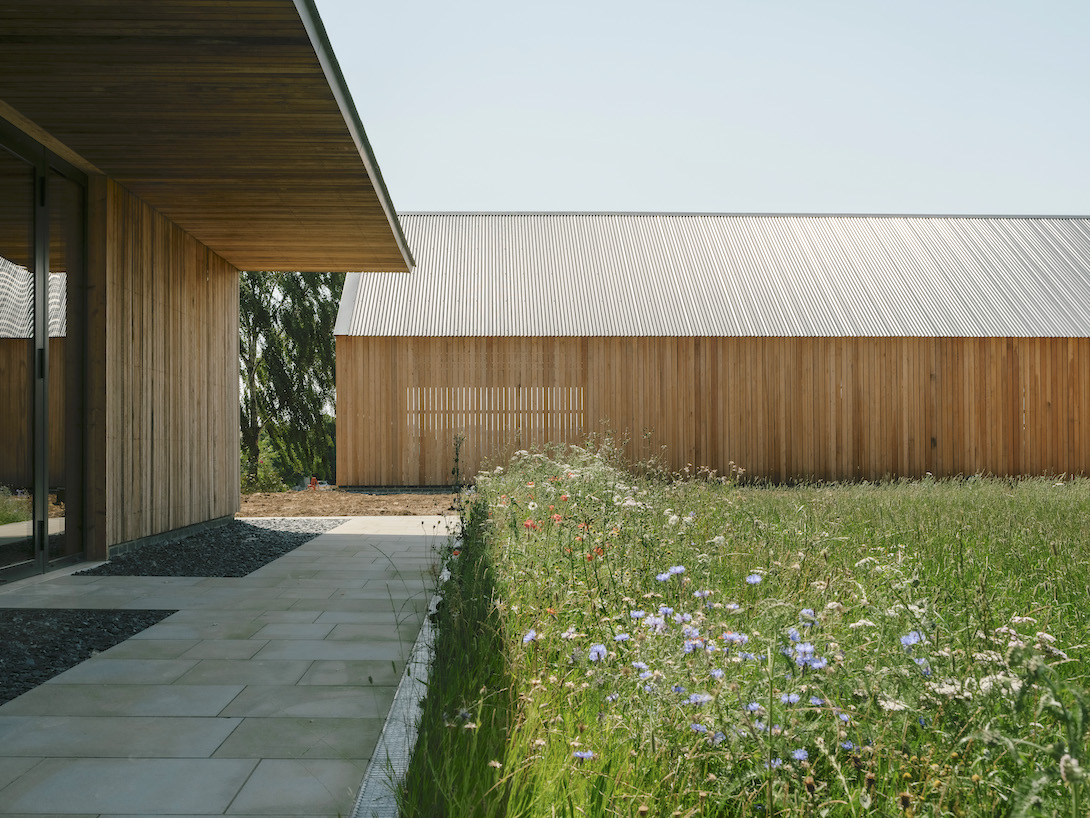 One building is dedicated to flexible space for community and educational events; another is home to FarmEAT, a dining hall complete with catering kitchen, which will be used to educate people about local, low-carbon eating; the smallest structure is a micro dairy and tractor store. 
Taking an environment-first approach to the project, Timothy Tasker Architects designed the buildings using local pine and larch, ensuring that standard sizing meant each of the structures can be easily disassembled and the materials reused and adapted in future projects. 
According to the architect, over 17 tonnes of carbon was saved by using natural sheep's wool insulation instead of rockwool, and the roofs are clad using zinc made up of 95% recycled content.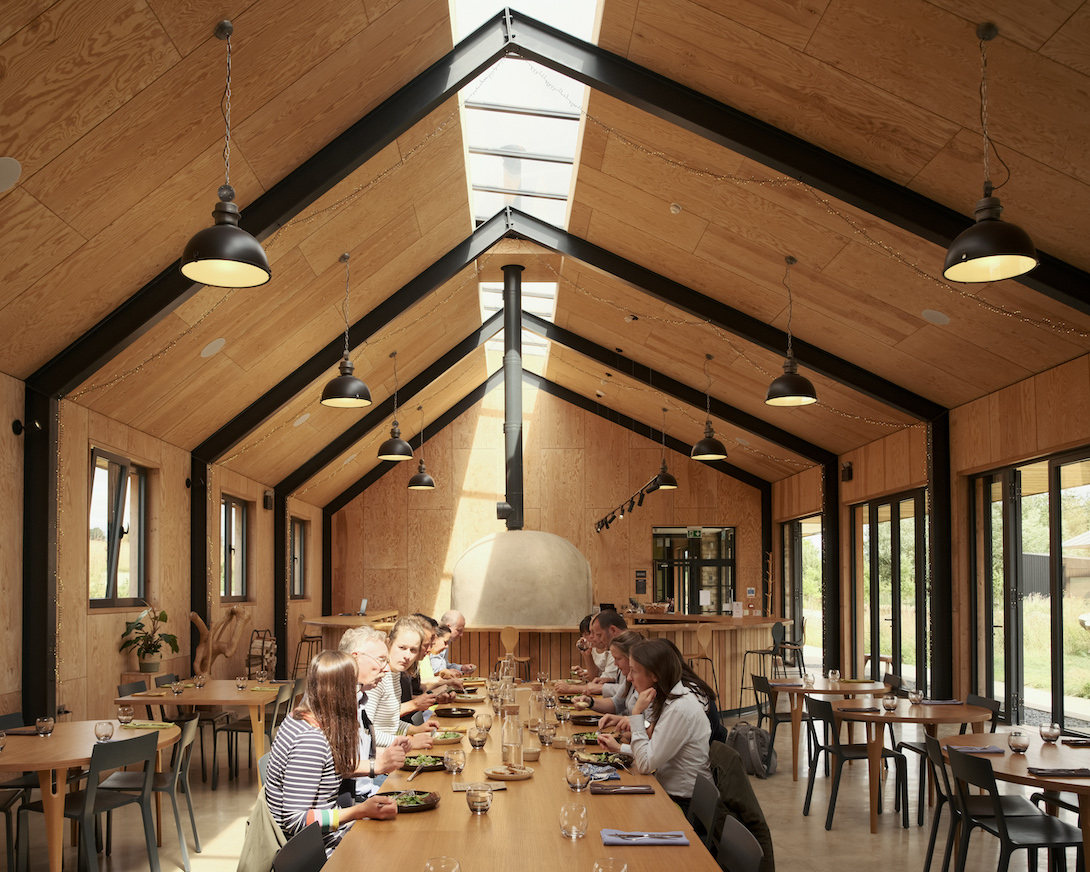 Air source heat pumps powered by onsite solar panels provide heat for the buildings, while passive ventilation strategies reduce the need for energy intensive air-conditioning or mechanical ventilation. Rainwater runoff from the roofs and surrounding landscape is recycled and cleaned using a new reed bed treatment pond. 
Craft is expressed throughout the project in tapering Cotswold stone chimneys, hand-cast glass bricks and the larch cladding, with each piece individually cut and fixed according to the random phonetic pattern created by the buzzing of the farm's bees.
'Sustainably focused architecture – across any typology, be it a house, school, or public building – is easier to achieve without compromising on the quality and generosity of spaces than we think,' says Tim Tasker.
Photography by Tim Crocker
Get a curated collection of architecture and design news like this in your inbox by signing up to our ICON Weekly newsletter
---