The building in southern Norway was designed by Snøhetta as part of an initiative dedicated to reducing construction's carbon emissions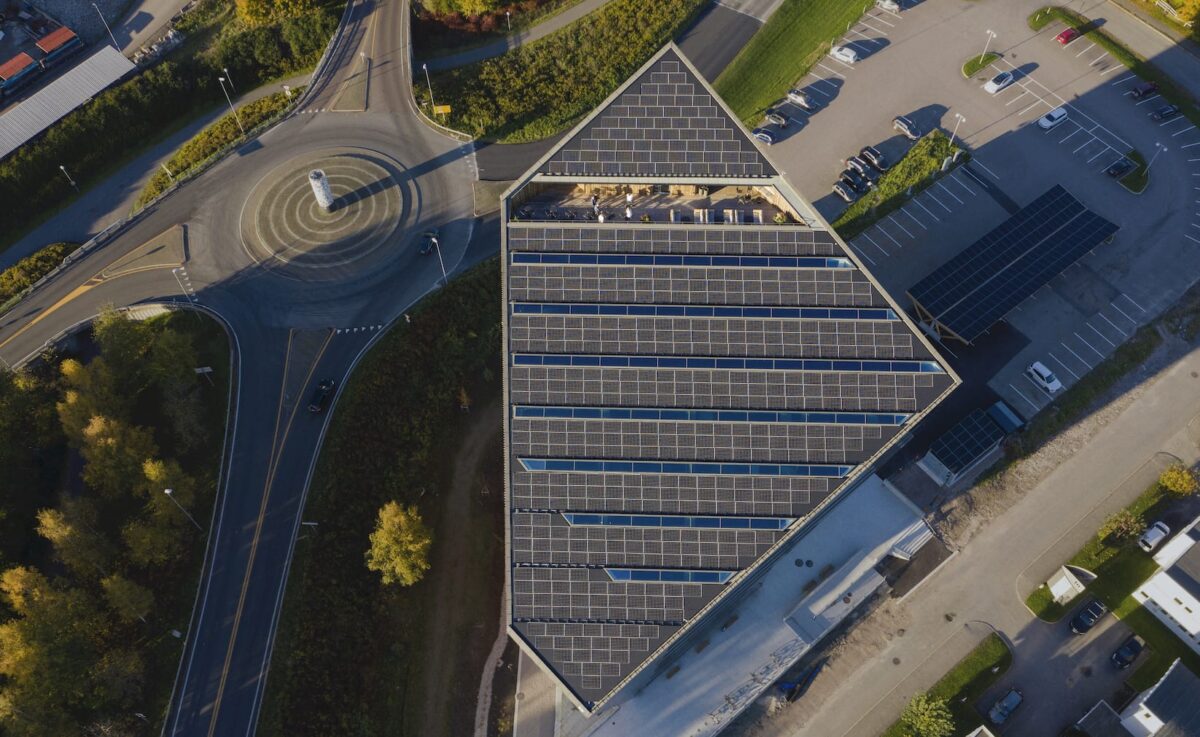 Words by Francesca Perry
'Architecture as we see it has the purpose of creating better environments for human and non-human existence on earth,' says Snøhetta founding partner Kjetil Trædal Thorsen at the launch of the practice's latest project, Powerhouse Telemark. 'There is no question that we as a profession need to deal with the problems – not "challenges", real problems – that we have at hand.'
Thorsen is talking about architecture's most critical issue these days: carbon emissions. Construction – and the energy inefficiency of buildings – takes a huge toll on the environment (in the UK, the built environment is responsible for around 40% of the country's carbon footprint). In this age of climate crisis, this toll becomes ever-more problematic – if not unacceptable.
'The building industry has the possibility to actually lower carbon emissions,' adds Thorsen. 'There is no excuse not to do these things.'
Powerhouse Telemark – located in the southern Norwegian city of Porsgrunn – is the fourth building Snøhetta has designed as part of the Powerhouse initiative. A Norway-based, cross-sector partnership that the architecture practice established with four other companies, Powerhouse is dedicated to creating buildings that produce more energy (clean energy at that) than they consume; in other words, climate-positive architecture.
The 11-storey, 7,931 sq m Powerhouse Telemark project is a series of flexible, contemporary workspaces; it aims to set a new standard for environmentally sustainable office buildings. The architects claim to have reduced the building's yearly net energy consumption by 70% compared to similar new-construction offices. It will produce more energy than it will consume over its lifespan.
The geometric, sharply angled, slightly conical building stands out in its surrounding industrial neighbourhood. Inside, the building features a bar/reception area, offices including co-working spaces, a staff restaurant, meeting spaces and a roof terrace overlooking the adjacent fjord.
The striking south-east facing tilted roof is covered in solar panels, which will generate 256,000 kWh each year – approximately twenty times the annual energy use of an average Norwegian household. Surplus energy will be sold back to the energy grid.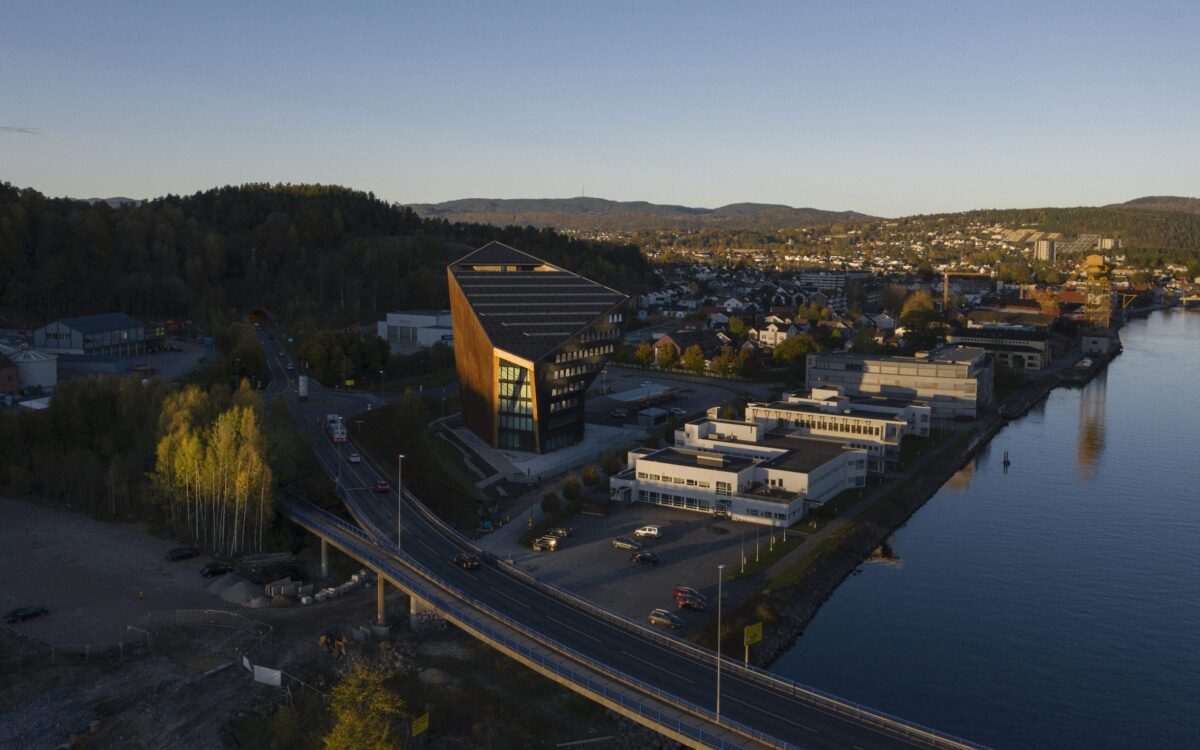 The south facade is also clad with photovoltaic panels. The west, north-west and north-east facades are clad with wooden balusters which provide natural shading. The building features triple isolated windows and is efficiently cooled and heated through geothermal wells dug 350 metres below ground.
Resilient, low-embodied-carbon materials are used throughout the building, including local wood and gypsum. The carpet tiles are composed of 70% recycled fishing nets and the wooden flooring is made from industrial parquet of ash from wooden debris.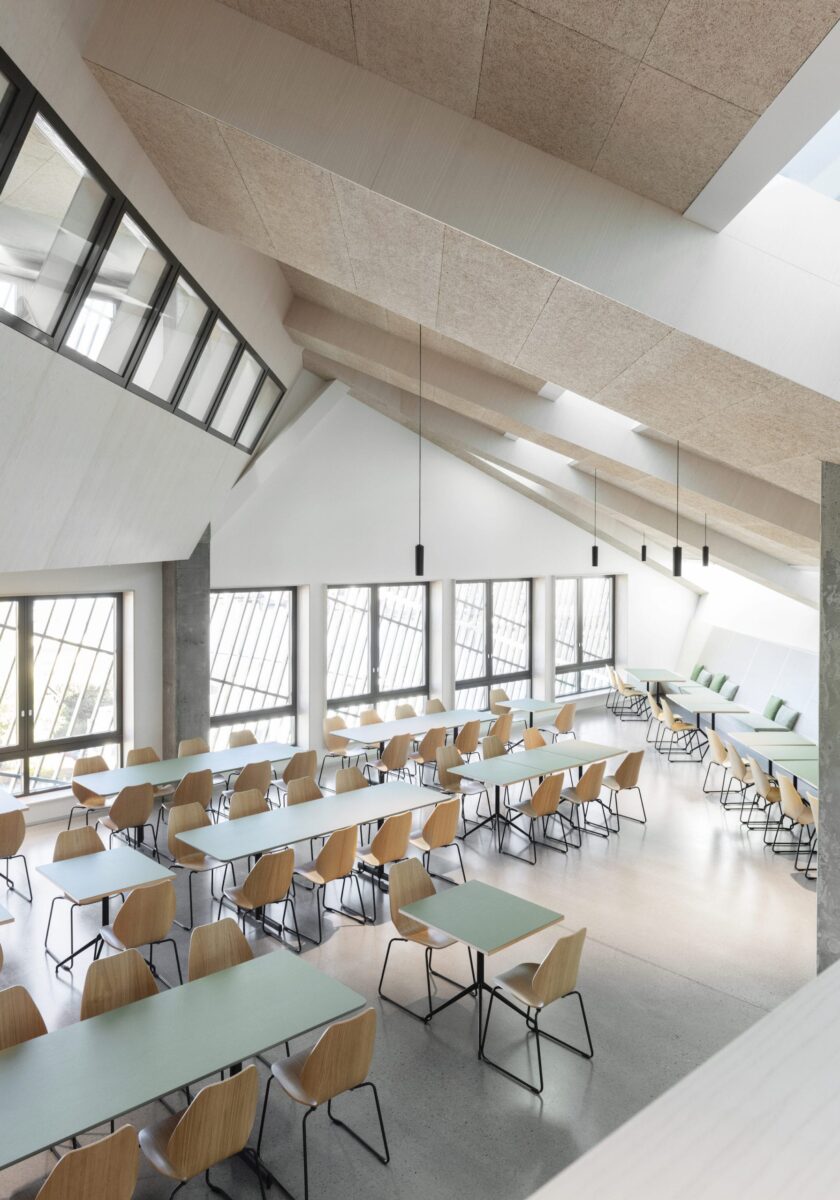 'We wanted to set an example of a building system which can be replicated in other places,' concludes Thorsen. 'We want Powerhouse to become a standard for others to follow.'
Photography: Ivar Kvaal
---