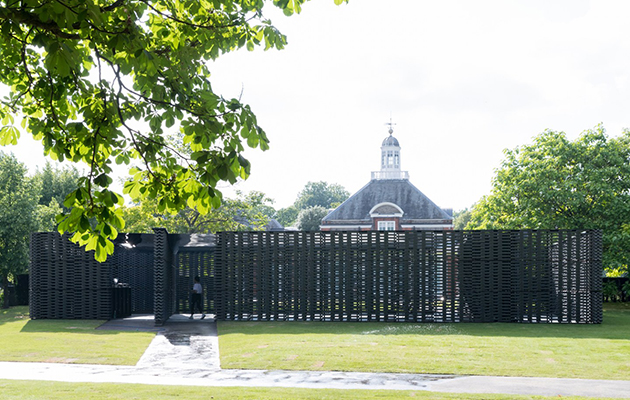 Frida Escobedo's Serpentine Pavilion. Photo: Serpentine Gallery/Iwan Baan
Only the second solo woman, Mexico's Frida Escobedo is also the youngest architect to win the annual commission. Her Serpentine Pavilion is tough and timeless, writes
Rita Lobo
The year's Serpentine Pavilion, set to open to the public on June 15th, has been completed by Mexican architect Frida Escobedo, only the second ever woman to headline the project and the youngest ever architect to win the prestigious annual commission.
Escobedo has built a complex secluded courtyard framed by dark latticed walls. Located in the lawn adjacent to the Serpentine Gallery in Kensington Gardens, London, the Pavillion is inspired by traditional Mexican architecture, but incorporating British materials.
'My design for the Serpentine Pavilion 2018 is a meeting of material and historical inspirations inseparable from the city of London itself and an idea which has been central to our practice from the beginning: the expression of time in architecture through the inventive use of everyday materials and simple forms,' says Escobedo.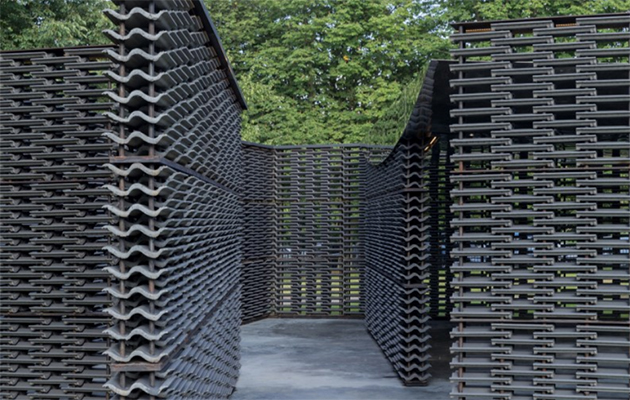 The Pavilion's walls are made of British concrete roofing tiles. Photo: Serpentine Gallery/Iwan Baan
The Serpentine Pavilion is arranged around a shallow, triangular pool and has curved mirrored ceilings. The undulating walls are made of roofing tiles, stacked in a lattice to form a crochet of concrete. Escobedo took the form of an enclosed courtyard from typical Mexican residential architecture. A wall inspired by the the traditional celosia – a breeze-block wall that allows light and the breeze to filter through – diffuses the views of the greenery beyond, transforming park life into a blur of colours and shapes.
The two reflective materials that dominate the interior – the shallow paddling pool, and the curved mirrored ceilings are positioned to trace the movement of the sun, the distorted reflections brinng shapes of light into concrete interior of the Pavilion.
'For the Pavilion,' says Escobedo 'we have added the materials of light and shadow, reflection and refraction, turning the building into a timepiece that charts the passage of the day.'
Escobedo's previous work has focused largely on housing and community work, originally around Mexico City, as well as undertaking significant national projects. Internationally, previous projects include a gallery in the former home of painter David Alfaro Siqueiros and an Aztec-inspired installation at the V&A.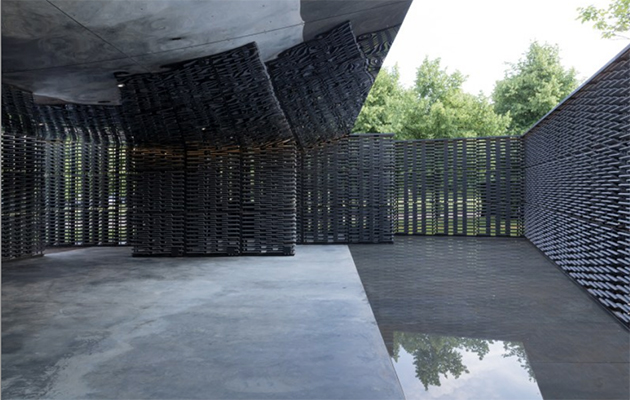 The mirrored roof and water feature bring light into the structure. Photo: Serpentine Gallery/Iwan Baan
She becomes the 18th architect commissioned to design the Serpentine Pavilion in London, joinging the ranks including Peter Zumthora, Zaha Hadid – the only other one to headline the project solo – and Bjarke Ingels.
Serpentine Galleries directors Hans Ulrich Obrist and Yana Peel called this year's pavilion as 'a living timepiece in the park'.
'In its beautiful harmony of Mexican and British influences, it promises to be a space of reflection and encounter,' they said.
The Pavilion will be open to the public from 15 June to 7 October 2018. It will contain a cafe, but also host a programme of events encompassing art, architecture, music, film and dance.
---