A competition organised by Reuse Italy asked for ideas to dramatically transform the ancient Piscina Mirabilis in Naples
Piscina Mirabilis is the world's largest Roman water cistern, built by Emperor Augustus in the 1st century AD in order to supply drinking water to his western Mediterranean war fleet. Located in Bacoli, Naples, the now-unused ancient structure – with a barrel-vaulted ceiling supported by 48 pillars – is able to visit by appointment but not regularly open to the public.
But this summer, the organisation Re-use Italy – which describes itself as a movement to promote bringing back life and culture into forgotten historical buildings – ran an international competition for proposals to turn the ancient structure into a contemporary art museum.
The competition, Reuse the Roman Ruin, attracted over 200 entries from architects, students, designers and engineers. 'Everybody understood that this underground space has the same spiritual power of a cathedral, and its appeal is instantaneous,' explain Andrea Crudeli, Leonardo Magursi and Giulio Fazio of Reuse Italy. 'The mysterious interior atmosphere combined with the physical simplicity of the grid are two elements that the selected participants captured and synthesised in a very creative way.'
Here are the winning projects as well as some of the commended proposals. As yet, all projects are simply propositional.
First place: Simone Baccaglini and Marco Agosti
In Simone Baccaglini and Marco Agosti's proposal, the spaces of the cistern are shaped by hanging transparent fabric, creating distinct zones and experiences of the artworks, including a full-height exhibition room in the centre. An inserted two-storey metallic structure hosts secondary and support functions. Above ground, a new roof structure with a large antenna becomes a beacon for visibility, and hosts informal activities including a night-time open-air cinema. 'The cistern is no longer a hidden place destined to be forgotten,' write the designers of their proposal. 'Instead, it returns to be the landmark of the city.'
Second place: Alessandro de Cadilhac and Lorenzo Gaveglio
'This project has been developed with the intent to preserve the original spaces and proportions of the ancient Roman cistern,' explain Alessandro de Cadilhac and Lorenzo Gaveglio. A large wooden staircase is the only volume to be inserted into the space, allowing visitors to observe the historic structure and the exhibition from multiple viewpoints. A light-coloured stone flooring is added for navigation. The rest of the project is developed above ground, and includes an entrance tower-mirador, a public square, a bar-restaurant and a bookshop.
Third place: Maura Pinto and Piervito Pirulli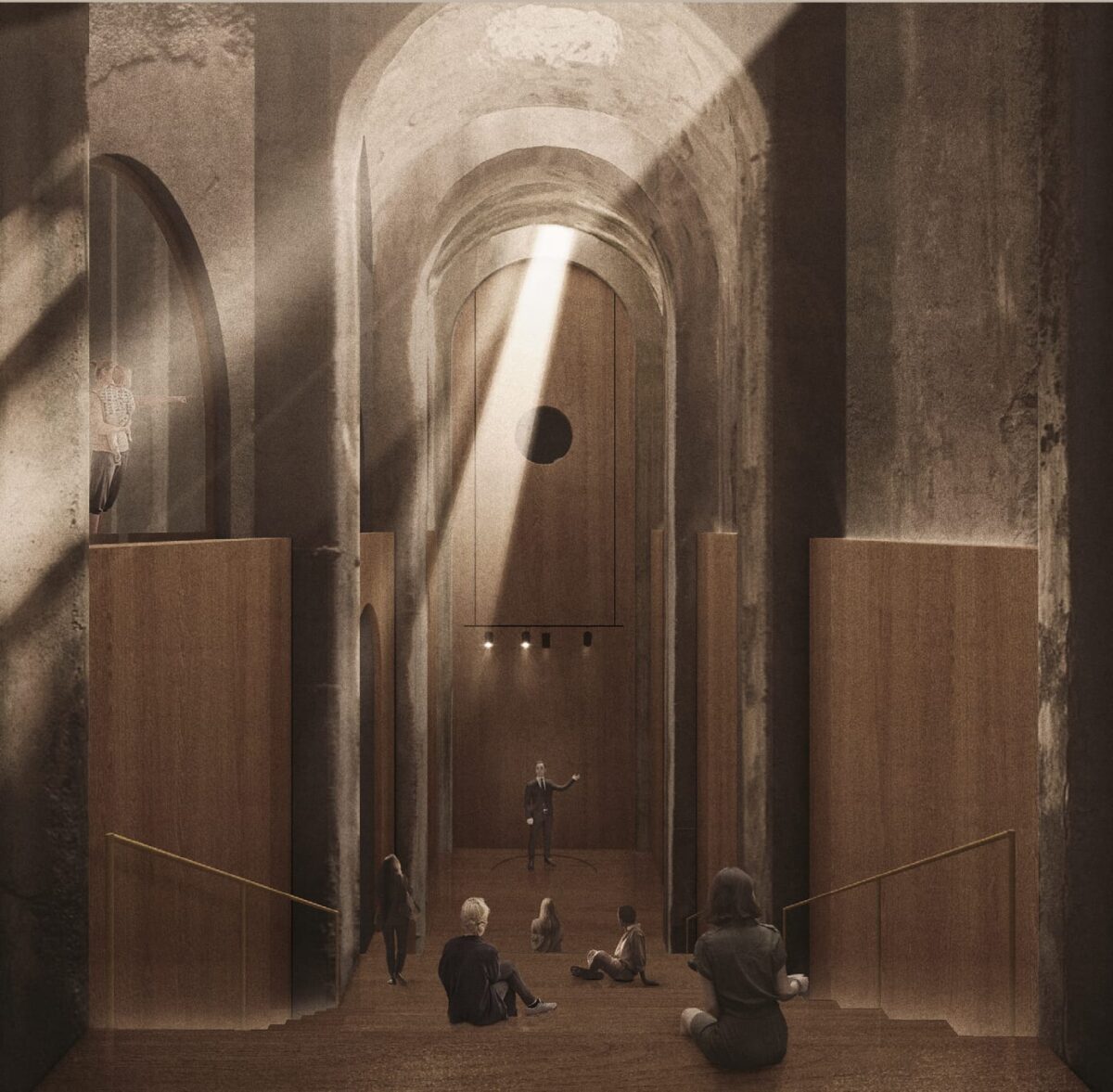 Maura Pinto and Piervito Pirulli's proposal brings back water – the cistern's original purpose – into the space. 'The aim is to quietly insert the project, restoring and respecting the original beauty and function of Piscina Mirabilis,' they explain. Visitors experience the art exhibition via a network of raised paths surrounded by water. Full-height mirrors are installed to separate the exhibition area from the supporting space and to create dramatic reflections. A staircase links the different levels of the museum, including observation points and linking to a bookshop, a restaurant and a conference space inspired by ancient theatres, where visitors can sit on the steps.
Special mention: Claudio Pantano and Sara Girina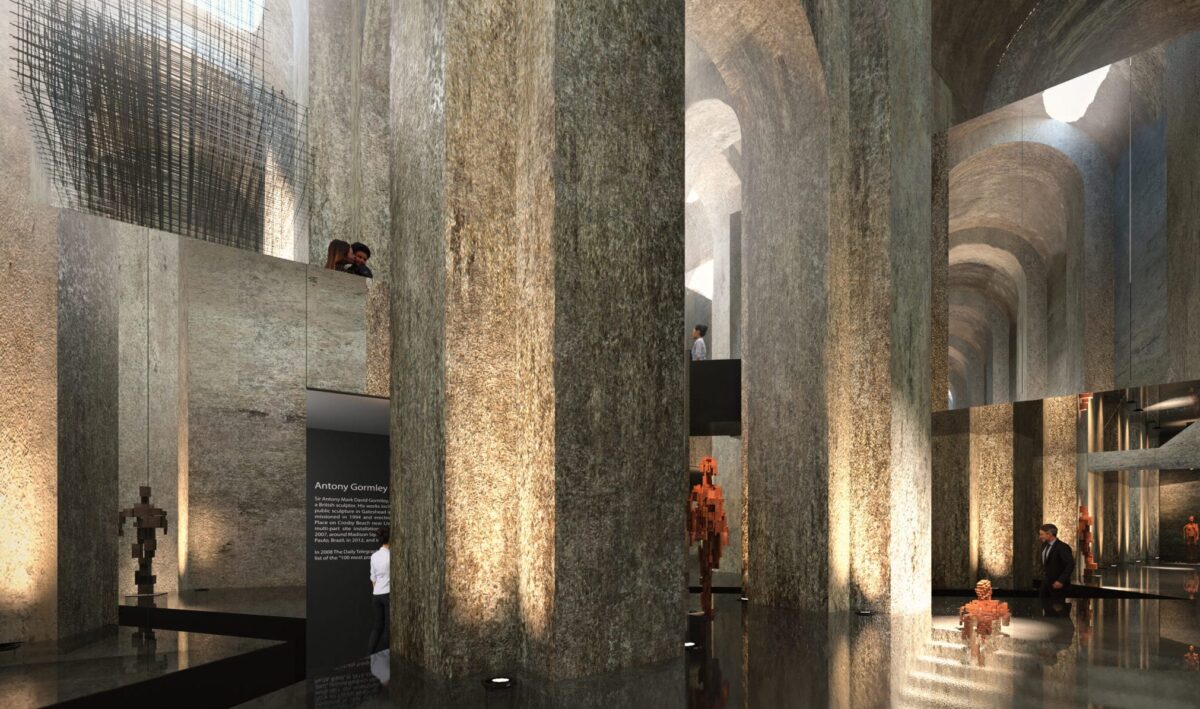 Claudio Pantano and Sara Girina's design plays with mirrors and water to create a mysterious, sensory experience for museum visitors. Artworks are positioned on podiums in raised pools of water, intersected by paths. On a second level, another exhibition hall is accompanied by a coffee bar and conference room. The rooftop then becomes an open-air sculpture garden.
Special mention: Maximiliano Lombardo, Roxanne van Kregten and Paul Raab
The designers of this proposal have inserted new architectural components both within the cistern space and on its roof. Made of light transparent Corten steel meshes and Corten steel, these elements respond to ancient Roman forms but create contemporary playfulness and functionality.
Special mention: Luis Ruiz, Rodrigo Martínez, Juan Pérez and Arturo Menduiña
'Our proposal seeks to enhance the architectural quality of this space and offer the viewer a visit in which art and architecture converge,' explain the designers. To this end, the design proposes partially refilling the cistern with water and placing artworks on plinths of different heights throughout the space. Above ground, a new structure with concrete vaults is built to act as a public urban plaza.
For a full list of winners and commended projects, go to the Reuse Italy site. 
Header picture: Proposal by Livia Grigori and Daniele Ricciardi, which received a special mention
---