Exoskeleton will support The HUB's floating glass building. Photo: Rogers Stirk Harbour + Partners
News plans by architects Rogers Stirk harbour + Partners reveal external steel strucutre supporting 60-storey glass tower
New plans for The HUB, Toronto's upcoming 60-storey Roger Stirk Harbour + Partners skyscraper reveal a cantilevered glass building supported by an external steel structure.
The new building will appear to hover above the historic 1917 Toronto Harbour Commission Building, and will be one of the city's tallest buildings.
Developed by Oxford Properties, The HUB will offer 1.4-million square feet of completely column free office space, a feat achieved through the use of the massive external superstructure.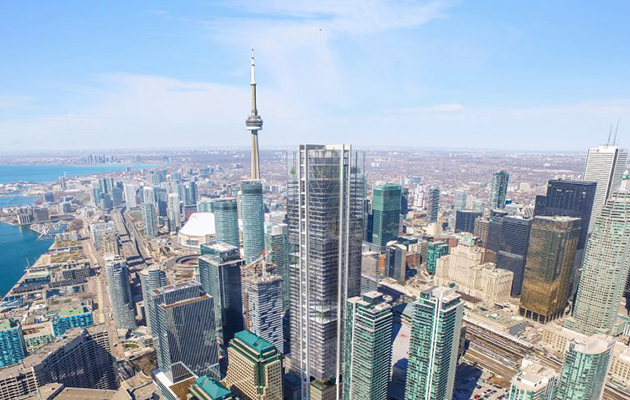 The HUB will be one of the tallest buildings in Toronto. Photo: Rogers Stirk Harbour + Partners
'We are excited to have this opportunity to design a landmark building for Toronto's skyline,' said Graham Stirk, senior partner at Roger Stirk Harbour + Partners, as the first images of the plans were unveiled. 'Our design brings together many key elements of our work, including structural steelwork, transparency, and connectivity to the urban fabric around it, to form an office in harmony with its surroundings.'
Rogers Stirk Harbour + Partners won a competition in 2017 to design The HUB, located at 30 bay Street in Toronto's South Core. Named for its proximity to the Harbour, Union Station and Bay Street, The HUB will be a dominant fixture on Toronto's skyline.
'30 Bay Street has a unique and innovative structure which allows the building to hover above the Toronto Harbour Commission Building, creating a unique and harmonious relationship between the two buildings, and bringing a lively diversity to the downtown area,' added Stirk. 'Our structure also enables the creation of column free office space and opportunities for multi-storey atria through the tower which will provide a high quality working environment for the building's tenants.'
---