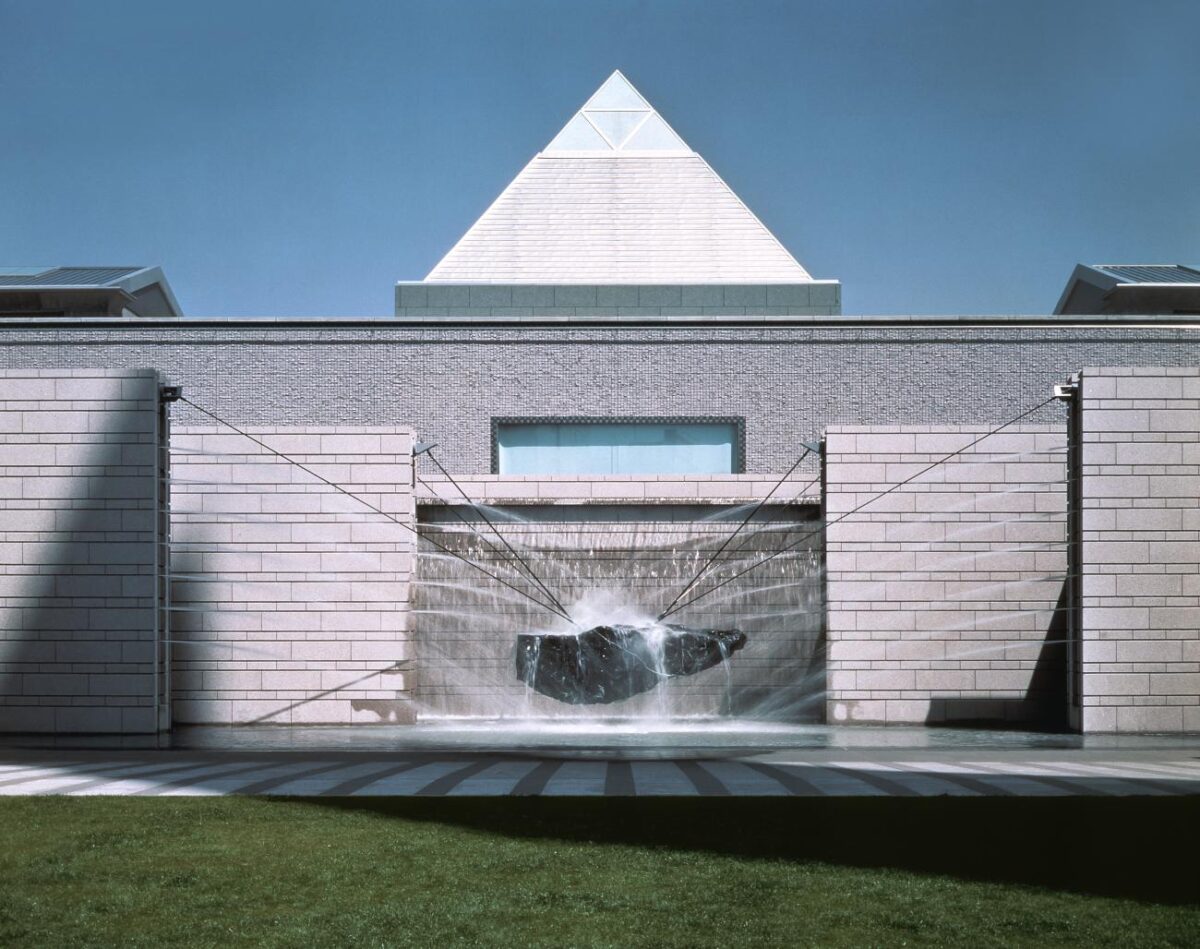 The exterior of Art Tower MITO gallery (1990). Credit: Yasuhiro Ishimoto, courtesy Pritzker Prize
Japanese architect Arata Isozaki has been named the 2019 Pritzker Prize Laureate
Arata Isozaki, the Japanese architect of varied and daring futuristic visions, has won the 2019 Pritzker Prize, widely regarded as the profession's highest honour.
Isozaki's globe-spanning body of work, comprising more than 100 built projects, is impossible to pin down to styles or movements, taking idiosyncratic riffs from Isozaki's encyclopaedic knowledge of global architecture, yet united by a love of geometric forms at play.
Isozaki, Japan's eighth Pritzker winner, now 87 years old, is best known internationally for his first international project, the Museum of Contemporary Art Los Angeles (1981-1986); the Art Tower Mito cultural complex in Ibaraki, Japan (1996-2002); and, latterly, a giant inflatable concert hall co-designed with Anish Kapoor, Ark Nova (2013), that visited areas devastated by the 2011 Japanese tsunami.
Ark Nova, Matsushima (2013). Credit: Iwan Baan, Courtesy Pritzker Prize
Isozaki recalls travelling the world at least ten times before he was thirty, but made his first architectural contributions in his home city of Ōita, where he had witnessed the nuclear bombing of nearby Hiroshima at age 12. There, he built the Prefectural Library (1966) and Medical Hall (1970-72), inspired by the Brutalist buildings he had observed in Europe.
Building prolifically since the 1970s, his work bore the influence of modernism, metabolism, post-modernism, and countless diverse movements, but never these flattered styles so much as built their innovations into his own arrangements of architectural-historical influences.
Credited as one of Japan's first architects to earn recognition in Western circles, Isozaki is known for being a leading figure in a generation that first facilitated dialogue between East and West. But in a statement for the award, he credited his early travels with constellations of influence beyond the two polar centres, in creating an architecture that refused to sacrifice local reference in its futuristic internationalism.
'I wanted to feel the life of people in different places and visited extensively inside Japan, but also to the Islamic world, villages in the deep mountains of China, South East Asia, and metropolitan cities in the U.S. I was trying to find any opportunities to do so, and through this, I kept questioning, "what is architecture?",' said the Laureate.
Younger architects have paid tribute to Isozaki's generosity in supporting new generations to develop ideas. His own theoretical work includes the 1962 City in the Air, a futuristic plan for Shinjuku consisting of elevated layers of buildings, residences and transportation suspended above the ageing city below.
Isozaki is the 46th Laureate of the Pritzker Prize. The 2019 Pritzker Prize ceremony will take place in France this May, accompanied by a public lecture in Paris.
---