In turning a former post office into kitchens and a café, architects RCKa and food-rescue charity UKHarvest have created a valuable resource to support an inner-city community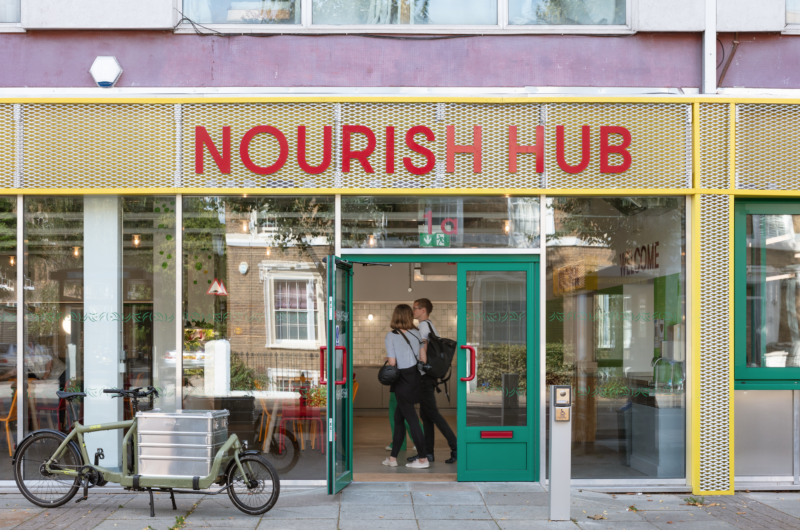 Words by Matthew Ponsford
Make a wishlist of things a decent city should guarantee, and a square meal is likely to be near the top. The vision of a place where anyone can find an affordable, nutritious meal speaks to both idealism and bare necessity. Our desperate need for decent, socialised cafés and kitchens has been heightened by waves of food poverty and gentrification.
In a recent viral essay, I Dream of Canteens, food writer Rebecca May Johnson described not just 'affordable and appealing calorie-dense food' but room to sit unhurried, to breastfeed babies and drink free refills. 'A space, a glass of water and a plug socket,' she writes. 'Chairs and tables and cleaned toilets.'
With 15% of the UK now facing food insecurity each day – a rising headcount of some 8.4 million people – it's clear that our food infrastructure is failing. Beyond nutrition, there remains a knot of questions whose answers involve fairer and more socialised places for eating and cooking: these range from feminist issues of labour and care to social isolation and food waste, with private households accounting for 70% of all wasted food in the UK.
Nourish Hub, a new project in west London designed by RCKa, presents a thoroughgoing and pragmatic response to some of its communities' clearest food-related problems, while highlighting the scale of the challenge we now face. It's the work of charity UKHarvest, which aims to eliminate hunger and food waste, having built a logistics network to redistribute 'rescue food' from farms to foodbanks since its launch in 2016.
CEO Yvonne Thomson, the uncompromising force behind the project, is the opposite of a dreamer. With an eye on the future, she has structured the facility around a business plan for Nourish Hub to be self-sustaining in three years before being passed on to community ownership in perpetuity.
Nourish Hub started life as a hastily drawn-up proposal, says Thomson, in response to an eleventh-hour invitation from the council (the London Borough of Hammersmith and Fulham) to apply to develop a former Post Office building within the Edward Woods Estate near Shepherd's Bush. The surroundings are a stark picture of London's failure to allocate its abundant resources fairly.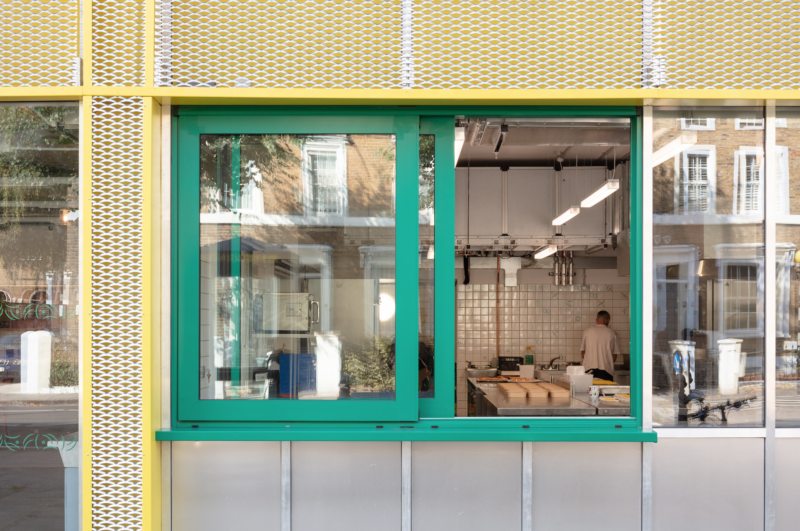 Arriving at the site, the shell of Grenfell Tower – half a mile away – is visible over the mansions of Kensington and Chelsea's Royal Crescent. These lie on that borough's boundary line with Hammersmith and Fulham, which is home to the capital's highest dependency on food banks.
RCKa was charged to build a place where locals from across these communities could eat together; one that would save food from being sent to landfill in order to combat food scarcity while it offered lessons in cooking and training towards food careers. RCKa defined success in terms of being adaptable to locally arising needs and providing a replicable template for communities across the country, says project architect Anthony Staples.
The result is a vivid new community asset that has already been garnished with plaudits, including the RIBA's 2022 MacEwen Award recognising architecture for the common good, and two prizes at the New London Awards. The big, glazed shopfront makes the most of the cheapest possible untreated aluminium framing, says Staples, which will slide apart in summer and includes a hatch that can be propped open to serve passers-by.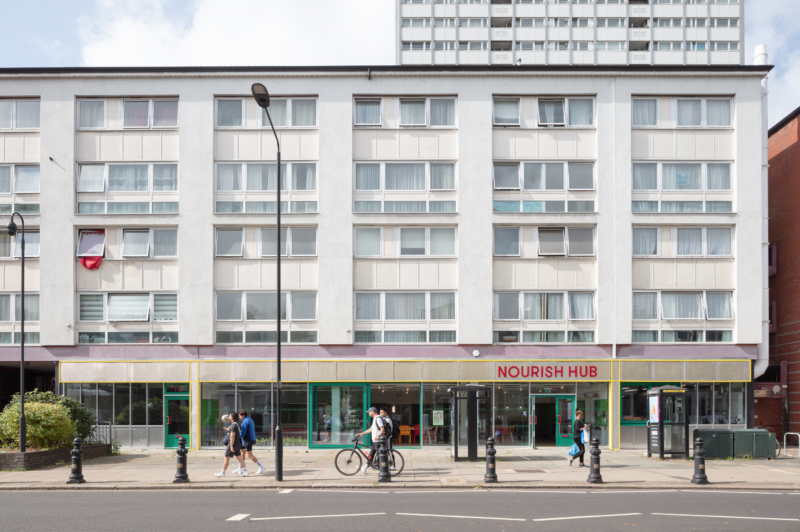 Inside, arrivals are greeted by a pair of sinks – a handwashing station that makes clear this is a space for doing and making, and a necessity for the dozens of kids arriving each day to eat or learn, as well as volunteers that stop by from the Nourish growing plot on the nearby estate. The big central dining area is light and inviting throughout the day, at times cacophonous, then quiet – largely due to the dual kitchens that stand on either side of it.
With a project defined by a tight budget, it might have seemed obvious to have just one kitchen, but the architects realised they would require both a robust, high-production commercial kitchen and an open, more domestic-style kitchen for learning, with low countertops and ergonomic access for wheelchair users and people of different ages.
During teaching, the whole place is bright, busy and loud (acoustics is an acknowledged area for improvement) but when lunch service begins it hushes, with room for chatter. Working with a minuscule budget from the Mayor of London's Good Growth Fund and the local council, Staples says the architects exploited colour where they could get it cheaply. Vital furniture and fittings offer opportunity for splashes of algae-green grouting, bright red crockery shelves and a sunshine yellow stripe.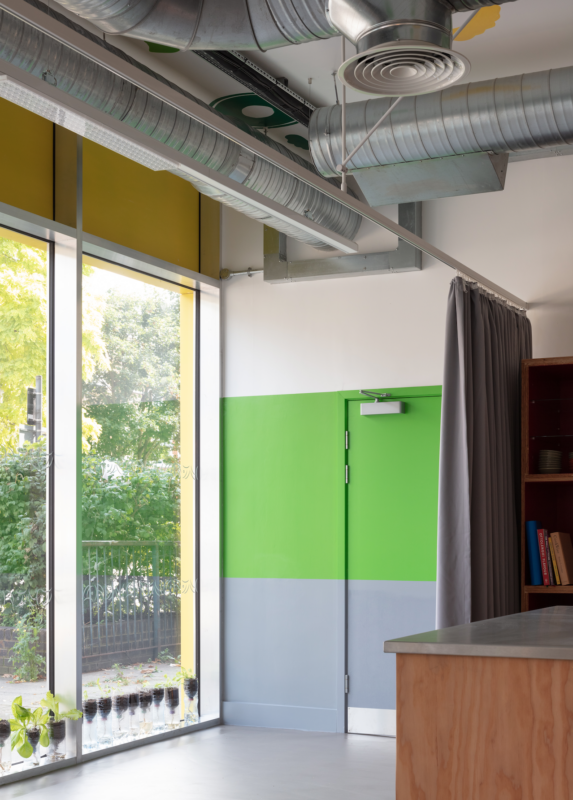 A handpainted ceiling mural and tiles are small luxuries, and nods to participatory design – they were the result of a workshop that handed local kids food from Shepherd's Bush market as inspiration for making collages – a project where the architects exploited UKHarvest's expertise in the charity's dual priorities of training cooks and making meals.
Thomson's business plan for Nourish Hub now structures the day: early on, local meals on wheels are cooked and packaged in the commercial kitchen, with lunch service following. By 11am, a dozen 10-year-olds descend on the learning kitchen, and UKHarvest's instructors lead a blur of tiny hands in chopping, boiling and rolling pastry that ends with a stunning dhal and roti (and no apparent casualties).
Volunteers pitch in for a surprisingly quick clean-up. These lessons are free, but UKHarvest will soon offer six-week courses (£600) plus government-funded holiday activity and food clubs for children eligible for pupil premium payments.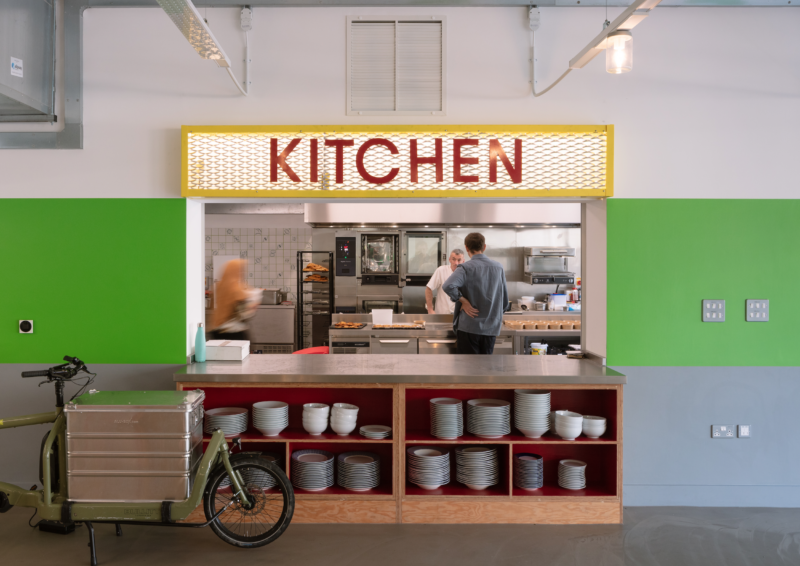 At lunch, the food is vegetarian and priced £3 to £5 for a main – but clearly marked as pay-what-you-can. Three hydroponic growing stations produce kale leaves and a mixture of herbs, with a green wall planned to provide enough herbs for a full class. Most of the food, though, comes from UKHarvest's network, which sources food from 200 British farms, companies like Innocent Smoothies and, recently, £3m of food ordered by P&O cruises and gifted away as passenger numbers slumped mid-pandemic.
In February this year, families, carers and solo diners slowly arrived for soup, noodles, and a stomach-warming stew of barley, beans, and assorted vegetables. Having been open on-and-off since 2021, Nourish Hub is already attracting close to its goal of 200 diners a week, says UKHarvest.
It's the kind of vital project where you're praying for its success beyond the design awards – for it to fill stomachs and create cooks. In a country where one in seven shops was vacant in 2021, and with millions in need of better food provision, Nourish Hub offers an opportunity to set out a schema for the kind of civic food infrastructure that communities can demand.
Photography by Francisco Ibanez Hantke
This article was originally featured in ICON 208: Summer 2022. Read a digital version of the issue for free here
Get a curated collection of design and architecture news in your inbox by signing up to our ICON Weekly newsletter
---