Comprising exhibition, convention and event facilities, MEETT is intended as an active piece of urbanism for the southern French city

Words by Francesca Perry
Architecture practice OMA, along with PPa architectures and Taillandier Architectes Associés, has completed MEETT, a new Exhibition and Convention Centre on the northern outskirts of Toulouse in southern France.
Incorporating exhibition halls, a convention centre, a multi-function event hall, multi-storey car park and new tram station, the 155,000 sq m project is the third largest parc des expositions in France outside of Paris.
Amid the Covid-19 pandemic – with associated lockdowns, cancelled events and social distancing measures – the opening of a new centre for large-scale events may seem surreal, but the development is intended just as much a long-term catalyst for Toulouse and piece of urbanism as it is a home for events.
Set over 90 ha, MEETT sits between Toulouse's urban centre – with neighbouring industrial plots dedicated to aeronautics, including the airport hangar of Airbus – and the surrounding countryside of the Occitanie region. OMA intends the development to play a role in supporting harmonious integration between city and countryside, with its organisation an antidote to the sprawl of a standard exposition park, in order to protect the rural landscape.
Conceived as an active, horizontal strip ('une bande active') MEETT is organised into three parallel bands: a 700m-long exhibition hall to the north; a reception and circulation zone below a car park silo in the centre; and a convention centre with a multi-function event hall to the south. Outdoor public spaces accompany the three expo buildings, spread throughout the campus.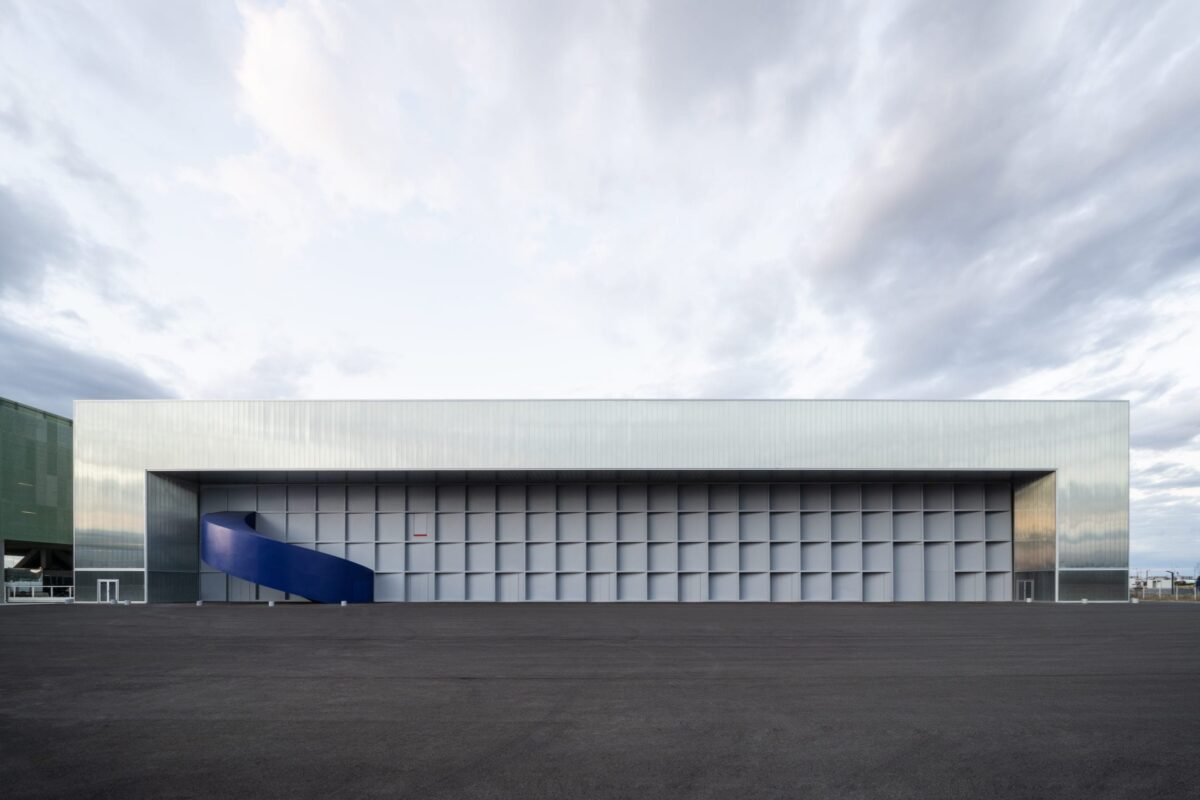 Determinedly industrial in appearance and design, MEETT was envisioned by OMA as a 'logistical machine'. Chris van Duijn says: 'The masterplan is inspired by the efficiency of the surrounding infrastructure, the openness and horizontality of the rural Occitanic landscape and the scale of the adjacent hangars, while each of the individual buildings is designed as a unique functional and flexible machine.'
The 700m-long, hangar-like exhibition hall – which can function as one major exhibition space or be separated into seven modular halls – comprises a white-painted steel structure and translucent polycarbonate façade. The giant concrete multi-storey car park silo – elevated off the ground to enable a sheltered circulation and activity space below, accompanied by reception facilities – is wrapped in a green polyester grill with reinforced fibre glass.
The structure containing the multi-function event hall and convention centre has a 13m-tall sliding façade on the eastern elevation, which can be opened to allow interior events to expand onto the exterior 'event square'. Inside, a system of movable vertical shutters and horizontal partitions allows the building to rapidly transform into a wide range of configurations, from small meeting rooms to an open-plan layout.
'MEETT is not an architectural intervention, but an urban machine,' says OMA. 'Both monumental in its scale and subtle in its overall impact, it will be a new gateway to Toulouse.' Ultimately, however, it's tempting to see such a development as out of step with our times, both environmentally – MEETT's 3000-space car park positively promotes arriving by car – and functionally, with large-scale events becoming radically rethought in a post-pandemic world.
All photographs by Marco Cappelletti, courtesy of OMA
---