Get an exclusive look at the latest in the Fundación Arquia interview series – a retrospective of Norman Foster's career
All photos by Andy Donohoe
With a career spanning more than six decades and taking in a Pritzker Prize, three Stirling Prize wins, a RIBA Gold Medal and more, Norman Foster is a natural subject for the latest in a documentary series by Fundación Arquia. In a 40-minute interview with Spanish architect Luis Fernández-Galiano, Foster discusses his career and motivations, from his childhood interest in sci-fi and aeroplanes, to what planning for space habitation can teach us about building on Earth.
An exclusive clip of Norman Foster discussing his work on the Reichstag
'The first sketch I drew was of an aircraft; it was based on a model aircraft. It was heroic dimensions and I was sitting at the controls and piloting this craft… And I still find inspiration in those worlds today, in a way that I did as a child,' Foster says, adding that for him, 'design, objects, painting, sculpture, architecture' are impossible to see as separate.
The conversation takes place in part at the Norman Foster Foundation in Madrid, an interdisciplinary organisation designed to encourage the sharing of ideas and education for future generations, and also the space where many of Foster's drawings and models are kept, as well as the Foster + Partners office in London. The film offers a look at some of Foster's earliest projects and drawings, including the Reliance Controls Factory in Swindon, designed in 1966. 'Those two first buildings I intimately associate with because I did virtually very drawing and the site supervision so I still know the tolerances and the sizes of the steel members,' Foster explains as the film showcases work carefully stored in the archive.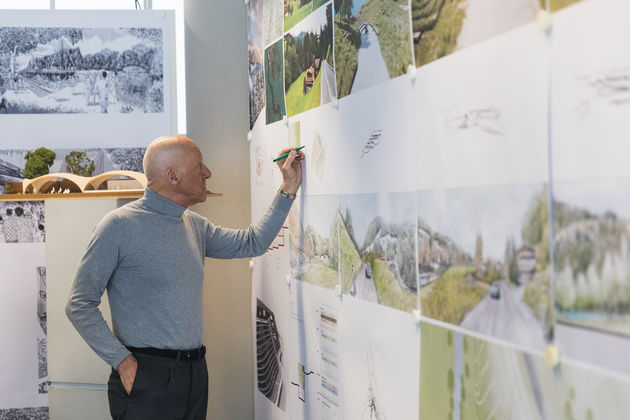 All photos by Andy Donohoe
The documentary format, similarly used in a conversation with Renzo Piano in 2017, takes a mainly chronological look at Foster's work but also allows for the 84-year-old architect to highlight the thematic connections between some of his early works – such as Skybreak House, used in Stanley Kubrick's A Clockwork Orange – and his later projects, such as the Sainsbury Centre for Visual Arts in Norwich that also places the building strikingly within a landscape.
It also talks about the range of influences on his career and work, whether Le Corbusier or Jørn Utzon, his colleagues, his teachers or the 'can-do' environment of West Coast USA as a student.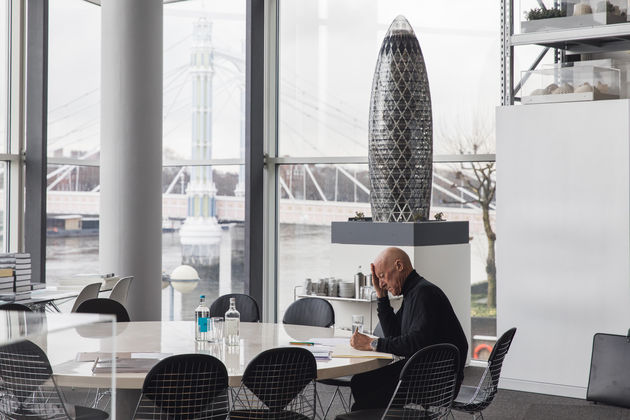 His discussion of his work on the Reichstag, the German parliament building in Berlin, seen here, highlights what Foster describes as the 'many different agendas' within the building, and controversy around the space when originally proposed. As the viewer sees the models and sketches, Foster describes the 'celebration of the public domain' and symbolism within the space, with the public viewing platform above the parliament, and explains why the design was controversial 20 years ago.
The documentary is part of a digital multimedia package available to purchase via Fundación Arquia, created with concept and art direction by design studio Folch  and produced by White Horse, directed by Pol González Novell. Audiences gain access to the full documentary as well as a digital book, available online for €21.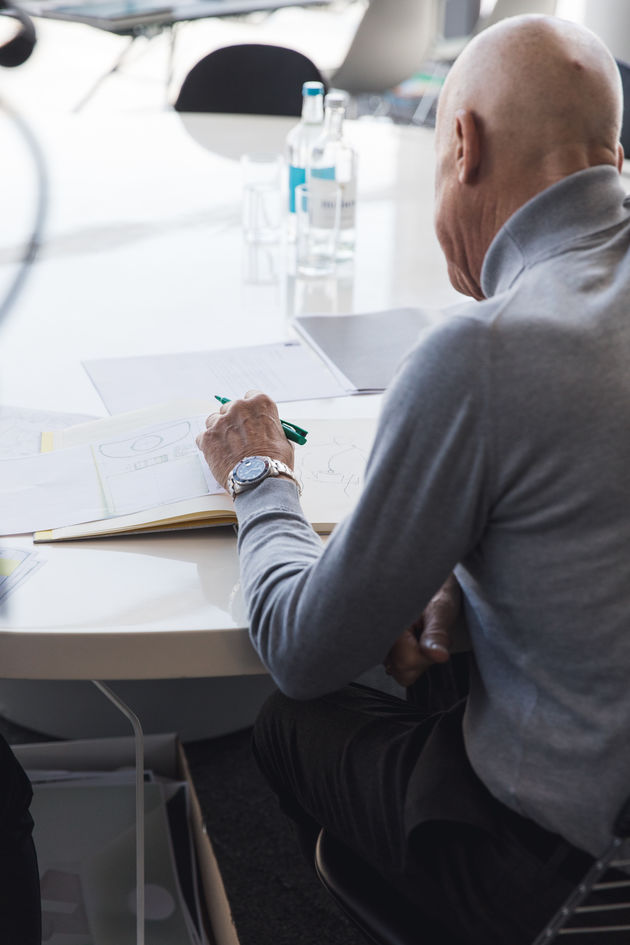 ---