The popular sculpture, unveiled in Finland in 2015, has been reconstructed out of timber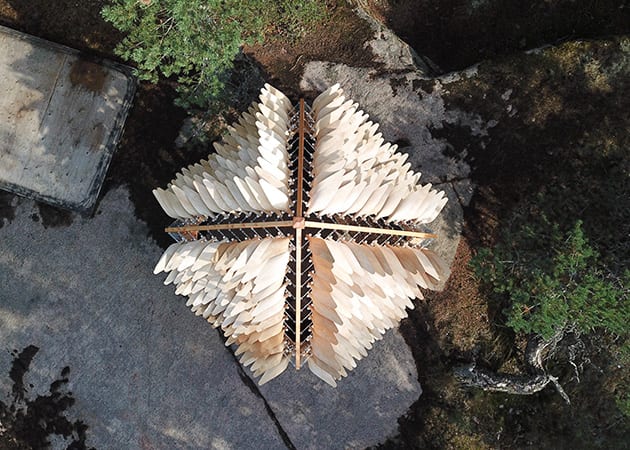 Image: The sculpture's shingles were originally made with polypropylene sheets. Photo via V2com
Words by Hugh Metcalf
When Shiver House was installed in Korppoo, Finland, five years ago as part of the Barfotastigen exhibition, it was only meant to stay in place for four months, like the majority of artist instalments which aim to add to this unique archipelago site.
Created by design studio NEON, it quickly became a popular component this environment for visitors, and some five years later, Shiver House still stands, though now upgraded for its 'wood' anniversary.
The original version of the structure, which features 600 counter-weighted shingles, used folded and cut polypropylene sheet to create the form that shifts and changes as the weather does. The new edition uses Finnish Airplane Ply, a material which adds a greater biophilic dynamic to the design to ground it in its natural setting.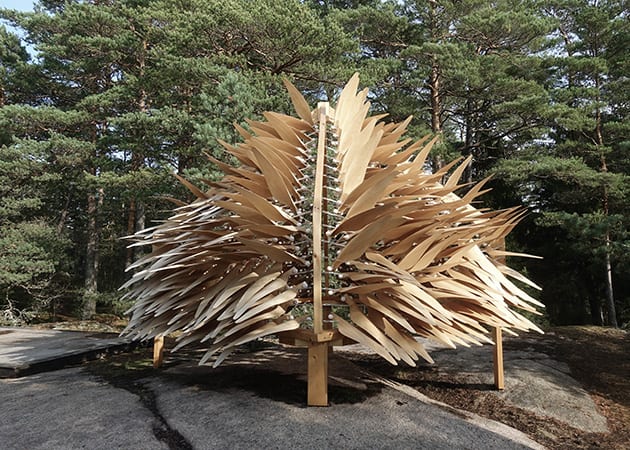 Image: The shingles are constructed using a folded and cut Airplane Ply which has been soaked in a protective oil. The counterweight is constructed using a stainless-steel nut and bolt. Photo via V2com
Designed as a reinvention of a common Finnish hut, called a mökki, the sculptural takes on an organic form that adapts to its surroundings, exploring the idea of how architecture can be used to create a link between people and the natural world. Wind, rain and snow will alter its form, causing the shingles to form a temporary, functional shelter within the frame.
"While the world is adjusting to the new reality of Covid-19 I feel that there needs to be a greater emphasis given to the way architecture, art, and design might be used as a means of reducing anxiety, connecting us with nature and bringing people together again in public spaces," explains Mark Nixon of NEON.
 "Shiver House's architecture is in a constant state of transformation and 'performs' with the ever-changing flows of the wind, it is an ideal means of grounding people in the present moment."
The Barfotastigen exhibition invites professional artists to submit concepts every year that interact with the archipelago environment, and a Jazz festival, Korppoo Sea Jazz, is half every summer next to Shiver House.
---