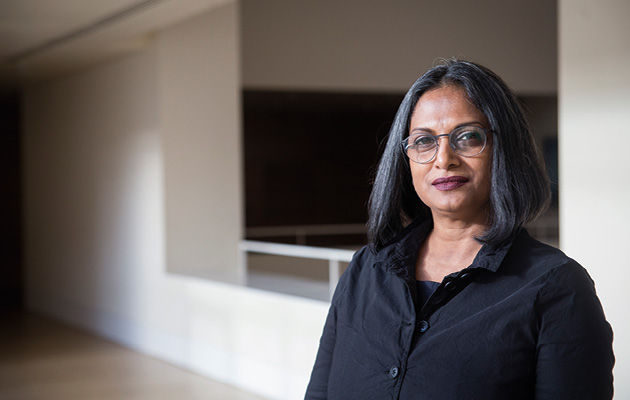 Portrait by: João Profírio
With its emphasis on open spaces, light and vernacular materials, Marina Tabassum's work offers a riposte to the hyper-urbanisation of her native Dhaka – and has won her a growing band of international admirers, writes
Priya Khanchandani
'Light is everything,' says the Bangladeshi architect Marina Tabassum. 'How you deal with light can actually change the atmosphere of a space. Whether you reveal the source or not, if it's direct light, or if it's light that is diffused and just washed on the wall: the different qualities of light create different atmospheres.' Her Bait Ur Rouf Mosque in northern Dhaka, a single-storey terracotta brick building completed in 2012, is a poetic exercise in using natural light to maximum effect.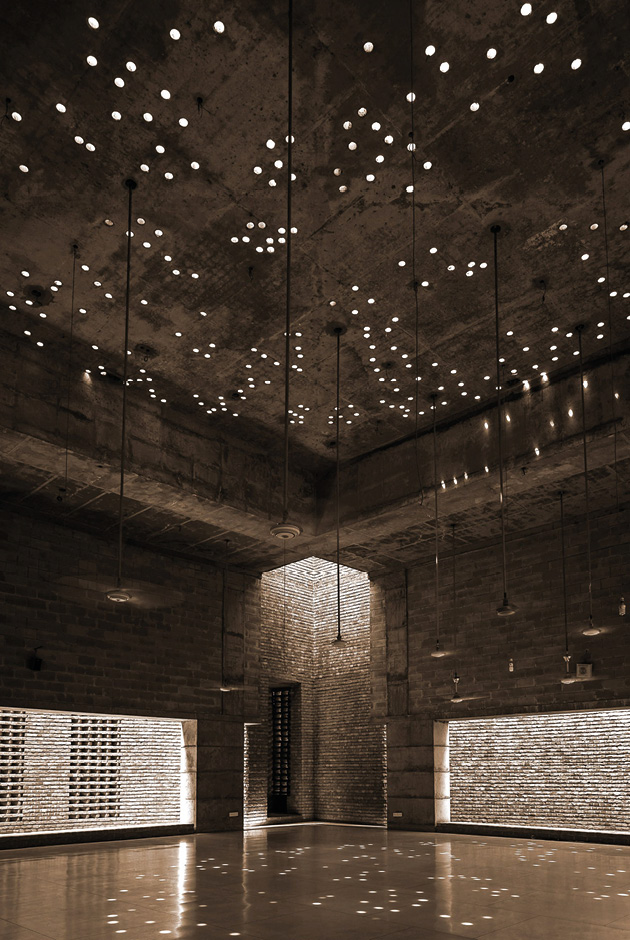 Dappled light filters in through the prayer hall's perforated roof at Bait ur Rouf Mosque
The open corners of the ceiling allow intense shafts of light to slice through the shade below. Perforated brickwork lets light and air penetrate the terracotta brick walls, which are left starkly exposed throughout. And the ceiling of the open prayer hall at the centre is punctured by round holes that allow light to cast a mesmerising dappled pattern on the ground inside. 'The light wells allow light to come from above, so you can't see the source of the light,' says Tabassum. 'This is what creates a very spiritual kind of feeling; the feeling that this is not normal light.'
Tabassum deliberately avoided conventional Islamic decorative elements. She was inspired by the design of the earliest mosques, before the familiar domed structure surrounded by minarets was codified. 'It was a conscious decision not to incorporate the symbolic elements,' she explains, 'because symbols sort of create difference between people; and I thought this should be a structure that is approachable for everybody. Anybody should be able to come in.' The building's straightforwardness, made entirely from terracotta brick and devoid of ornament, helps to identify this mosque as a community space rather than one that is solely defined by religion.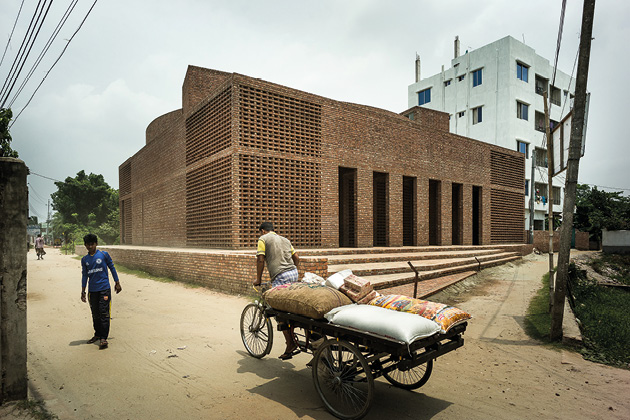 The mosque occupies an irregularly shaped roadside site on the northern edge of Dhaka
Bait Ur Rouf won Tabassum an Aga Khan Award for Architecture in 2016 and led to her being shortlisted for the fifth iteration of the Jameel Prize, a UK-based award for international contemporary Islamic art and design whose nominees will be showcased this summer at the Victoria and Albert Museum in London. The only architect to be nominated, Tabassum has submitted a scale model of the mosque made of tiny bricks. Because of the intricacy of the brick wrapping enclosing the prayer hall, it took three of her architects a full month to painstakingly assemble.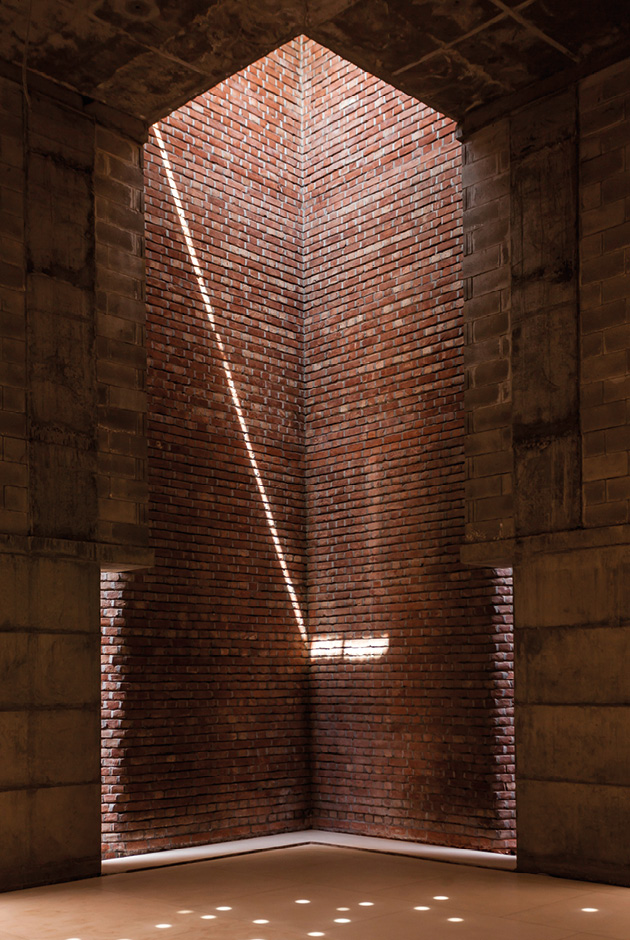 The lack of ornament is intended to identify the mosque as a community space as well as a religious one
Tabassum's early career has inevitably shaped her recent work. Among her greatest influences, she cites Muzharul Islam, a pioneer of modernist architecture in Bangladesh. Islam advised her on Dhaka's Museum of Independence, which displays the struggle of the people of Bangladesh from the Mughal Conquest to 1971's final secession from Pakistan. Tabassum was just a few years out of architecture school when she won the commission, in collaboration with Kashef Mahboob Chowdhury. Employing the same light-filled modernist aesthetic that animates the mosque, it was the launchpad for her career.
It was also Tabassum's first exercise in reflecting what she refers to several times as 'spirituality': an emotive quality that in her eyes isn't necessarily tantamount to religiosity. 'When we were designing the museum, we wanted to associate it with spirituality, because the War of Bangladesh and the Liberation were tragic events in which people lost their lives,' she explains. 'There was also something about feelings that needed to be incorporated: feelings and memory.'
Although the modernist architecture of the South Asian subcontinent – Louis Kahn's National Assembly Building, Le Corbusier's Chandigarh and the numerous projects of Charles Correa – was (and remains) appreciated by critics, it did not become mainstream. Architecture like Tabassum's is also a counterpoint to the prevailing functional aesthetic of South Asia's new urbanism. '[Ours] is not the architecture of popular culture,' she says. 'Obviously, developers see architecture as a product. I'm not even ready to call their work architecture,' she continues. From her perspective, the only way to create architecture with integrity is to work against the grain. 'Architecture is about form,' she explains. 'It's about space, it creates an environment: it is not just [about] buildings.'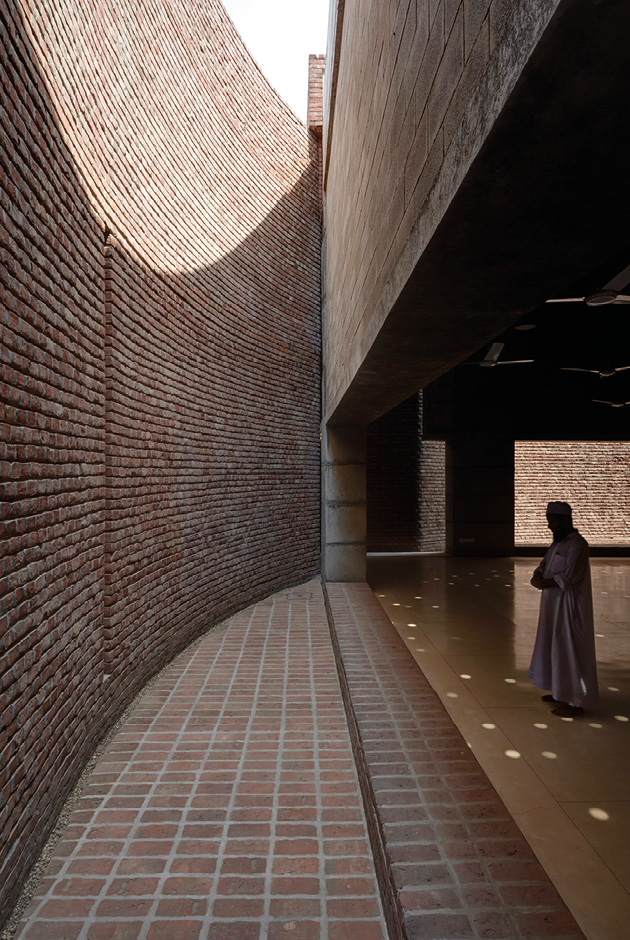 The mosque's prayer hall is inserted into a cylindrical volume, creating a number of small courtyards
Early on in her career Tabassum made the decision not to take on what she terms 'fast projects and fast buildings and quick money'. She remains careful not to take on every project that comes her way, instead dedicating her practice to only three to five projects at any one time. She is interested in work that has a public focus and which enables her to make a difference to the urban infrastructure of Dhaka. At the same time, having collaborated with the government on a series of urban planning proposals, she is disillusioned with the public sector. 'When the government does something,' Tabassum says, 'planning or whatever – they have no vision.' This has led her not to stand still but rather to grow an even greater desire to facilitate change.
One way in which Tabassum articulates her principles is through using a vernacular language, with features such as thatched roofs and local materials and processes, as in the case of a new boutique resort she is currently developing in southern Bangladesh. She aspires to make meaningful and rewarding architecture with a 'timeless' quality, even if it isn't always the most commercially justifiable. 'I believe in evolution,' she says. 'That's what I try to do through my work. It's more about developing the language than trying something entirely new. Trying to revolutionise the world of architecture: I don't believe in that.'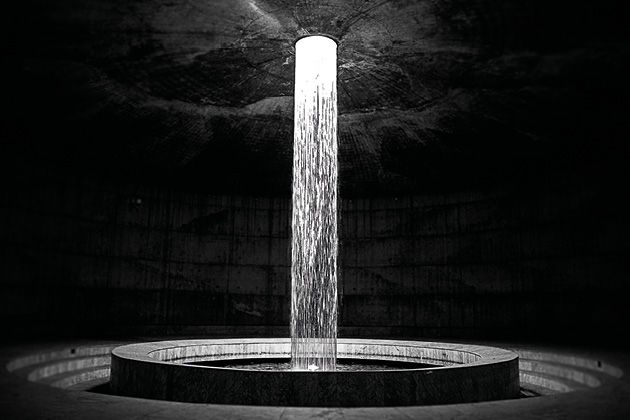 The 50m-high Tower of Light monument and is centred round a fountain, where water falls from the ceiling
The future for Tabassum seems to lie in activating public space in Dhaka. 'There are hardly any public spaces that people can enjoy,' she says. 'It's so built up that you really need to open up spaces to create places where people can actually go and breathe.' Given the volume of bureaucracy involved, this is no small feat. But Tabassum is resolute. Although Bangladesh has very few female architects, she has never been held back by her gender, and says she has always seen herself as an 'architect first'.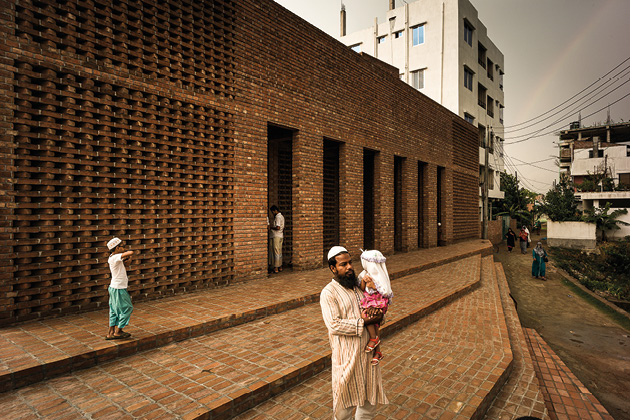 The mosque is set on a plinth, which acts as a communal space and separates the building from the street
Her contribution to the Arsenale at this year's Venice Architecture Biennale, Wisdom of the Land, is a stage set representing the courtyard of a Bengali village, showing how public space can function in Bengali society. Uthan, as residential courtyards are termed in Bengali, is defined by elements of daily life arranged around a space. 'It is where life is lived in a theatrical display from dawn to dusk in an intimate relation to nature,' says Tabassum. 'It is also a vibrant social space.'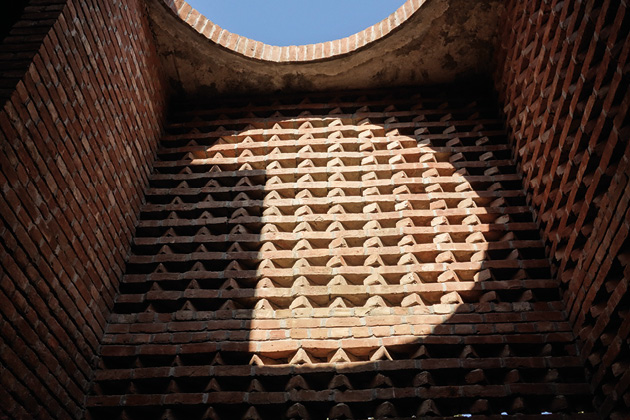 Open brickwork allows light and air to filter into the interior
This work stems from community housing projects she is undertaking in the south of Bangladesh, for which she has canvassed ideas from local villagers. 'I have learnt so much from these interactions.' It is a characteristic appreciation for the context in which her buildings materialise.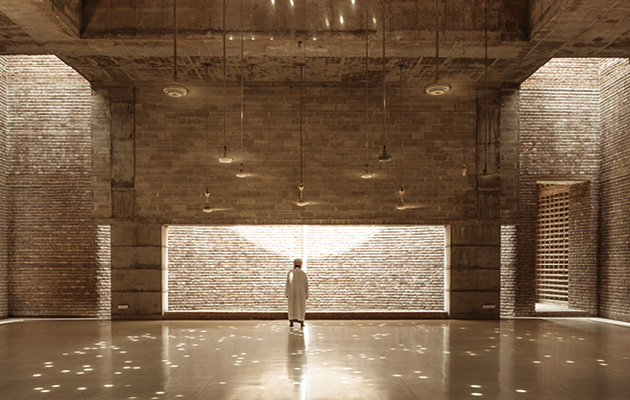 In a continent in which high-rise buildings are the go-to form of urbanism, Tabassum sees architecture that pays heed to its environment as a form of 'architectural resistance'. 'There are so few,' she reflects, 'but even then, they are the conscience of architecture.' For now, Tabassum's own conscience lies in Bangladesh, where she feels the greatest sense of purpose. Given that the work she is showcasing at international institutions this year remains closely tied to her principles, it seems unlikely she will be lured further afield.
---