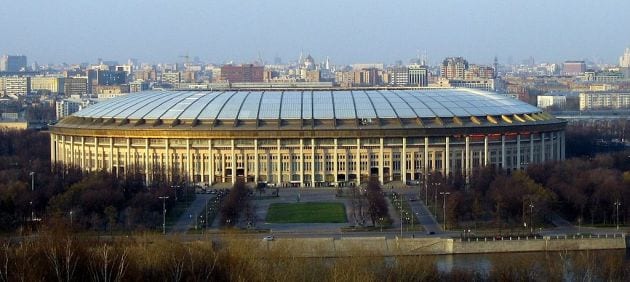 Luzhniki Stadium Moscow. Photo by Kucharek via Wikimedia
Originally built in the 1950s, Luhzniki Stadium was revamped by Russian studio Speech for the 2018 FIFA World Cup
Luzhniki Stadium in Moscow is the country's largest football stadium and functions as Russia's national stadium. Built in the 1950s under the supervision of architect Aleksandr Vlasov, the stadium underwent extensive renovation at the hands of local Russian studio Speech in time fo the 2018 FIFA World Cup. The walls and roof were retained as per the original, as the stadium was regarded as an icon of Russian athletic prowess. 
It belonged to a time when Soviet athletes were able to enter International competitions for the first time since World War II, often with great success. At the 1952 Olympic Games in 1952, for example, they won 71 medals. Three decades later, the stadium played host to several events during the 1980 Moscow Olympics Games. In recent years, it hosted the opening and the final of the 2018 World Cup, and serves as the home pitch for Russia's national football team. It is also used for non-sporting events such as concerts.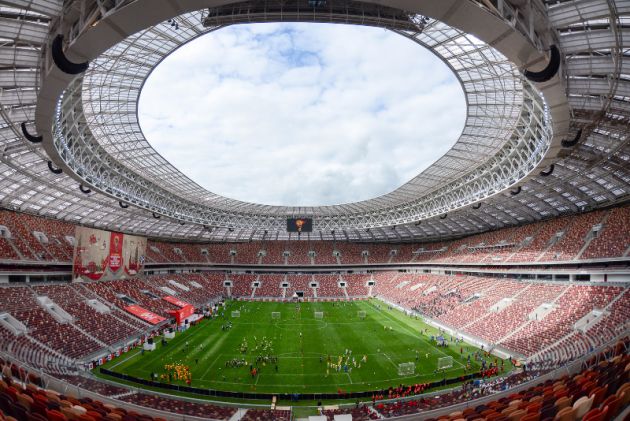 For the World Cup, spectator capacity was increased from 78,000 to 81,000 by changing from a single tier of seating to a double tier with chairs at a steeper angle. This increased the visibility of the pitch for the spectators. An athletics track that ran around the playing field was also removed to make additional space. In between the two tiers of seating are 100 VIP boxes, that can host just short of 2,000 spectators.
Spiralling stairs lead up to the higher seats and also provide access to a rooftop viewing platform that stands at an elevation of 23 metres. The original shape and design of the roof was retained, though the material was replaced. The colonnade and historic wall was also refurbished without changing the design details. Above the colonnade a new artwork by the long-standing Russain design studio Art. Lebedev was introduced, featuring figures playing various sports in a band of perforated metal.
The stadium was closed for renovation in 2013, reopening in 2018. Before the renovation the stadium incorporated a sports hall and a hotel. Architects Speech keep its mixed use functionality and added a large business centre to the southern part of the stadium as well as a fitness centre and universal sports hall and spa to the northern part of the stadium.
---