Funding from the RIBA will enable programmes committed to equality, diversity and inclusion in the architecture profession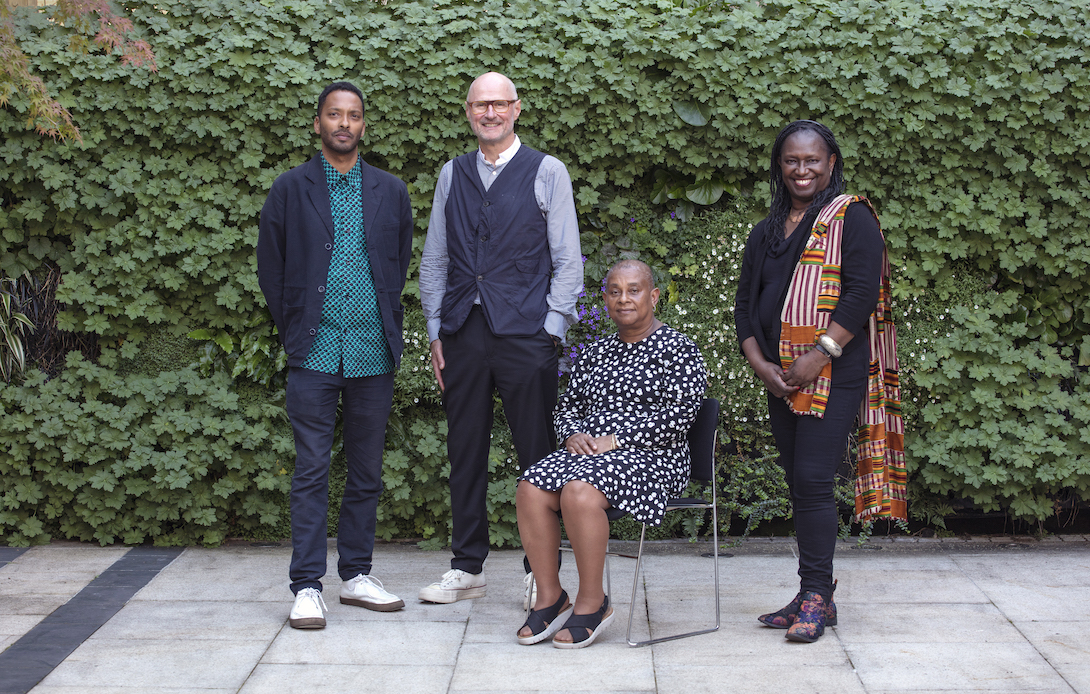 L–R: LSA head of school Neal Shasore, RIBA President Simon Allford, SLDF founder Baroness Doreen Lawrence, architect and RIBA Council member Elsie Owusu. Photograph: Morley von Sternberg
The Royal Institute of British Architects (RIBA) has donated £30,000 to the Stephen Lawrence Day Foundation (SLDF), which in turn has selected the London School of Architecture (LSA) as beneficiary. The funds will be committed to enabling programmes of activity that are dedicated to the development of equality, diversity and inclusion in the architecture profession.
The partnership was announced on 13 September 2021, on what would have been Stephen Lawrence's 47th birthday. Lawrence, who was a talented aspiring architect, was killed in an unprovoked racist attack in 1993. The SLDF aims to inspire a more equal, inclusive society, and to foster opportunities for marginalised young people in the UK, in honour of Stephen Lawrence. 'I am keen that we support young Black architects to realise Stephen's dream,' says Baroness Doreen Lawrence, SLDF founder and mother of Stephen.
The funded work within the LSA will address the historic and current underrepresentation of Black and other racialised groups in the architecture profession. 'The architectural aspirations of a talented young man, whose life cruelly ended, should act as a positive force in tackling the systemic racial and gender discrimination in the architecture and construction industries,' says Elsie Owusu, architect and RIBA Council member, who instigated the donation.
One of the ambitions of the collaboration is to ensure that by the date of Stephen Lawrence's 50th birthday on 13 September 2024, architectural education and professional practice in the UK will be truly accessible to and inclusive of all. With support from Owusu and the RIBA, the LSA will also launch a major fundraising campaign to extend the new bursary programme and provide further funding for initiatives to promote equality in architectural education.
'The LSA is designing an ambitious programme that creates opportunity, enables dialogue and serves as a call to action,' says LSA head of school Neal Shasore. 'We want to use this donation as a springboard for an ambitious programme to tackle enduring systemic barriers to diversity in architecture. We welcome the support of the architectural profession at large in achieving this.'
Get a curated collection of architecture and design news like this in your inbox by signing up to our ICON Weekly newsletter
---