Phillips Exeter Academy Library exterior by Louis Kahn. Photo by Gunnar Klack
Louis Kahn is widely recognised as one of the greatest architects of the twentieth century, known for his monolithic concrete buildings built around the world
Throughout his career, which spanned the majority of the 20th century, Louis Kahn was fascinated by how buildings can be used to improve lives and create harmony. He thought of himself as working in an "urban laboratory" where he could examine the relationship between architecture and community life. Born in Estonia – then part of the Russian empire – Kahn's family emigrated to the United States when he was young and it was there that he developed his passion for architecture as a teenager.
Kahn started out following the International Style, but soon abandoned this focus on lightweight architecture and moved towards a sense of the monumental in his designs. Kahn aimed not to mask the materials he used and developed a fascination with concrete, which he would refer to as "molten stone". He was interested in using natural geometric forms in his work. the combination of natural inspiration and forms with then-modern materials meant his work began to differ greatly from his contemporaries.
An architect of monumental structures
Kahn is best know for his vast institutional complexes – powerful forms constructed largely out of concrete, including the Phillips Exeter Academy Library in New Hampshire, the Kimbell Art Museum in Texas and the laboratories of the Salk Institute in California. The magnificent concrete National Assembly in Dhaka, Bangladesh is regarded as his greatest work though it wasn't completed until 1983, a decade after he died.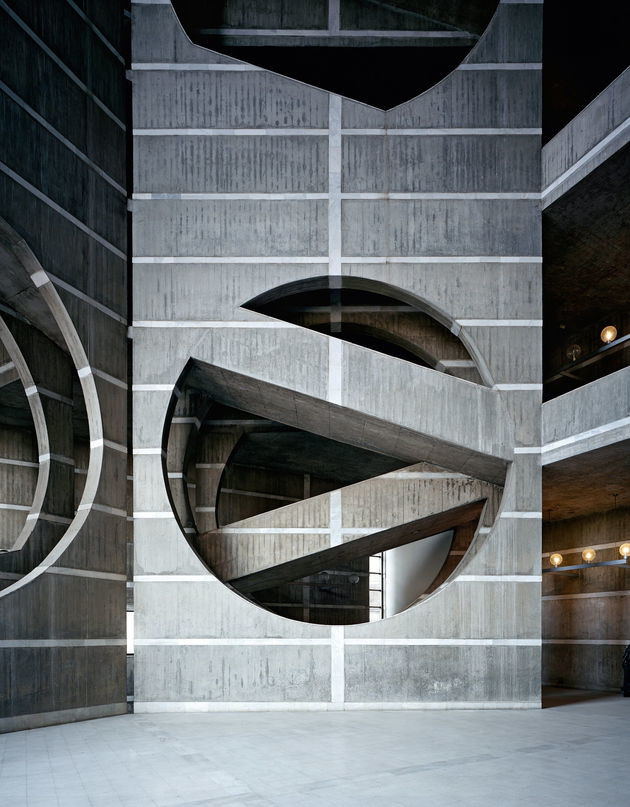 National Assembly Building Dhaka by Louis Kahn. Photo by Flickr user Forgemind Archimedia
The National Assembly building was a powerful example of modern architecture in that it was deeply rooted in both Modernism and the Bangladeshi vernacular. Kahn used local materials that could withstand the harsh desert heat and the structure became a symbol of Bangladeshi pride and culture.
Kahn always ensured that his designs were in harmony with both purpose and environment. For example the National Assembly in Dhaka has massive, layered facades that do not only serve to make the building look impressive. The perforated walls also protect the interiors from direct sunlight and provide passive ventilation, showing the architect had a thorough understanding of creating a space that appropriate and spectacular.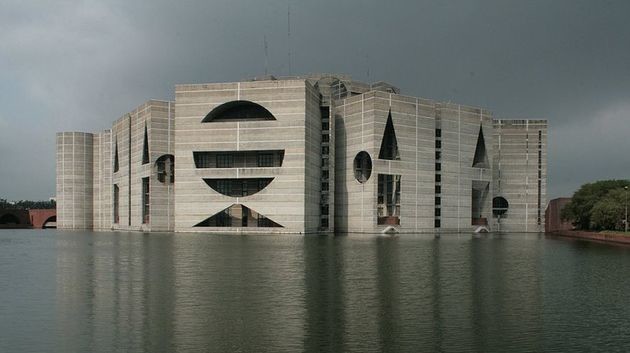 National Assembly building in Dhaka by Louis Kahn. Photo by Rossi101 via Wikimedia
The Dhaka building is not the only work by Kahn to be completed posthumously. The Four Freedoms Park in New York is his final work, designed in 1973 but only entering construction 38 years later. It is rumoured that he had the designs in his briefcase the day he died.
His life and influences on his work
Born in 1901 in Estonia, Kahn's parents emigrated to America when he was a child and for most of his life he was based in Philadelphia. He studied at the University of Pennsylvania, where he later became professor of architecture. After he graduated Kahn set off on a tour around Europe, sketching architectural monuments, castles and ruins. These studies would greatly influence his future work.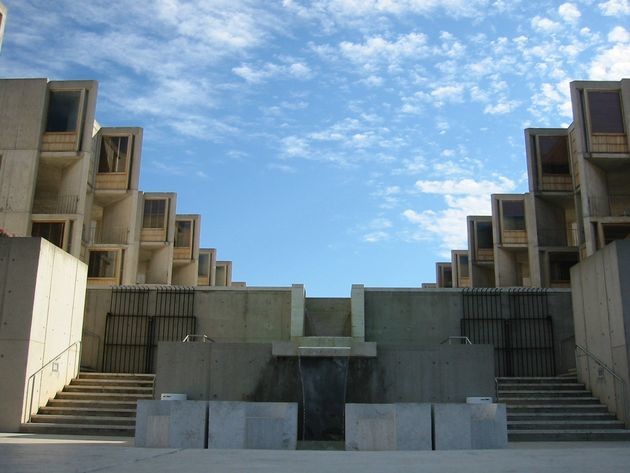 Salk Institute by Louis Kahn. Photo by Jim Harper
Kahn started his own atelier in 1935 but only really developed his own style in his 50s. During most of the 1930s and 40s he designed private residencies and workmen's houses, for which he followed the International Style.
While he worked in his private practice, Kahn taught at Yale School of Architecture from 1947 to 1957, during which he completed a fellowship at the American Academy of Architecture in Rome. This deepened his appreciation of mediterranean architecture, and while in Europe for a second time toured the ancient ruins of Italy and Greece and then also went to Cairo, Egypt. He developed a theory that only a building in ruins, devoid of its function, revealed the truth of how it was made. He later claimed his buildings were ruins in reverse.
Shortly after he returned to America he completed his first important work: the York University Art Gallery in New Haven, Connecticut. Completed in 1954, this was a significant move away from his International Style buildings of the previous decades.
Instead of the lightweight structures and open spaces that were popular at the time, Kahn designed a heavy structure with a facade of brick and glass. The combination of solid brick on the building's flanks and its steel-lined glass front were characteristic of Kahn's fusions of void and mass in his work. He began to develop a recognisably different style of Modernist building.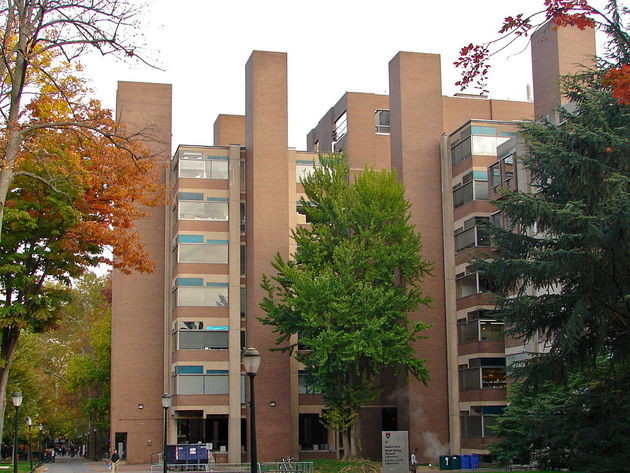 Richards Medical Research building by Louis Kahn. Photo by Smallbones via Wikimedia
The Richards Medical Research building, completed in 1965, was the first of Kahn's projects to express the difference between "servant" and "served" spaces. Servant spaces – stairwells, elevators, exhaust and intake vents, and pipes – were all isolated in four towers and were distinct from the served spaces – the laboratories and offices. This servant-served typology was infused with classical and medieval architecture and mixed with basic geometrical forms. The towers were reminiscent of the Italian towers in San Gimignamo that Kahn had sketched some years earlier. Though laboratories had been designed in this way for decades, Kahn took this practical feature and elevated it into an architectural principle.
The Salk Institute for Biological Studies in La Jolla, California, was built between 1959 and 1965 and inspired by primary geometries. Jonas Salk, who discovered the vaccine for polio, asked that Kahn design a facility that was worthy of a visit from Picasso; an architectural masterpiece that was an inspiring and functional place for research.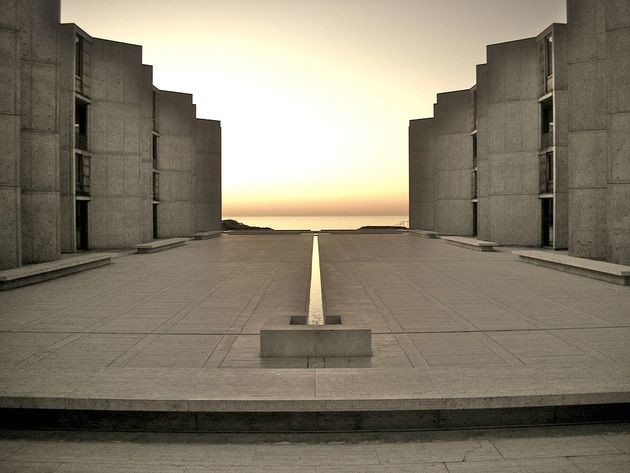 Salk Institute by Louis Kahn. Photo by Flickr user Alfred Essa
A controversial career
Kahn's unbuilt work is as famous as his built. His model for the City Hall Tower was a spiralling double helix, inspired by recent scientific discoveries on the nature of DNA. Although it was never built, it inspired a number of the tower structures of the Japanese Metabolist movement in the 60s and 70s, as well as Norman Foster's triangular-patterns for the Hearst Tower in New York.
As well as institutional giants, Kahn also designed nine private homes, all in and around Philadelphia. For these house he considered every detail and designed them to facilitate the interaction of the families who lived within them. For example, the Korman House was designed to be able to accommodate football games in every room. Kahn, however, never experienced the family life he sought to make possible in his designs; though he was married, he had multiple mistresses and he fathered three children with three different women, including his colleagues and collaborators Anne Tyng and Harriet Pattison, who had their own careers in design, both of which intersected with Kahn's.
Kahn died of a heart attack in the toilets of New York's Penn station in 1974 in his early 70s. Though he left a great design legacy, he was bankrupt at his death. In his lifetime his work was controversial, hard to categorise. Now the subject of books and exhibitions, he is undoubtably one of the most influential architects of the last century.
---