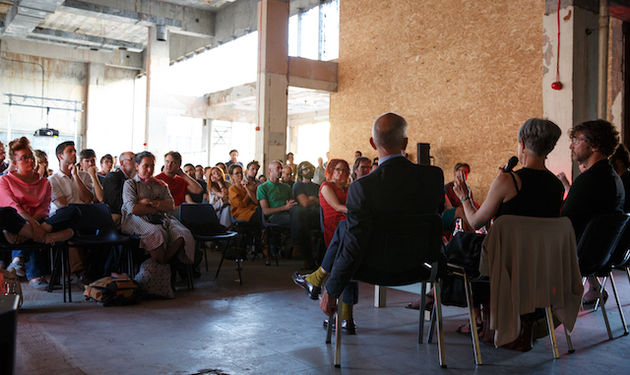 London Festival of Architecture 2018. Photo: Luke O'Donovan/LFA
In June, hundreds of architecture-themed happenings arrive in London. What's new?
More than 400 talks, walks, installations, workshops and events were announced today for London's month-long public celebration of architecture. Throughout June, the London Festival of Architecture will fill the capital with a raft of events – most of them free – confronting the vexed issue of boundaries and borders.
The highlights include a shimmering aluminium installation on the Thames by artist Wolfgang Buttress, a collaboration between ft'work (Footwork) architects and dance studio Shobana Jeyasingh, and an event challenging the city's response to its ever-worsening homelessness crisis, led by Morris+Company.
In an interview for June's issue of Icon, festival director Tamsie Thomson previewed what we can expect from the month's exploration of walls, zones, mental boundaries, and city limits.
ICON: What's the most exciting new thing that awaits visitors to LFA2019?
Tamsie Thomson: I'm really looking forward to The Colour Palace by Yinka Ilori with Pricegore – a fabulously colourful fusion of European and African cultural traditions, and a brilliant second edition of our Dulwich Pavilion partnership with Dulwich Picture Gallery. One of the biggest joys of running the festival is giving platforms to fresh and emerging talent – look out for other installations across the City of London and London Bridge – and even beneath a railway bridge in Nine Elms or under the Westway in west London.
ICON: How will the festival challenge us to cross boundaries and transgress borders in 2019?
TT: For many people coming across the London Festival of Architecture, it's a chance to see something new or unexpected, and to step across boundaries of imagination or experience. Architecture is often at its best when it is transgressive or disruptive: in the City we are installing miniature 'Parklets' that challenge the dominance of vehicles on London's streets, while our LFA Symposium at the Royal Academy on 14 June brings together leading practitioners including Eyal Weizman and Farshid Moussavi to debate boundaries and its effects upon architecture and the city.
ICON: What is the most exciting border or boundary-related fact you've come across in preparing for the festival?
TT: Residents of the Tower Liberty – a self-governing enclave that sat within its own boundaries around the Tower of London until 1894 – were entitled to any cows or sheep that fell from London Bridge.
ICON: Are there ways London can avoid deepening its divides and reconnect people for the benefit of the whole?
TT: By remembering to be London! Ours is one of the most cosmopolitan cities on the planet – something to be cherished and celebrated despite others' attempts to create division or throw up boundaries. London's architectural success thrives on diversity: for instance we know that almost a third of architecture jobs in London are held by non-UK EU nationals. We'd be far, far poorer without that diversity and we have to do all we can to sustain it.
ICON: Do you have a most anticipated event of the calendar?
TT: With around 400 events aimed at everyone from families to serious-minded academics, it's very difficult to choose. Francine Houben's lecture at the V&A on 24 June will be a highlight, and 'Late at Pitzhanger' on 28 June promises an event that is part séance, part performance: certainly one of the more outlandish explorations of the boundary between reality and imagination!
---