The stepped roof of the Lahofer Winery – designed by Chybik + Kristof – doubles as an outdoor cultural venue

Words by Francesca Perry
South Moravia – a largely agricultural area in the south of the Czech Republic – is the centre of the country's wine industry, producing more than 90% of its wines and attracting extensive wine tourism.
A distinctly public-facing approach has thus underpinned the design of a new winery project in the region for winemakers Lahofer. Established in 2003, the Lahofer Winery is one of the largest wine producers in the Czech Republic – but its growth demanded a new complex of buildings to bring together its production and public activities.
Czech architecture and urban design practice Chybik + Kristof has designed the new winery with a barrel vault-like interior, a stepped roof and an architecture defined by elegant, sweeping lines – all nestled in a landscape of Moravian vineyards.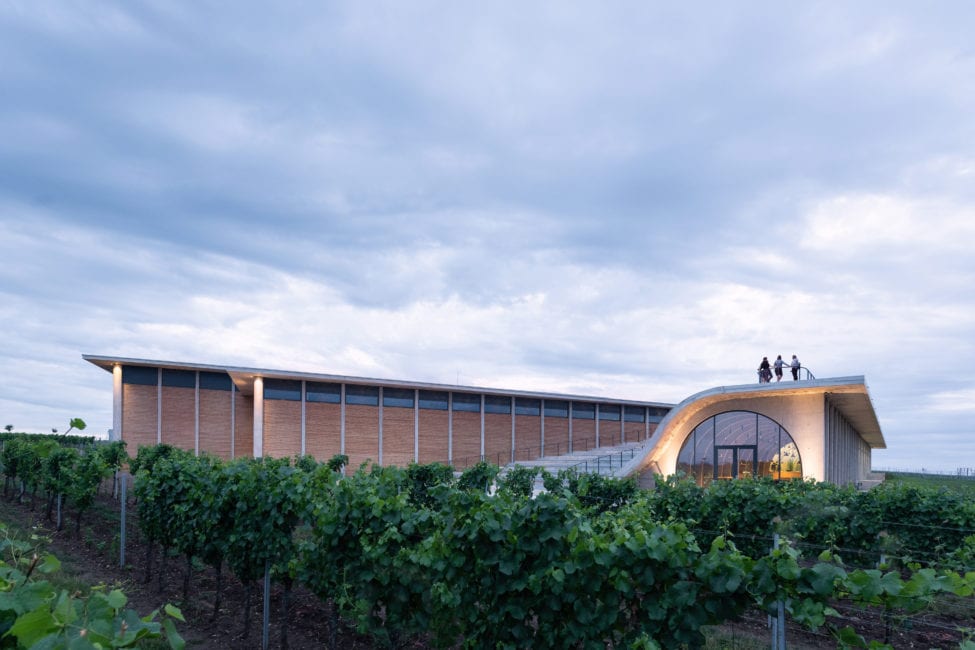 The project comprises a wine-making facility, offices, a visitor centre and adjoining tasting room. But its showstopper feature is a rooftop which descends in stepped layers to the ground, forming an inventive amphitheatre space for a variety of cultural events, and which can be climbed simply to enjoy expansive views over the region.
The visitor centre and tasting room that the roof tops is designed to reference historic, arched wine cellars of the region, with a colonnade of vaulted beams. Each concrete arch is individually designed to fit a specific angle of the sloping roof, while the distance between arches relates directly to the space between rows of vines outside – clearly visible through a glazed wall.
In the sleek tasting room, a large-scale mural painting by Czech contemporary artist Patrik Hábl covers the undulating ceiling. From a distance suggesting material texture, its composition of irregular and sparse strokes – ranging from deep reds and blacks to earthy browns and beiges – echoes the variations of the surrounding soil.
Adjoining the public section of the winery are two halls for production of the wine itself. Overall, the project aims to fuse the region's historic wine tradition with contemporary production and design, as well as connect the architecture to its natural surroundings.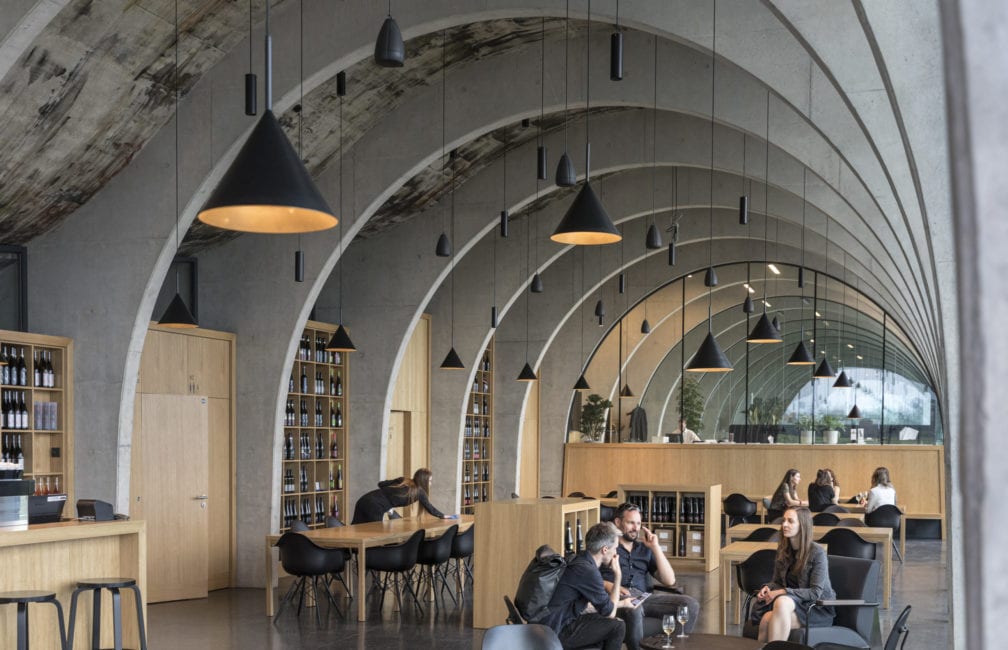 "The design of the Lahofer Winery is deeply rooted in nature, and in the respect thereof," explain founding architects Ondřej Chybík and Michal Krištof. "At a time when culture and nature appear to be antagonistic forces, we envision a space reflective of the longstanding symbiosis between the two in the region – one that profoundly respects the environment on which it rests.
"The structure unfolds into the native terrain, immerses itself into the surrounding vine rows, thereby preserving the essence and integrity of both soil and culture."
Photo credits from top to bottom: Alex Shoots Buildings, Chybik + Kristof, Laurian Ghinitoiu, Laurian Ghinitoiu
---