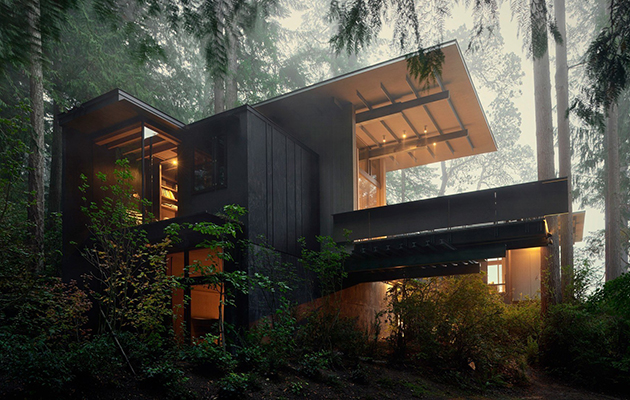 The cabin that started it all: Jim Olson's Longbranch family home
Seattle architect Jim Olson spent 60 years dreaming of the first house he ever built on the shore of the Puget Sound.
Crystal Bennes

looks back at his career, and what might be his finest moment – that first cabin

Not many architecture practices started life with $500 and a plot of land in the woods, but that's exactly how American architect Jim Olson started his in 1959 while only a second-year student at the University of Washington.

Olson's father commissioned his then 18-year-old son to build a small sleeping cabin on land already occupied by the family's summer house. The site, a rural idyll of forested trees on the shores of Puget Sound an hour and half's drive from Seattle, also features striking views of Mount Rainer. With assistance from a local carpenter, Olson designed and built a small, 19-square metre board-and-batten bunkhouse. This simple bunkhouse in the woods became a kind of architectural touchstone to which Olson returned again and again and a project which shaped the trajectory of his career. "To be honest, it was probably the best opportunity I ever had," says Olson while giving a tour of the house.

Across the Sound from Olson's cabin, there is a clear view to the architect's first proper commission. As a teenager, Olson told his friend Carey Conry, heiress to the Parker Pen fortune, of his architectural ambitions. "I told Carey I was going to become an architect," Olson recounts. "She told me I should call her when I graduated and design her a house." After completing his studies, the eager young architect did exactly that. The commission was accepted in 1965 and completed in 1966.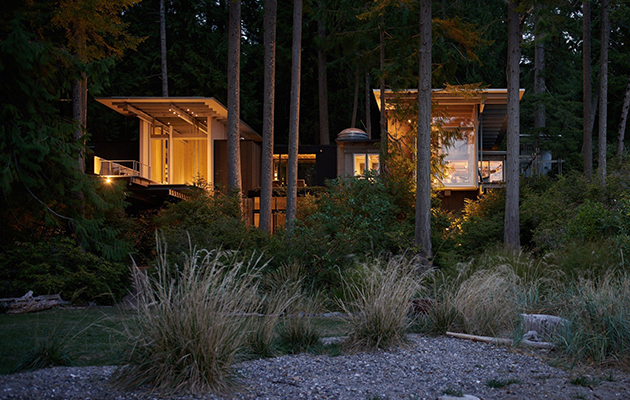 Over the years Olson's Longbranch cabin has grown and changed, but maintained its distinctive style
Drawing on inspiration as varied as the impressive pergola situated on the grounds of the local area's grand lodge, the work of the noted Pacific Northwest architect Paul Kirk, and the massive colonnades of Egypt's Luxor Temple, which Olson visited after graduation, the Conry residence provides the first example of what would become one of the architect's trademark features – a central linear corridor which acts as both axis and anchor for the separate functions of a home.
While numerous other architects who got their start in residential architecture later shifted to concentrate on larger public projects, as Olson's reputation has grown, his love of the domestic has not wavered. Although his initial firm's earlier work – that of Olson and a former colleague from the office of Ralph Anderson – was perhaps more varied, including projects such as the Pike & Virginia Building constructed in 1978, one of the city's first mixed-use developments, Olson has essentially built his career on the back of single-family homes.
Jim Olson's Kirkland Museum of Fine Decorative Arts
A key factor contributing to this focus was that, in the early 1980s, a major recession nearly caused Olson's practice to fold. The only thing that saved it were the residential projects on the books. Feeling responsible for the continued employment of his staff, Olson decided then that a commitment to residential design was a commitment to sound financial practice. "The office almost closed in the 1980s," Olson says. "The only reason we survived was because we were designing houses for clients who could withstand the recession." The lessons learned from that period mean that today, some 70 per cent of Olson Kundig's work is residential.
While in recent years, Olson himself has branched out to cultural projects – namely the recently-opened Kirkland Museum of Fine & Decorative Art in Denver, Colorado and the Lightcatcher at the Whatcom Museum in Bellingham, Washington – he has cemented his reputation as a designer of homes. And these homes are not your average domestic projects, but residences for families with art collections some museums could only dream of.
The dramatic facade of the Lightcatcher at the Whatcom Museum
An American Place, for example, a 2004 residence designed to house The Ebsworth Collection, an impressive private collection of 20tth-century American art, opens onto a four-walled gallery featuring works by Georgia O'Keeffe and Willem de Kooning. This entrance opens on to the middle section of Olson's favoured design trope, a central axis, which also features the main living and dining area. Along colonnaded walkways to the left and right (a Franz Kline at one end, a Marsden at the other) sit a guest wing and the private bedroom suite respectively. Works by noted 20th-century American artists beam out from every wall. Even in the guest bathroom.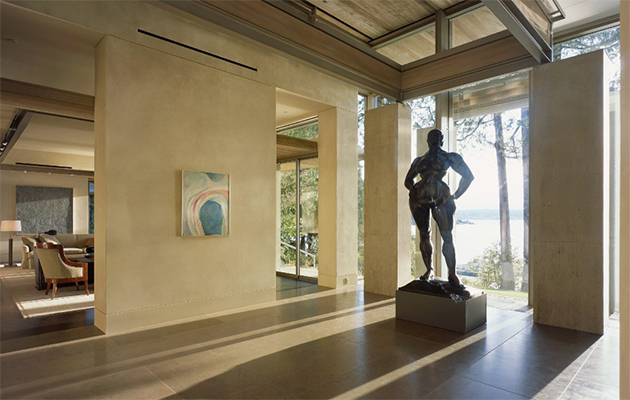 An American Place houses The Ebsworth Collection, featuring important works of American art
City Cabin, a more modest (or comparatively modest at $2 million) 2015 project built for one of Olson's closest friends, is a sweet two-bedroom home and one of the few plans that breaks with orientation along a central spine. Instead, a high-ceilinged central volume opens out onto a lovely wild garden, satisfying the client's desire to feel more at her home in the countryside (adjacent to Olson's Longbranch) than in the reality of Seattle's suburbs.
While these and other comparable projects have won Olson plaudits, not to mention a steady stream of similarly deep-pocketed clients, it is his own home, that small cabin by Puget Sound, which is richest in architectural imagination and personality.
A 'modest' cabin by Olson's standards, a City Cabin was built for $2m. Photo: Aaron Leitz
It is perhaps something of a truism that creativity needs restrictions and limitations to truly shine and this is no less true in architecture. Clients typically provide some of those restrictions, but what happens when the clients come with budgets so large that restrictions vanish? Walking through American Place or House of Light (another Seattle residence built around a James Turrell commission), for example, one feels that limitless resources do not necessarily equate to compelling architecture.
By contrast, Longbranch – Olson's summer cabin – is far more successful than many of the residential projects designed for clients. Throughout his career Olson has returned again and again to this cabin in the woods, expanding and remixing the small 1959 bunkhouse on four separate occasions: 1981, 1997, 2003 and most recently in 2014. "For me, [Longbranch] was always and still is about being part of nature," says Olson. "Spending time here reminds me that humans are part of the natural world and that's where so much of my work begins and ends."
Rather remarkably, Olson has never demolished past components of the cabin, he has only expanded. Thus, the second addition in 1981 turned the original 50's cabin into a bathroom and added two additional pavilions, one with a kitchen, the other a bedroom with a Turrell-inspired skyspace viewing hole above the bed. A larger remodelling in 2003 expanded the cabin along a long axis building out on both sides from the 80's kitchen space. An internal bathroom was added to the north end and a larger living room to the south looking out over the Sound. The final addition in 2014 included a new master bedroom and bathroom suite running along a new axis at a right-angle to the 2003 build, as well as an internal garden to the north facing the steep slope behind.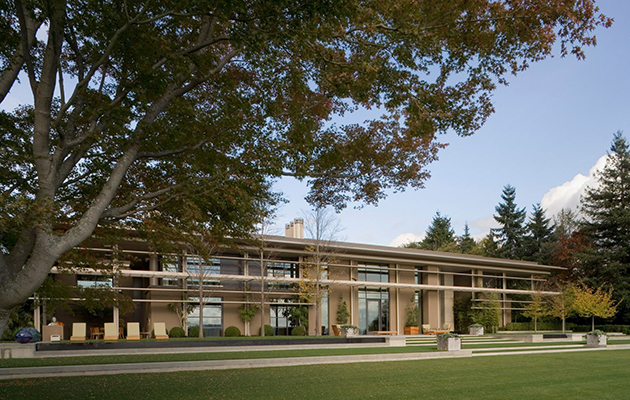 Olson's House of light shows that bigger is not necessarily better
Longbranch is a project is rich with interest. Here, one can see the hand of a designer who has tried and tested, integrated and adjusted over 50 years. Earlier buildings which were once outside have been swallowed up by later additions and connected with unifying canopies. The overriding concern has been to integrate the earlier history rather than erase all traces which provides a fascinating series of layers to occupy the eye. There is something utterly unique about Longbranch. Its experimental and iterative qualities are far more engaging than the cool perfection of projects like An American Place and give this expanded cabin a sense of being a true one-off in contrast to the billionaire cookie-cutter houses elsewhere in his portfolio.
Olson's firm, Olson & Kundig, are currently occupied with the renovation of Seattle's emblematic Space Needle and the soon-to-open Jordan Schnitzer Museum of Art at Washington State University. Yet Olson continues to dedicate himself to the pursuit of the perfect home. He has residences in varying stages of completion in Jakarta, Seoul, London and elsewhere. But with the release next month of a book looking back on the last ten years of his work, subtitled Building, Nature, Art, to my mind there is no other project which better encapsulates Olson's philosophy like the cabin at Longbranch.
---