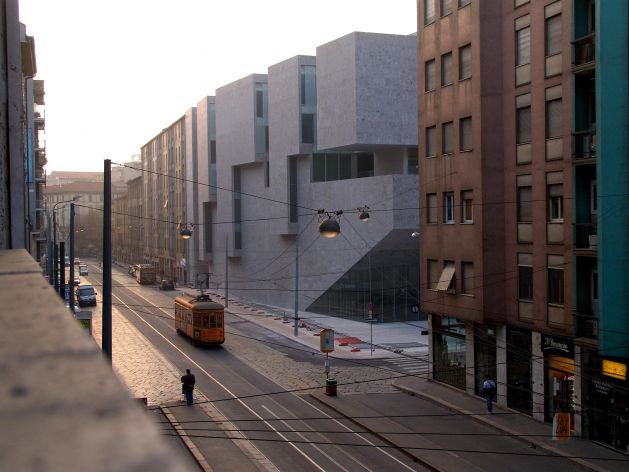 Grafton's first international building was Universita Luigi Bocconi, Milan. Photo courtesy of Federico Brunetti.
Get a bitesize overview of the week's headlines and events with Icon's round-up
SCENE
AT LONG LAST
The co-founders of Irish practice Grafton Architects have been awarded the 2020 Pritzker Prize, often regarded as the discipline's highest honour. Pioneers in a male-dominated profession, Yvonne Farrell and Shelley McNamara are best known for their educational buildings, including the Medical School at the University of Limerick, the UTEC in Lima and the School of Economics at Bocconi in Milan. In 2018, they curated a well-regarded iteration of the Venice Architecture Biennale and at the close of 2019, won the RIBA Gold Medal. 'To be an architect is an enormous privilege,' said Farrell at the Pritzker ceremony. 'To win this prize is a wonderful endorsement of our belief in architecture.' Only three women have previously been awarded the accolade, which was founded in 1979.
CORONAVIRUS CONTINUES
Last week, the Venice Architecture Biennale's live-streamed press conference implied that business would continue as usual. This week, the Biennale's administrators followed the example of Milan's Salone del Mobile, by deferring the opening date from 23 May to 29 August, a move that will cut the duration of the exhibition, curated by MIT-based architect-scholar Hashim Sarkis, by half. The decision came the same day as as the Italian government ordered the closure of all schools and universities across the country until 15 March, after the previous day saw a 28 per cent increase in fatalities.
COLLECTIVE RESPONSIBILITY
The influential Belgian fashion designer Raf Simons has been announced as co-director of Prada, sharing the role with the Italian luxury titan's long-term leader Miucca Prada. As well as a crowning piece of course correction for Simons, whose recent tenure at Calvin Klein saw the brand's earnings decline, the joint directorship represents new territory for such a major fashion label. The fashion industry will be eager to see how this formidable partnership plays out.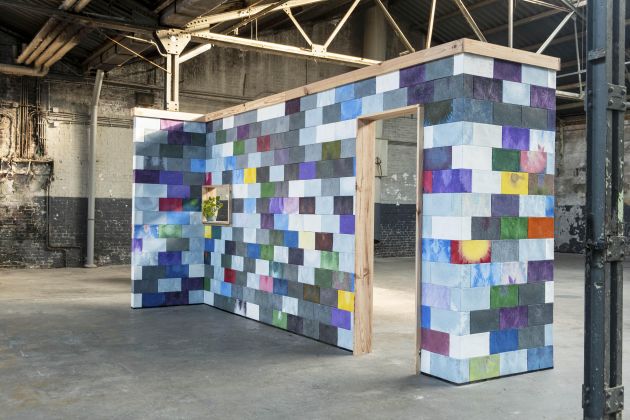 Precious Plastic provides an open source guide to creating your own stackable bricks from used plastic. Courtesy of Precious Plastic.
LEGO FOR THE FUTURE
Once the material of the future, plastics have taken a well-deserved knock in recent years, as their environmental impact has become more evident. Enter Precious Plastic: a project that recycles waste plastic into a building block that can be used in the construction of architecture. While similar processes have been attempted before, Precious Plastic is the first to be open source and available to all, with an online tutorial and an estimated production time of four minutes. For anyone who played with Lego as a child, the principles will feel remarkably similar.
FROM TRAGEDY TO FARCE
The inquiry into the 2017 Grenfell Tower disaster continues apace. This week, Bruce Sounes — the project lead for Studio E's refurbishment of the building, whose flammable cladding is at least in part to blame for the rapid spread of the conflagration – has admitted to not reading the section of the government's Building Regulations pertaining to fire safety for tall buildings. He also admitted to being unfamiliar with the passages on combustibility, cavity barriers and external fire spread.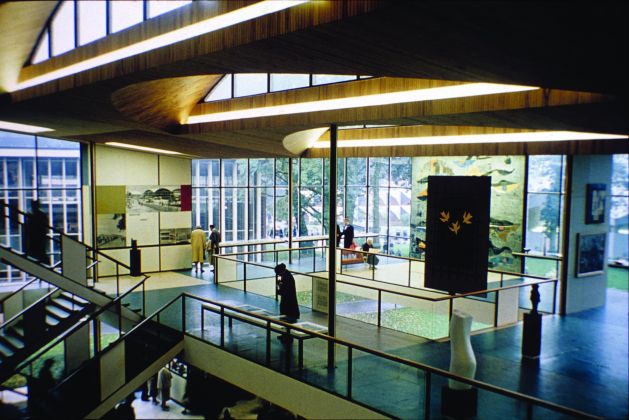 Richter is best-known for his Yugoslavia Pavilion at Expo 58, in Brussels. Courtesy: Rika Devos
DIARY
The World as a Pavilion: Vjenceslav Richter, BOZAR, Brussels
'Object – that is everything,' wrote the radical Croatian architect Vjenceslav Richter in 1954, 'architecture, painting, sculpture, all that is object!' This new exhibition at Bozar explores Richter's synthesising work, focusing on the Yugoslavian Pavilion he designed for the Brussels Expo '58. It should serve as a reintroduction to a fascinating figure, who fused practical design with avant-garde thinking. Until 19 April.
Collectible, Vanderborght Building, Brussels
It's a busy weekend in the Belgian capital. Not far from Bozar, the city-owned Espace Vanderborght plays host to Collectible, a leading fair for limited, experimental and collectable design objects. 'Just because an object is a chair, a table or a lamp,' co-founder Liv Vaisberrg told Icon last week, '[it] does not make it less intellectually and aesthetically exciting.' Until 8 March.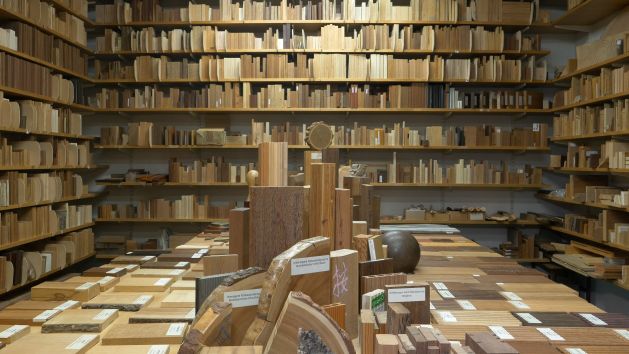 Cambio is the result of an ongoing research project into the history of wood exploitation. Photo Credit: Johanna Seelemann
Formafantasma: Cambio, Serpentine Gallery, London
Few contemporary design practices have been more adept at treading the boundaries between practical design and its attendant social issues as Formafantasma, the Amsterdam-based duo formed of Eindhoven graduates. Cambio, the debut in a projected series of progressive design-focused exhibitions at London's Serpentine Gallery, explores the past and present of humanity's exploitation of wood, while looking towards possibilities for a sustainable future. Until 17 May.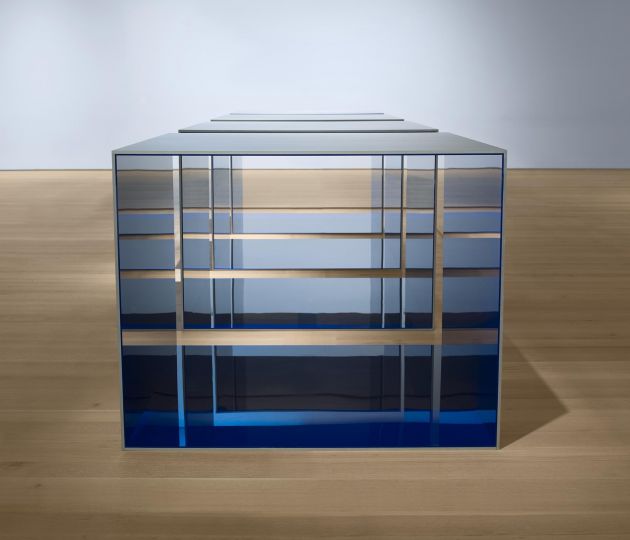 Donald Judd. Untitled. 1969. © 2020 Judd Foundation / Artists Rights Society (ARS), New York
Judd, MoMA, New York
Depending on your perspective, Donald Judd is either a shining hero of 20th century sculpture or a source of the rot. One of the founding fathers of both minimal and conceptual art, in the 1960s Judd began arranging units of industrial materials into a new type of sculpture, composed of stacked boxes. This retrospective – the first in the US in three decades – will explore his transformative work. Until 11 July.
An installation view of Langlands & Bell's artwork Grand Tour, 2020, at the Sir John Soane Museum. Photo: Gareth Gardner.
Langlands & Bell: Degrees of Truth, Sir John Soane Museum, London
The Soane's commitment to contemporary art and design exhibitions continues into 2020 with Degrees of Truth, by the Turner Prize-nominated art duo Ben Langlands and Nikki Bell. Reflecting on architecture's role as a witness to political, technological, economic and cultural relationships, the show will gather works from 1986 to the present day, which explore everything from the rubble of 1980s Whitechapel to Norman Foster's super-sleek Apple Park. Until 31 May.
Asia Pacific Architecture Festival, Brisbane, Australia
The fortnight-long festival returns with the usual mixture of exhibitions, installations, lectures, discussions and workshops. This year's theme is a particularly pertinent one for the region: water, which serves as both economic driver and environmental danger for south-east Asia's island nations. There is also space for some levity: one exhibition, at Queensland State Archives, transforms architectural drawings into Pac-Man inspired arcade games. Until 20 March.
---