Child Graddon Lewis retrofitted a dilapidated bird hide in north-east England to become a new community asset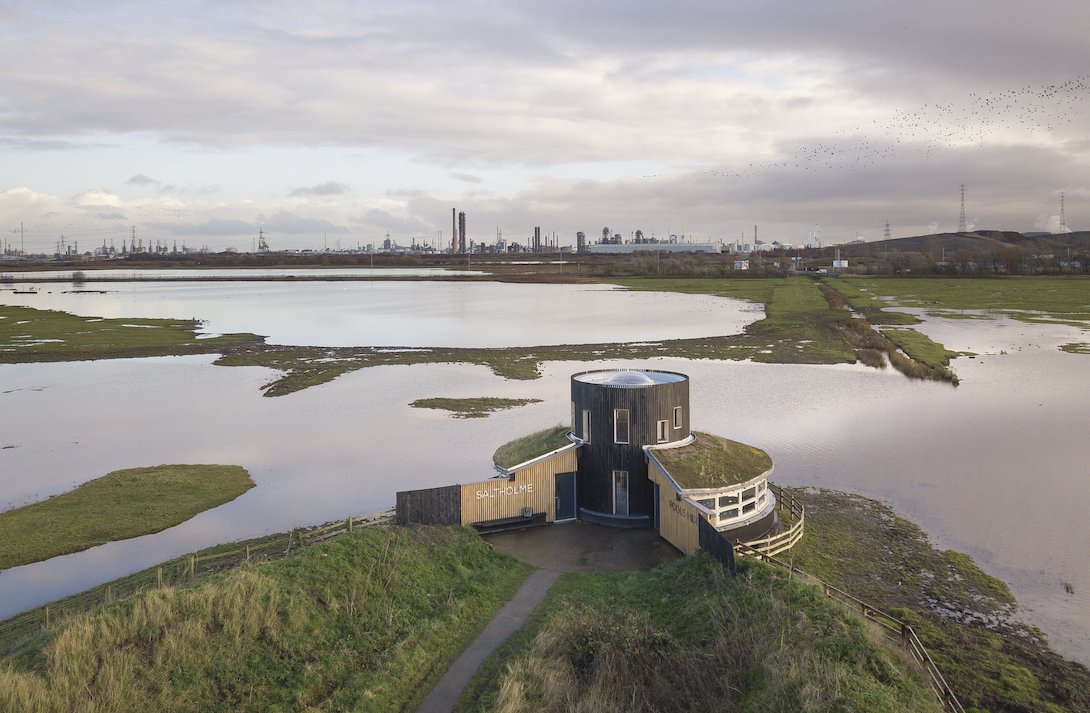 London-based architecture practice Child Graddon Lewis has completed the Saltholme Pools Hide, the refurbishment of a dilapidated bird hide in Teesside, north-east England. The hide is set in the wetland habitat of Saltholme Nature Reserve, but beyond is surrounded by the region's heavy industry.
Designed for the Royal Society for the Protection of Birds (RSPB) and Teesside Environmental Trust, the project transforms a formerly unwelcoming building into a community asset. Child Graddon Lewis utilised the hide's existing structure: a circular breeze-block and steel frame with solid concrete base. The practice punched through the breeze-block walls and utilised natural materials such as birchwood to create a warm and tactile interior.
A crowning second storey has been inserted at the core of the existing structure, which now enables visitors to have panoramic views of the surrounding landscape and wildlife. A new large rooflight – suspended in a glulam ring beam over the central atrium space – brings abundant natural light into the transformed structure.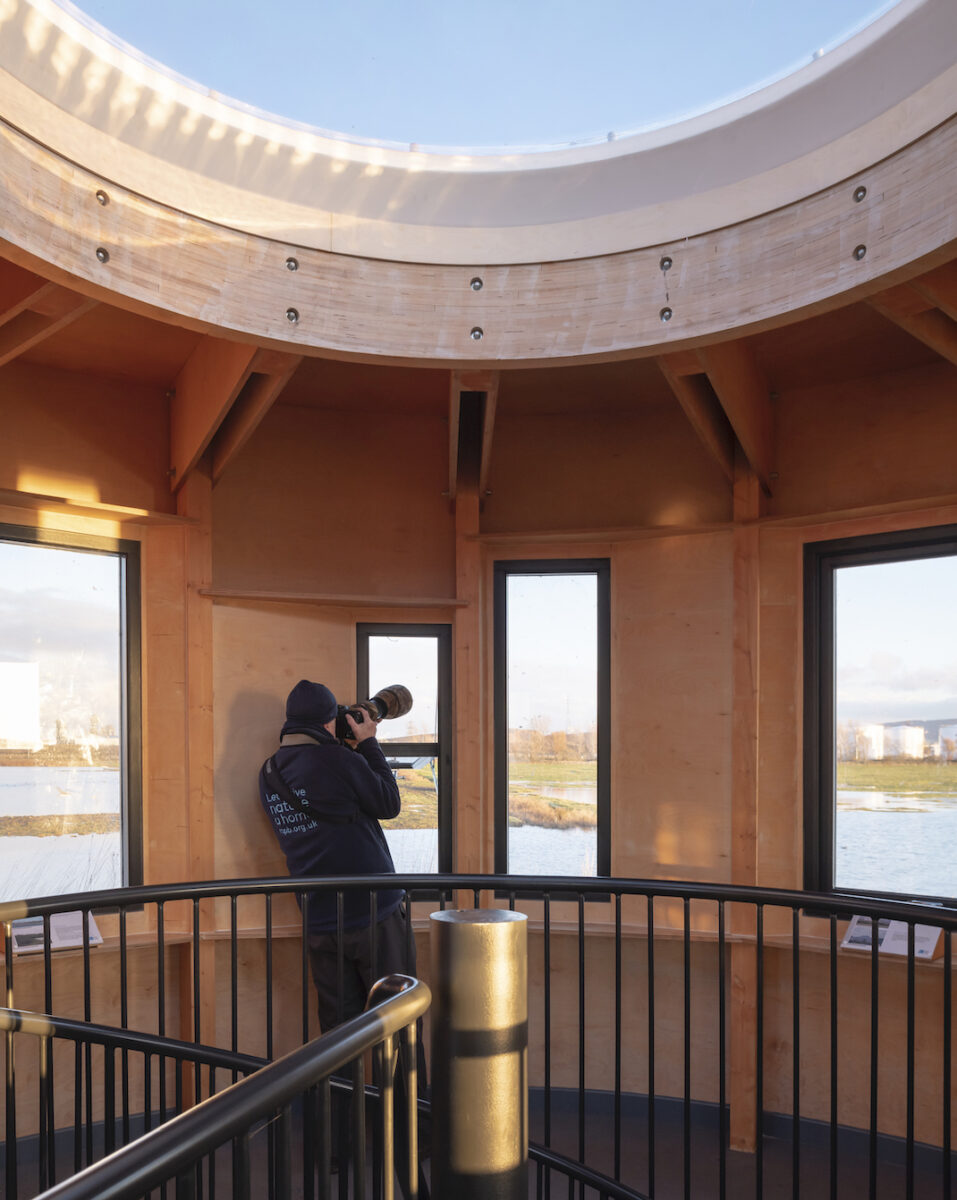 The project's materiality both reflects the surrounding context and requires minimal maintenance, including a pitched green roof and stained timber cladding. The retrofit does not incorporate any electrical or mechanical services and has been constructed as a standalone unheated space resulting in zero-energy consumption to operate the hide. Openable windows have been incorporated to provide natural cross ventilation and cooling in warmer seasons.
'When you first visit RSPB Saltholme what strikes you is how unique a nature reserve it is; a hidden sanctuary of nature encircled by a backdrop of contrasting industrial skyline,' says Chris Gilligan, associate at Child Graddon Lewis. 'The ambition in the extended and refurbished Saltholme Pools Hide was to create new elevated and panoramic views in which to experience this exceptional site setting.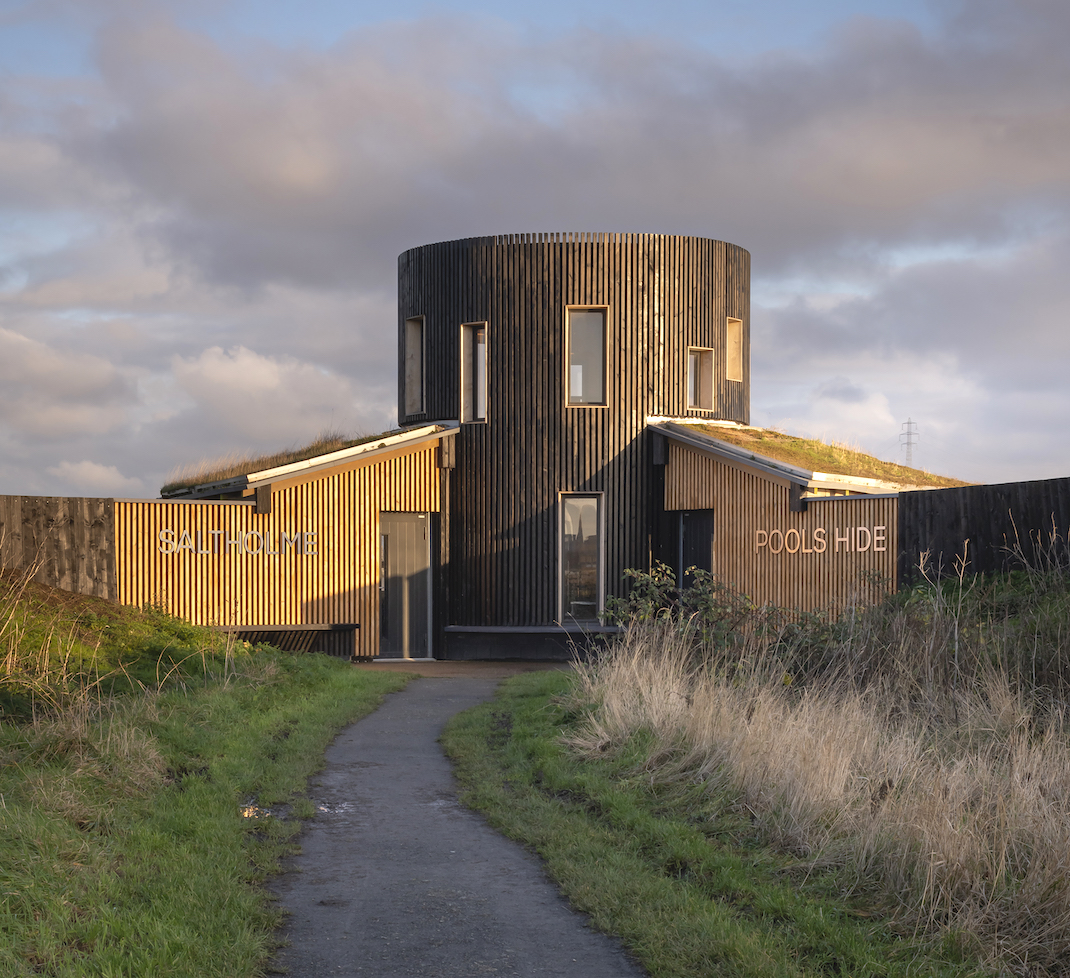 'The existing hide did not have the most welcoming approach and its interior created a hard, utilitarian environment with untreated concrete floors and breeze block walls that greeted the local wildlife enthusiasts and groups of children learning about the area. We knew our proposed tower slotted into the centre of the existing horseshoe-shaped hide needed to be the opposite experience; warmer, lighter and more inviting.'
The project was delivered for less than £150,000 and was sensitively constructed between bird breeding seasons. The hide's transformation now means it attracts a larger and wider range of visitors, enabling the RSPB to roll out education sessions at the site.
Photography by Jim Stephenson
---