Kaolin Court, a development in Stoke Newington designed by Stolon Studio
London's population has sparked experiments in micro-homes, shared space and cohousing. But how close do we want to get? asks Jay Merrick
Mayor Sadiq Khan's London Plan estimates that by 2041 the capital's population will rise from 8.1 million to 10.4 million, requiring 65,000 extra homes each year. How might this explosive growth affect the character and sense of community of new housing developments?
The signs are not good, according to the fiercely communitarian architect Peter Barber. In a broadside written 'in anger', he refers to 'the disgusting donut blocks going up everywhere, the antisocial high rise shit that people are building, and the morons who want London to sprawl into the countryside'. He suggests that the start-point for housing that will promote a sense of community is greater low-rise density.
Read more: Tatiana Bilbao on modular housing and the specific problem it can solve
Part of this quest for density lies in small-scale housing schemes across segments of the 3,000ha of brownfield sites in London, and on thousands of smaller backland sites that, so far, only very brave and talented architects and developers have been able to build on. The mayor's advisers estimate that a quarter of all new housing could be built on these sites.
But in the febrile rush to generate new homes, these oddments of urban junkspace rarely slot seamlessly into planning processes or land development business models – and certainly not those that have produced the trendy, scaled-down housing units marketed as communities.
At Wembley Park, for example, the developer-manager Tipi is in the process of delivering 5,000 homes by 2024, with monthly rents starting at £1,755. The occupiers are buying into a 'curated' realm of faux-radical existence calibrated via 'neuromarketing, psychology, and behavioural economics' (in Tipi's terms). 'Join the Rental Rebellion' proclaim posters whose vivid, Murray Allan-designed graphics mimic the Russian revolutionary Alexander Rodchenko's brilliantly dynamic 1924 Books! banner. 'Rebelling never felt so chilled, renting a home is way more fun.' Those who populate the supporting imagery are young, freshly laundered, smiling, blatantly self-satisfied – the hi-res update of the satirically consumerised figures in Richard Hamilton's 1956 collage, 'Just what is it that makes today's homes so different, so appealing?'
Alto Apartments by Tipi. Photo by Hufton + Crow
A similar buzz surrounds Pocket Living. Underwritten by £58.5 million in loans from the Mayor of London and Homes England, this is the headline act in the micro-home field, selling well-designed units slightly bigger than a double prison cell for about £250,000: about half the average house price in London. Marketed as self-contained communities, formats like Pocket's and Tipi's are meticulously strategised, effective responses to certain kinds of housing need. But are these modes of dwelling actually communities in the fullest sense, or some other kind of existential phenomenon? Does the average stay-time of 18 months at Tipi's rental apartments signal the accepted onset of implicitly ephemeral communities?
A remark by the US architect and academic Michael Sorkin seems transferable to some new forms of housing in London, where living space standards – already the smallest in Europe – are likely to be further reduced: 'Much as American housing projects have looked to express, in their austerity, the limits beyond which the poor should not aspire, so the idea of a minimum existence oscillates between penitence and affirming, Shakeresque simplicity.'
Sorkin deplores the idea of 'stuffing people into spaces that can only be inhabited by childless Zen masters and anal-retentives. Shouldn't the city be a place where the investigation is of how to produce choice and not compulsion?' In London, rising property prices make housing choice extremely difficult, and the Joseph Rowntree Foundation has warned that they could generate new swaths of urban slums.
Kaolin Court's exterior. Image by Robert Barker/Stolon Studio
The streets around Forest Hill station in south London might not seem an obvious place to investigate new housing that is polemically communitarian. Turn left at the station exit, go left up Stanstead Road, and into Beadnell Road, and you encounter a decidedly undefined environment: Victorian semis and 20th-century homes on your left, low-rise industrial units on the right – a Petri dish of brownfield and backland sites that exemplifies Khan's small sites development manifesto.
Halfway up the rise, the terraces give way to a startling architectural interloper – a collection of six dwellings reached through a cut, which passes beneath a glazed first-storey winter garden, then leads into a shared central courtyard. This is Kaolin Court, designed by Robert and Jessica Barker of Stolon Studio, and built by the practice's development arm, House of Tuesday. This small tableau of four houses, three maisonettes and two flats, each with three double bedrooms, sell at about £800,000; the per square foot costs compare with Pocket's micro-homes.
This architecture risks the creation of an intimately scaled, intentional community, a model whose first modern version took shape in 1972 at Sættedammen, a 35-family cohousing community at Ny Hammersholt, northern Denmark. The architecture of Kaolin Court is unusual – shaved-off corners, asymmetrically angled roofs, multiple rooflights, and cleverly arranged outlooks that preserve privacy on what was previously the site of small warehouses.
Copper Lane in Stoke Newington. The cohousing scheme was designed by Henley Halebrown Rorrison
'The question is, how do we perceive living, and sharing spaces?' says Robert Barker. 'Because we've lived in these spaces [in a similar scheme nearby], we've learned so much. Everyone has to share the vision. Some people don't get it. It is social architecture, but not with a big S. We use the phrase "neighbouryard".' And Jessica Barker adds: 'Even talking about communal space can have a negative connotation. The idea is quite European.'
'Scale is one of the age-old questions about community,' says Robert Barker. 'At what scale is housing self-regulating, and at what scale does it require management? We're trying to find an optimum scale at which people are able to converse and interact successfully, before it becomes too large and people feel a greater need for more personal space. We believe there's a ratio between the quasi-public space and the number or scale of units. More research is required.'
More research, and much more imagination in many of London's planning departments. 'Planning is driven by a checklist of requirements,' says Robert Barker. 'There can be a great lack of architectural understanding. So often, junior planning officers assess a design and don't really understand the bigger architectural and social picture. The classic ones we come up against on backland sites are about privacy and the 50sq m garden per dwelling.'
The most potent example of small-scale 21st century housing-as-community in London is Peter Barber's Donnybrook Quarter in Bow, which was completed in 2006. The architecture, streetscape, and intensely focused social intent of this scheme remain magnificently original.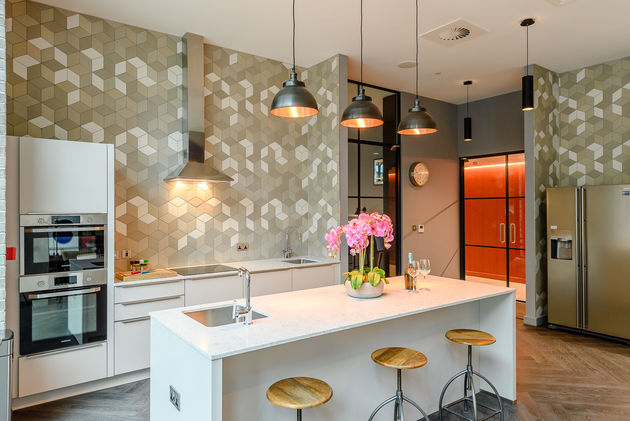 A kitchen space in the Tipi Landsby development
The practice's Phil Hamilton confirms the battle with the planners' design checklists, and emphasises that 'we're designing pieces of the city. In almost all our projects, we're pushing for them to be intertwined [with the wider context] rather than being a ghetto of people living together'. Small housing schemes 'have to be part of the wider community of the city'.
Three miles north-west of Donnybrook Quarter, on a small backland site reached by a narrow lane, sits London's first cohousing scheme, Copper Lane, designed by Henley Halebrown Rorrison. This too is exemplary in the way it combines density and masterfully composed community design. Cohousing is most popular in the West Country; in London, there are only 12 completed, or progressing, cohousing schemes – including the Older Women's Co-Housing (OWCH) dwellings in Barking, planned by their own residents.
We see an even greater density at the Peter Salter-designed Walmers Yard in Notting Hill – four small, interlocking ultra-luxe dwellings of excruciatingly complex architectural pretension on an infill site. Salter speaks of the urban, social and phenomenological value of 'packed buildings' which, in this case, were valued at £22 million; the build cost for the Copper Lane scheme was £1.8 million. In Tufnell Park, vPPR's Ott's Yard is composed of two triangular-plan homes inserted with great finesse into a plot bounded by 23 party-walls.
The philosopher Bertrand Russell valued living without certainty, yet without being paralysed by hesitation: 'Not to be absolutely certain is, I think, one of the essential things in rationality.' Making a virtue of uncertainty can, of course, justify the design of both micro-homes and intentional communities. But the central questions remain: do we know how we want to live? And what kind of communities do we want to live in?
The original version of this article appeared in Icon 196, the London issue
---