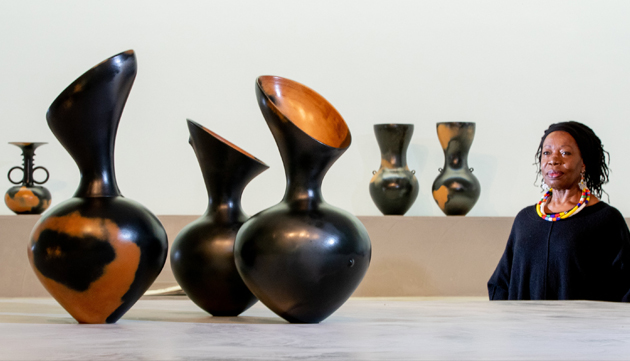 ICON speaks to the ceramist Magdalene Odundo to mark the opening of her exhibition, The Journey of Things, at the Hepworth in Wakefield, which details her interest in the human body, spirituality and craft techniques from across the globe.
The exhibition, designed by architect Farshid Moussavi, brings together Odundo's own work, alongside a range of historic and contemporary objects she has selected that represent the influences she takes from around the world and from the past. Objects on display include ancient Greek and Egyptian vessels, historic ceramics from Africa, Asia and Central America, Elizabethan textiles and sculptures from artists including Auguste Rodin, Henry Moore and Barbara Hepworth, the namesake of the Yorkshire gallery.
ICON: How did the show come about at the Hepworth?
Magdalene Odundo: Through an invitation from the curator, Andrew Bonacina.
ICON: Had you had other retrospectives in the UK before?
MD: No. This is the first one. I've had sort of mini retrospectives in the States, but this was the first one here.
ICON: Clearly the Hepworth exhibition drew on a lot of artists and so on that have influenced you. How did that choice of objects come about?
MD: It was not difficult in the sense that throughout my 40 years of teaching and being engaged in ceramics as a professional career since the '80s, my research has been based on the fact that those of us who make things, make them from having had an awareness of what has gone before, through history of art and museums; and that our work is [part of] a spectrum. We draw from past experiences, and past experiences include people who make work, and your contemporaries as well.
ICON: Your work draws on a multiplicity of different cultures, some of which are ones that you yourself have lived. How do you articulate the experience of being from more than one place in your work?
MD: I mean, it does appear that there are so many different disparate cultures, but for me what ties it together is the humanity within those works, and within the objects that I chose. They all have an element that is telling about us as human beings. I could say a lot that I can't articulate in words, or in my own making, because one always selects to specialize in a certain way. As with any other subject, it can be influenced by so many things. When you actually sit down to make yourself, you hone it into what you're good at.
ICON: And what is it you're good at?
MD: Expressing myself in clay, through clay, and through the material. I just love the materiality of clay as a thing, as an element, as a tangible material that can be moulded.
ICON: So the clay that you use, I understand, is a special composite. Can you tell me what it's made of, and what's special about it?
MD: It is only special because it is made to suit the work that I do, and it's composed of two clays. One clay is from a certain plant, and the other clay from this London Oxford urban clay.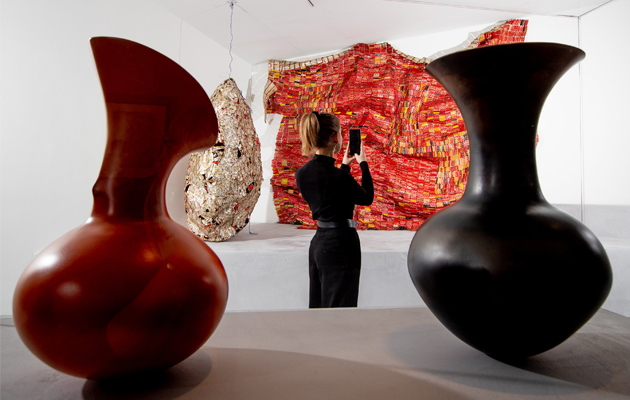 ICON: What do you think about the state of the contemporary ceramics scene?
MD: I think it's really healthy because clay has become a medium that many people have worked, and it has become very popular to use. I think it has crossed the boundaries of disciplines in a very, very interesting way, more than any other art. You see people like Richard Notkin, Tony Cragg and Ruby Sterling are using clay. I think it just is a beautiful material. It's so pliable and so practical. I can't actually think of anybody I know who isn't excited about clay. I mean, Grayson Perry also uses it.
Magdalene Odundo: The Journey of Things is showing at the Hepworth Wakefield until 2 June, and then at the Sainsbury Centre for Visual Arts, East Anglia University, Norwich, from 3 August to 15 December.
---