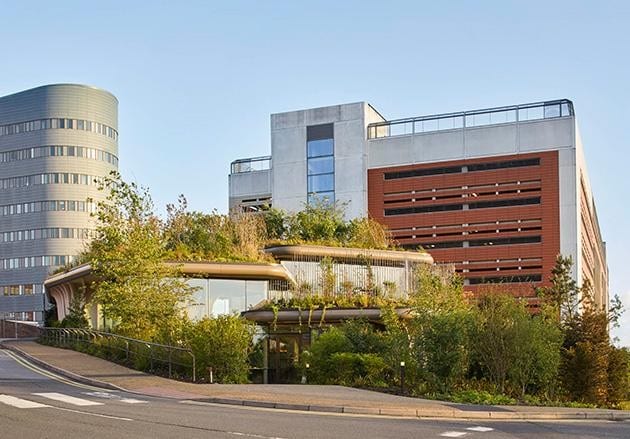 The award-winning design and architecture studio has completed work on its Maggie's Centre design with a focus on 'healthy' materials.
On the campus at St. James's University Hospital in Leeds, Heatherwick Studio have marked the final completion of their Maggie's Centre – a green and organic form among the more traditionally sterile healthcare buildings that surround it.
A Maggie's Centre, if unfamiliar with the concept, is a space open to all cancer patients and those who love and care for them, aiming to provide sanctuary, aids to wellbeing and practical help for recuperation. Established by artist, writer and designer Maggie Keswick Jencks and architecture critic husband Charles Jencks in 1995, a few years' after Maggie's breast cancer diagnosis, the charity works with internationally acclaimed architects, including the likes of Zaha Hadid and Frank Gehry.
Maggie's Centre in Leeds will mark the 26th centre opened in the UK, as well as Heatherwick Studio's first healthcare building.
The design is no doubt a safe bet for a Maggie's Centre, drawing on concepts now well-rooted in the popular psyche such as biophilia and sustainability to create a space that feels 'healthy'. Nowhere is this seen more than the verdantly established planted roof gardens designed by award-winning landscape designers Balston Agius, which draws on Yorkshire woodlands using native species of plants.
"By only using natural, sustainable materials and immersing the building in thousands of plants, there was a chance for us to make an extraordinary environment capable of inspiring visitors with hope and perseverance during their difficult health journeys," explains founder of Heatherwick Studio, Thomas Heatherwick.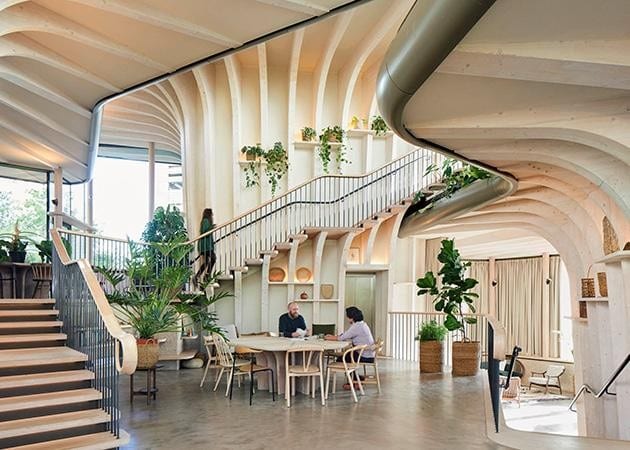 Constructed as three large planters, the space permits defined areas to be created for the myriad activities the centre has to offer, while retaining a sense of loftiness from high ceilings and natural light through vast glazed panels.
"Maggie's Leeds has been a very special project for me and my team because we are convinced that there are kinder, more empathic ways to design places that can have powerful impacts on the way that we feel. This is particularly important in the design of healthcare environments, but is so frequently overlooked," says Heatherwick.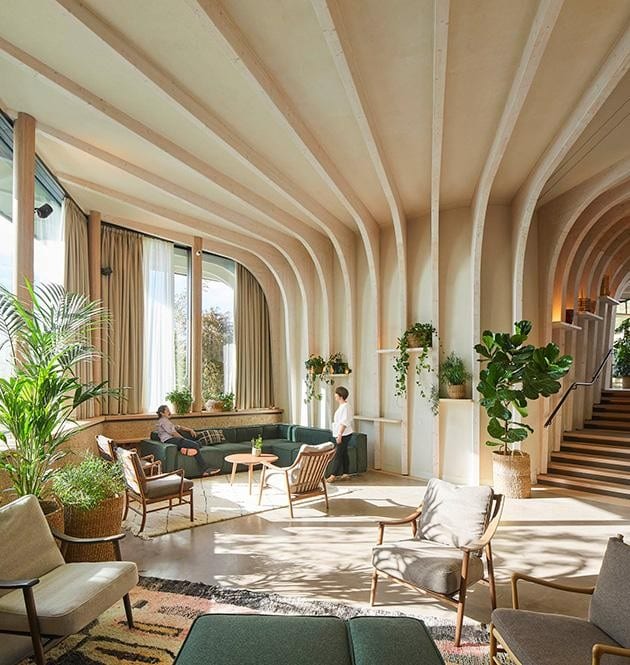 Not only are visitors encouraged to help tend to the 17,000 plants and 23,000 bulbs on site that make the building such a vehemently green structure, but the building materials used also appeal to the centre's biophilic nature. The sustainably-sourced spruce timber system, prefabricated off site, is left exposed as undulating glulam supports throughout the interior and exterior, adding to the curvaceous form of the building so that it feels like there are no hard edges to be found.
Porous materials such as lime plaster have also been used help to maintain the internal humidity of the naturally-ventilated building.
---