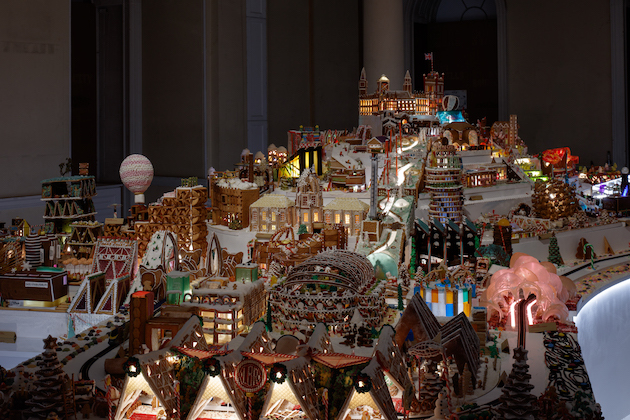 This year's Gingerbread City launched at Somerset House with the usual competition – and a big reveal for 2020
Now a much-anticipated annual traditional in the London architecture world, the Museum of Architecture's Gingerbread City opens this weekend with over 100 miniature buildings made of sweet treats. Taking place at Somerset House, the fourth edition of the event set a theme of transport, resulting an array of creative submissions that feature rockets, ski lifts, bikes and trains.
Sugarset House by Hawkins/Brown. All photos by Luke O'Donovan
The creations, from over 100 practices large and small, make up a sprawling city, co-ordinated and masterplanned by sponsor Tibbalds Planning and Urban Design. The pieces of the city, all built in isolation using materials including molten sugar, Fruit Pastilles, Polo Mints, desiccated coconut and of course gingerbread, fit together quite ingeniously, with some projects, including PLP's Sugar Loaf Mountain and Charcoal Blue's theatre climbing the central 'hill' at the top of which sits the Palace of Light by BDP.
Sugar Plum Square by PHASE3 Architecture
The intricately decorated and carefully pieced together models aren't all just for show – there is a competitive element at the heart of the event that perhaps explains the effort that has very clearly gone into these edible installations. Judges pre-opening awarded prizes for categories including 'most creative', 'most edible' and 'most ambitious', with a bulbous pink sugary bridge by Johanna Molineus Architects winning the latter. Winner of 'best transport' went to Grimshaw Architects for their London Bridge Roll station – some small consolation for the actual London Bridge station missing out on this year's Stirling Prize.
Grimshaw's London Roll Bridge
Surprisingly few of the exhibits seemed to have been damaged in transit, with the vast quantities of spun sugar windows on display remaining largely uncracked and frequently giving off a colourful glow when lit from within.
A few London landmarks proved to be highlights with Hawkins/Browns immaculate Sugarset House paying tribute to the setting and Michaelis Boyd's Battersea Power Station featuring rice crispy cake chimneys and a Pink Floyd referencing floating pig.
The Gingernut Cracker Ballet by Charcoal Blue
The exhibition will stay open until 5 January 2020, with proceeds going to the Museum of Architecture's running and for the first time, a new Grant Giving Fund, which will launch in spring and award money to projects by architectural entrepreneurs that support public engagement. The first example of such a project was announced at launch, with Chris Hildrey of Hildrey Studio winning a grant for his social enterprise ProxyAddress. The project is system designed to give homeless people a proxy address so that they can get identification and support, helping them access services that they wouldn't be able to without a form of address.
More details of the Grant Giving Fund and next year's international edition of the Gingerbread City, taking place in New York, will be announced in early 2020.
---