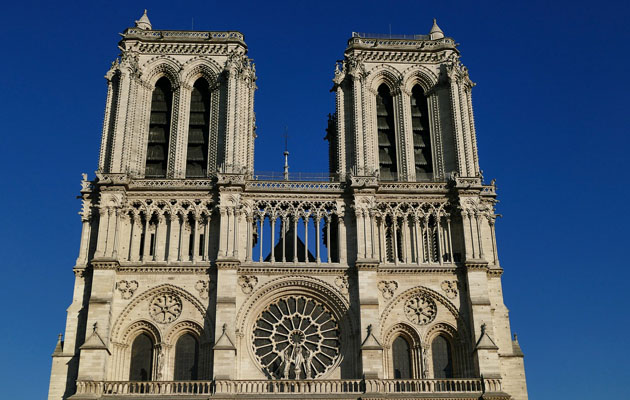 Notre Dame before the fire
After Notre-Dame's spire and roof were destroyed in a fire, plans to rebuild begin
The French Prime Minister Edouard Philippe has announced a competition for international architects to rebuild Notre-Dame cathedral's spire after it was destroyed during a fire on Monday.
According to the Washington Post, Phillippe said the competition is designed to give the cathedral 'a spire adapted to the technologies and challenges of our times.'
The Catholic cathedral, located on an island in the Seine in Paris, caught fire on Monday evening and continued to burn for several hours, causing the destruction of the spire and collapse of the roof.
The building dates back to medieval times, though the spire was added in the mid-19th century during a restoration project. The cathedral had also been undergoing restoration as the fire caught hold, though firefighters and investigators have not confirmed whether the works were linked to the fire's outbreak.
The two stone towers and much of the masonry survived the fire, which raged until the early hours of Tuesday morning. Inside the church were many medieval works of art, and surviving pieces were being moved to the Louvre for protection and potential restoration, the culture minister said. Some of the famous gargoyles around the roof may have been damaged, though several sculptures had been removed for restoration, escaping the fire.
Plans to restore and rebuild the UNESCO World Heritage landmark have had financial boost from some of France's richest families, with the heads of two huge fashion conglomerates, LVMH and Kering pledging hundreds of millions to the project.
Any competition and rebuilding of the cathedral is likely to take several years. Though French president Emmanuel Macron said he wanted the building to be completed in five years, to coincide with Paris hosting the Olympics, many believe that is too ambitious. Notre-Dame's Bishop Patrick Chauvet told local businesses that he expected the church to be closed for 'five or six years'.
Reactions across social media after the competition's announcement varied from the inventive to the scathing, with mock-ups giving the cathedral various iconic buildings as a new spire, from the Eiffel Tower to New York's Vessel, designed by Thomas Heatherwick. However, several architects made suggestions as to what should happen, including Norman Foster who said it was an "extraordinary opportunity" and that it could be "a work of art about light", and Eric Parry, who also spoke to The Times, saying, "It should touch the cultural pulse of today, uniting the ground and sky… My only anxiety is that the rapidity of the rebuilding is driven by a political agenda. That might taint it."
On 25 April, the Gagosian Gallery in Paris announced plans to hold an exhibition to benefit the reconstruction of the Notre Dame. The show will take place in June and include works by modern and contemporary artists. The proceeds will go towards the fund to rebuild the cathedral.
---