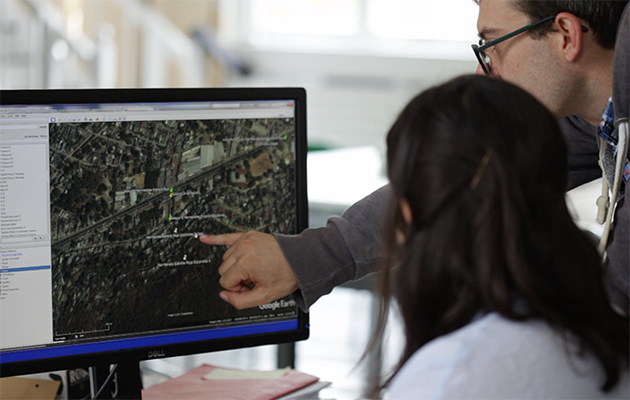 Forensic Architecture, a London 'architectural detective' studio has been nominated for the 2018 Turner Prize
Forensic Architecture, based at Goldsmith University, represents an entirely new field of practice. Using open-source data and sites of conflict to produce damning evidence of human rights abuse.
The 2018 shortlist for the £40,000 art prize is dominated by artists who are tackling political and social issues.
Forensic Architecture's interdisciplinary team of investigators, including filmmakers, software developers, archaeologists, lawyers, journalists and architects, show how innovative methods of digital design and image capture can enable on-the-ground DIY cultural heritage documentation and preservation. The 15 person team have produced investigations and reconstructions that provided decisive evidence in cases in countries including Germany, Greece, Israel and Guatemala
It has also been announced that the team at Forensic Architecture will work under the V&A curators to design the UK Pavilion at London Design Biennale. 'It is wonderful that this group of interdisciplinary practitioners have been nominated for the Turner Prize,' says Christopher Turner, Keeper of Design, Architecture and Digital at the V&A.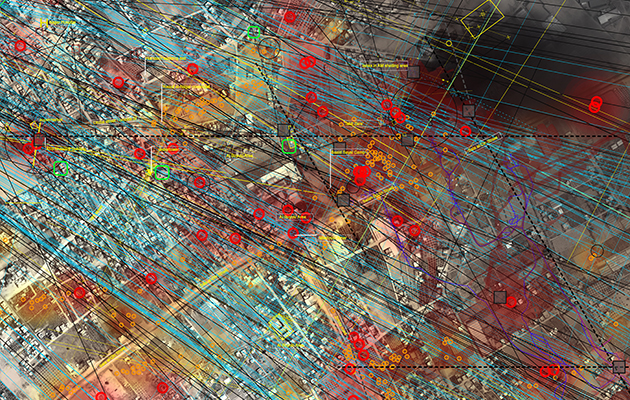 Drawing of Eatern Rafah in 2014, marked by Forensic Architecture with strike caters and artillery craters
'The V&A are thrilled to be working with Forensic Architecture to produce a new piece of research for London Design Biennale about the persecution of the Yazidi in Northern Iraq and Syria. Forensic Architecture are activist architects, who use evidence collection as the basis for legal cases, from Ramallah to Grenfell, and they use the platform of Museum and art space, as much as the courtroom, in their fight to raise awareness of important issues and for global justice.'
Working in the Sinjar area of Iraq, Forensic Architecture will support and train members of the Yazidi people to collect, document and preserve evidence of destruction, genocide and enslavement perpetrated by Daesh (Islamic State) against the Yazda. 3D models of the sites destroyed by Daesh will be constructed using aerial photography and photogrammetry and will serve as valuable pieces of evidence for future litigation. The visually, intellectually and emotionally arresting installation proposed by Forensic Architecture responds to the theme of Emotional States by examining how design can directly inform new perspectives and lines of investigation.
---