A string of publicly engaged projects, including the revamp of Helsinki's Glass Palace, show how Finnish architects still embrace the humane modernist values of the nation's undisputed master. By
Christopher Turner

, Photography by

Tuomas

Uusheimo

In 1936, Alvar Aalto's young assistant, Viljo Revell, designed the Lasipalatsi or Glass Palace in Helsinki (with Heimo Riihimäki and Niilo Kokko). With a concrete canopy over its entrance, ribbon windows, balconies and a low, flat roof, it is one of the city's most prominent examples of the International Style. A self-conscious essay in Aalto's utilitarian, 'humanised' aesthetics, it housed offices, shops and restaurants, as well as the 600-seat Bio Rex Cinema, advertised with the first external neon sign to appear in Finland.

The Glass Palace, which has recently been refurbished and extended by Helsinki-based JKMM Architects, was designed as a temporary structure, built on the site of a former military barracks in anticipation of the 1940 Helsinki Olympics. Revell, then a student working in Aalto's home studio, planned his first building with his master's recent achievements at Paimio Sanatorium (1929-33) very much in mind.

Located in a remote pine forest in south-west Finland to house 300 tuberculosis patients, Paimio is currently up for sale, and I took advantage of a tour. Aalto, who won the hospital competition at the age of 30, designed it as a 'medical instrument' – a seven-storey machine to make you better with sunshine and fresh air. Before the invention of the relevant antibiotics, rest was the only proven cure for TB.
Patients had to sit on cantilevered sun decks where they would splutter and cough all year around as part of a strict heliotropic regimen. Old photographs show them lying on sun loungers in a long row on the roof terrace, as if on the deck of an ocean liner, kept warm by fur-lined sleeping sacks. If they survived, patients typically spent several years recuperating in such places; a world of frustration captured in Thomas Mann's novel, The Magic Mountain (1924).
Modernist architecture – with its balconies, terraces, flat roofs, white plastered walls, focus on air and sun, 'hygiene and moral health' – is often traced back to earlier, functional facilities in which the treatment of TB was pioneered. Paimio was also clearly influenced by Walter Gropius's campus in Dessau, and like the Bauhaus it has been nominated as a Unesco World Heritage Site. Since the demise of TB, it has been used as a rehabilitation centre for children.
Assisted by his wife, fellow architect Aino Marsio-Aalto, Aalto designed all of the interiors, furniture and lighting for the building, paying close attention to hygiene and the patients' psychological needs. Aalto's springy, plywood Paimio chair, with its scroll-like profile, was designed to ease their breathing. And where the white walls meet the bright yellow linoleum floor, there is hardly a straight corner that could gather contagious bacteria and dust.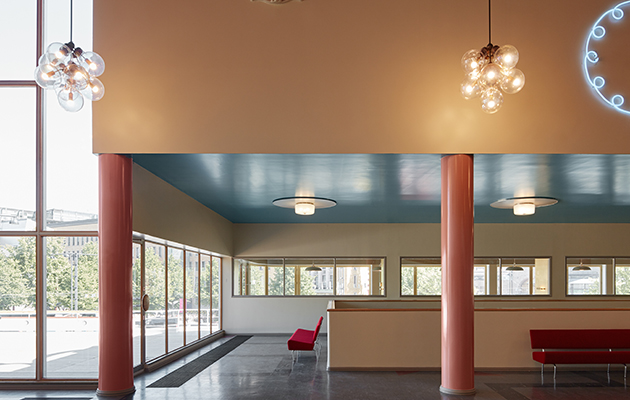 You can still visit some of the historic patient rooms, which slept two. They are museums to illness. The iron-framed beds are made up tightly with blankets from the 1940 Olympics, which were abandoned because of the Second World War. They face two rounded plywood cupboards, mounted on the wall so that dirt could be easily cleaned from underneath. According to my guide, inmates would wake up in the night and imagine that these wardrobes were coffins.
The rooms are painted a calming pistachio green and the rounded double basins, which Aalto also used in his own house and studio in Helsinki, are fashioned to cause minimal noise from splashing, so that roommates were not disturbed from their required rest; and the doors were fitted with a mechanism so that they wouldn't slam.
As with Paimio, the Glass Palace also borrows from the sleek, low-slung building that influenced Aalto, Jan Duiker and Johannes Bijvoet's Zonnestraal 'Sunbeam' Sanatorium (1925-31) in The Netherlands, which Aalto visited shortly before he designed his own hospital. Like both medical structures, which represent the utopian hope that modernism could transform not only the sick body but also a diseased society, the Glass Palace followed the architectural dogma of 'light, air and sun'.
However, here the light cure was above all cinematic. The auditorium of the Bio Rex has a series of ten private boxes, from the comfort of which an audience could soak up the flickering projections as if on the sun deck of a sanatorium. The cinema was used for premieres, including one for Olympia, Leni Riefenstahl's 1938 film about the Berlin Olympics.
The Glass Palace has just been turned into the Amos Rex Art Museum, a new home for the Amos Anderson Art Museum. It opened this summer after a five-year renovation and extension by JKMM that makes innovative use of a tight site. The cinema has been preserved, and the whole building refurbished. There are new shops, including an outlet for Iittala glassware, for which Aalto designed a wavy vase in 1936 that is still in production.
An impressive 2,000sq m gallery has been built under Lasipalatsi Square, a public space to the rear of the building, which it wraps around on three sides. The undulating ceiling of this subterranean space has domes that flood the space with natural light. Sometimes the skylights frame views of the 1930s building above, such as the door and external stairs that serve as the emergency exit from the projection booth in case of fire.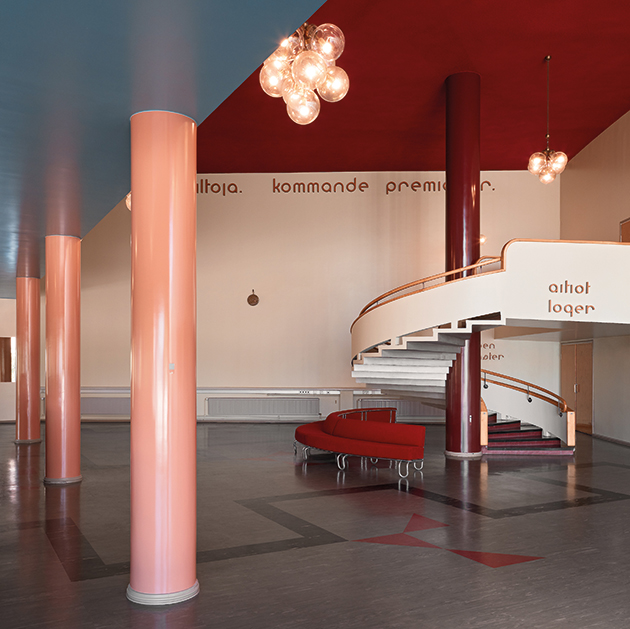 These domes protrude into Lasipalatsi Square as a series of five hillocks that are clad in white concrete tiles and connect the hidden gallery to the cityscape. JKMM founding partner Asmo Jaaksi describes these organic, topographical features as the square's fourth facade, one that visitors are encouraged to sit on and clamber over. 'The domes can serve as stages and platforms,' he says. 'It provides a platform for a diverse urban culture, for events and outdoor exhibitions.' In winter – which is always harsh in Helsinki – one imagines that they will resemble snowdrifts. A tall chimneystack, which is listed and used to serve the Glass Palace's heating plant, defines the square and, below ground, awkwardly bifurcates the gallery. The architects have made it a central pillar around which the concave and convex lines of the space seem to flow. It also provides ventilation and conceals the fire stairs.
One enters the gallery through the Glass Palace's main door, into a brightly lit lobby dominated by the museum shop, and down a wide staircase. 'You can see a peek of the square and domes while walking down, which makes it easier to orientate,' says Jaaksi. 'The new subterranean foyer is a clean-lined, white space that purifies and prepares the senses prior to the transition into the exhibition space.'
From this light-filled space, you enter the large gallery, the floor of which is covered in rough wooden cobbles, painted black. The ceiling is dotted with round acoustic panels covered in white fabric that hide the services, and create a pixellated effect. It is appropriate, then, that the first exhibition is an installation, called Massless, by Tokyo-based digital art collective TeamLab, a 500-strong collective of artists, animators and architects who have transformed the space into an immersive, interactive digital world that visitors can transform through movement.
JKMM, which has been practising for two decades, is known internationally for its bowl-like entry to the 2010 Shanghai Expo and the 2007 Turku Main Library in south-west Finland. As the UK closes its libraries down, Finland is a country that is building them; a topic explored in the Mind-Building exhibition in the Finnish pavilion (another Aalto building) at this year's Venice Architecture Biennale. The population of 5.5 million borrow 68 million items a year, making the library an important 'freespace' for public engagement. The wood-clad Oodi Central Library by Helsinki-based ALA Architects, which expects 2.5 million visitors a year, is under construction opposite Amos Rex and will open in December.
JKMM has reworked two libraries designed by Alvar Aalto: one in Seinäjoki (1967; extended in 2012), where it added a copper-clad wing, and the other at Otaniemi (1970; 2017), where it restored Aalto's modernist interiors and created new media spaces on lower floors previously used as bookstores. Here, round seating areas look like they've been drilled from the wall, and the holes from which they are extracted serve as padded reading nooks. The project won the practice the Finlandia Prize for Architecture in 2017.
'Aalto's modernism was somehow very human, soft, and user-friendly,' says Jaaksi, seeing similarities in the Glass Palace's 'scale of spaces and rich use of natural light.' JKMM are specialists in adapting such historic, modernist structures, and giving them new life and purpose. 'We have to consider how much it is relevant to dare, how much wise to accompany,' explains Jaaksi. 'The right balance between those will make a dialogue between architectures of different eras. Aalto is in his own class among Finnish architects, but it's far enough in the past that we are not working in his shadow. Rather his timeless work can be seen as an unfailing source of inspiration.'
I ask Jaaksi, after the success of the Glass Palace, how he might help a new owner give Paimio renewed life, as an artists' colony or spa, but he is reluctant to suggest interventions to such an important building. 'It is a total work of art,' he says, 'and though the original use is no longer relevant, protecting the whole is the key factor.'
---