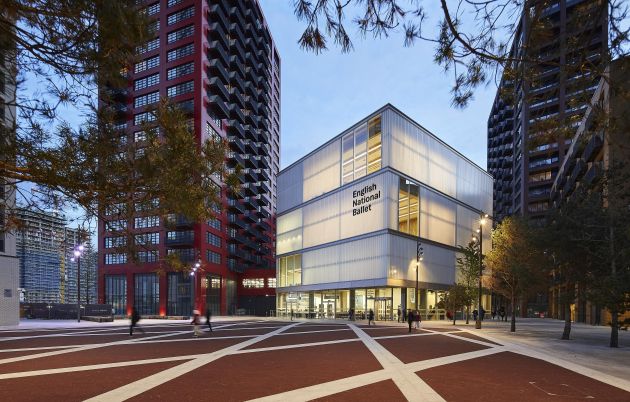 There's not much to fault Glenn Howells Architects, the designers of the new English National Ballet building on London's City Island. But its prominent site should have been given over to a true community hub, writes Peter Smisek.
The new building for the English National Ballet (ENB) is something of a revelation. A shimmering apparition clad in insulated U-glass section, it is surrounded by the austere, blocky towers of the City Island, a new, citadel-like residential development located in a tight bend of the semi-tidal Bow Creek between Poplar and Canary Wharf.
It also seems to suggest more than it delivers. Its ethereal, alluring appearance, designed by Glenn Howells Architects, belies its relatively modest public presence. Yes, it does have a café on the ground floor, and yes, there is a vertiginous, quadruple height lobby. But the spaces beyond, which house ENB and the English National Ballet School, are not publicly accessible. The two organizations are conceived of as separate entities, with separate offices, separate rehearsal rooms and even separate gyms. To their credit, the architects have opened up lines of sight between the two, creating a sense of voyeurism and suggesting a possible future collaboration between the students and the professionals.
A café and a quadruple-height atrium are the only publically accessible parts of the building. Photo by Hufton+Crow
The dance studios are especially beautiful: double-height spaces flooded with light filtering through the glazed, insulated U-sections and with timber panelling along the back walls. It is only a shame that the same amount of care – though one would suspect the building's relatively modest budget had something to do with it – was not lavished on the corridors and other servant spaces. These are almost as uninspiring as those of any other institutional building in England, bright yellow floors notwithstanding.
On the other hand, it is admirable that the dancers and their support staff are given so much space to practice and recuperate. Even the support staff – think administration and costume workshop – are given ample space.
Glenn Howells Architects have created a beguiling set of dance studios. Photo by Hufton+Crow
It is also somewhat paradoxical that some of the more generous facilities came into existence thanks to, rather than in spite of, government cuts to arts and culture. ENB's well-known costume workshop now has enough space to take on commissions from other dance and theatre companies, and its rehearsal space – a fully rigged theatre stage – is already being booked by other dance companies doing full technical rehearsals. A number of smaller function spaces and a mezzanine level overlooking the building's central atrium are also available for hire.
On the whole, however, the discrepancy between the ENB's external presence and its limited public engagement is jarring. As it stands, the buildings on the plaza's perimeter are already starring to fill up with small cafés, shops and restaurants. A more discreet edifice elsewhere in the area could have served ENB's purpose just as well, leaving City Island's core space free for a true community hub. Now, all it does is provide the public with the frisson of potentially rubbing shoulders with ballet dancers in the downstairs café or on the way to the nearest Docklands Light Railway station.
---