Elizabeth Diller by Geordie Wood
Elizabeth Diller, founding partner of Diller Scofidio + Renfro, best known for work on New York's High Line, speaks to Priya Khanchandani about activism and architecture
Elizabeth Diller, often known as Liz, is a founding partner in the interdisciplinary design practice Diller Scofidio + Renfro, established in 1981, and a professor of architecture at Princeton University. Best known internationally for its work on New York's High Line, DS+R has designed numerous cultural institutions, from The Broad contemporary art museum in Los Angeles to the Institute for Contemporary Art in Boston.
A recipient of the 2019 RA Architecture Prize and Jane Drew Prize, a MacArthur Fellow and the only architect featured in the Time 100 in 2018, Diller is among the most notable living designers of cultural buildings. In this interview with Icon editor Priya Khanchandani, she talks about the impressive array of projects she currently has under way. These include the Shed, a multidisciplinary space for the arts opening this April in Hudson Yards, New York; a new research centre and archive for the Victoria and Albert Museum in Stratford, east London, due to open in 2023; and the Centre for Music at the Barbican, a twisted pyramid-shaped tower that will incorporate performance and education spaces.
PRIYA KHANCHANDANI: You are working on so many big projects; when do you find time to wash your hair?
ELIZABETH DILLER: The schedule has been really strenuous because we're working on multiple projects at the same time. They're all at different levels of completion. My three partners and I have an intense involvement in every project in the studio. In parallel, we're always working on independent projects.
PK: What do your independent projects involve?
ED: Well, we just finished this large-scale opera. It was incredibly time-consuming because I was a co-creator, co-director and co–producer.
PK: The Mile-Long Opera? Can you tell me how it came about?
ED: After having worked on the High Line for 10 years, and seeing that neighbourhood, I started to think about the definition of success.
And then, the High Line kind of went viral. There are more than 100 High Lines being created all over the world.
I felt, at that point, compelled to return to the High Line, but in a different way. We're still finishing parts of it architecturally. But I felt that this topic of the transformation of the city, the rapid change, the winners and the losers, was operatic in scale.
So I decided to mount an opera along the length of the High Line, stretching a mile and a half and involving 1,000 singers from all over New York – 750 of them were vocational, from churches and community choirs. We worked with composer David Lang and [poets] Anne Carson and Claudia Rankine, to write the libretto. I like doing things that I'm unqualified to do, basically.
PK: To what degree would you describe yourself as an architect, and to what degree would you say that you're a cultural activist of sorts?
ED: I like that term. Maybe I'm a bit of both. Architects typically respond to pre-determined briefs and at best find a new expression to existing problems.
Designs for the Shed in New York. Photo by Brett Beyer
PK: Is that quite limiting?
ED: It is limiting. I like the challenge of solving problems but I prefer to create my own. In the case of the opera, a form I knew nothing about, we were able to pull it off, maybe because we had credibility because we're architects.
PK: Do you have a lot of tenacity?
ED: I do. I seem to. I don't really think of myself that way, but when I believe in something, I push.
PK: Has that always been the case?
ED: I think I've always had it. It's just that the ambitions were smaller, initially. I would say 15 to 20 years ago I started believing that architecture could be very meaningful. I didn't realise that before. I studied architecture. I wasn't bad at it, but I thought it was a little bit intellectually bankrupt.
PK: Given the troubled times we live in, do you think architecture has any answers in terms of promoting plurality or greater cohesion between people?
ED: Architects must be vigilant about protecting space for the public. Space [in cities] is progressively being privatised and if we don't act on behalf of the public, who will?
There are many other things for us to think about, like the density of cities, the densification of cities, the borders. Architecture can't solve all of them, but the uncertainty of the times is a call to action for architects. My students at Princeton are wondering, does architecture have any agency at all?
PK: What are the aspirations of the next generation of architects?
ED: Two years ago, when I asked graduate students what's important to them, what matters, the response was, to be successful, fast. Today you don't have that. There is a generation that is angry and frustrated. They don't know how to do something with [that energy] yet, but they're probing. I think it will be an activist generation.
PK: While you were designing the Centre for Music at the Barbican in London, what was it like working in a city that wasn't your home turf? And how did you begin to assimilate, understand this new place and a new architectural language?
ED: I was very familiar with the Barbican because our studio worked for a decade on Lincoln Center, which was the model for the Barbican. So mid-century mega-block planning for culture was familiar to me. But while everything seemed familiar, it was oddly different. I'm still learning.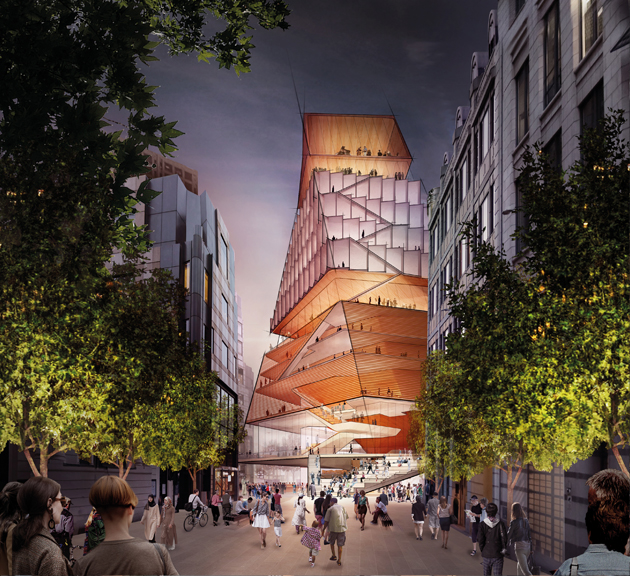 Concept design for the Centre for Music at the Barbican
PK: I know you went to see a London Symphony Orchestra concert last night. Are you embedding yourself in the music world?
ED: Yes, it has been a process of embedding. Working with the LSO, the Barbican and Guildhall [School of Music & Drama] has been intense. I've been getting an education in the needs of these groups and visiting every concert hall I could possibly go to.
PK: How much did you know about music already?
ED: My parents introduced me to music but I was totally without talent. I was always visual. I had art training as a kid but my first job in high school was at the Library for the Performing Arts at Lincoln Center.
PK: Was that immediately after architecture school?
ED: No, it was before. I was studying art at the High School of Music and Art. When I worked at Lincoln Center, I went to concerts. I snuck in usually because I had no money for tickets.
It wasn't until much later when my studio started working on the [expansion and renovation of] Lincoln Center that I started to understand the properties of acoustics in an architectural space and how critical that was.
PK: Was that a big factor in the design for the Centre for Music?
ED: Yes acoustics are very important. Yasuhisa Toyota is the acoustician. He's a master. In addition to that, if you can see better, you can hear better. It has been scientifically proven and that has influenced my approach.
This article appears in full in the April 2019 issue of Icon
---