The Meteorological Garden/Central Park,Taichung Taiwan 2011-2019 by Philippe Rahm architectes, in collaboration with Mosbach Paysagistes and Ricky Liu Associates. Photo from Philippe Rahm architectes
As we teeter on the brink of climate catastrophe, we speak to the curator of a new exhibition exploring creative responses to the crisis
As people across the creative sector join calls to declare a climate emergency, a new exhibition at the Royal Academy in London shows the work of artists, architects and designers seeking to raise awareness of, and provide solutions to, our predicament.
The exhibition, opening on 23 November, brings together works from artists and designers, including Olafur Eliasson and Virgil Abloh, that respond to the ecological and environmental challenges humanity faces. The exhibiiton promises to cover how creatives are attempting to provoke a response and respond 'beyond mainstream notions of sustainability', with a range of formats of work on display. Here, Gonzalo Herrero Delicado, curator of the RA's exhibition Eco-Visionaries, discusses the need for environmentally engaged creative practitioners.
The Green Machine 2014 by Studio Malka Architecture. Courtesy of the artist
What unifies the projects included in Eco-Visionaries?
The works in this exhibition alternate between critical inquiry and visionary optimism. They present a future in which humans reconnect with nature and create a more empathic relationship with their fellow species – a future that starts by taking action today.
What role does art and design play in forestalling a climate catastrophe?
Creative practitioners play a key role, both by raising awareness and by making visible the underlying political, economic and social complexities behind the many different issues commonly encompassed by the term 'climate change'. Their role is key to finding alternative ways of intervening in the landscape that go beyond mainstream sustainability strategies. The projects in the exhibition invite us to forge a more empathetic relationship between humans and the natural world, one that puts nature's needs before our own.
Read more: Why building with wood needs to go mainstream to combat climate change
The origins of the modern environmental conservation movement can be traced back at least 200 years to the first industrial revolution, when a number of scientists and thinkers started raising concerns about the impact of human activity on the environment. Since the 1950s, this concern has also reached the wider population.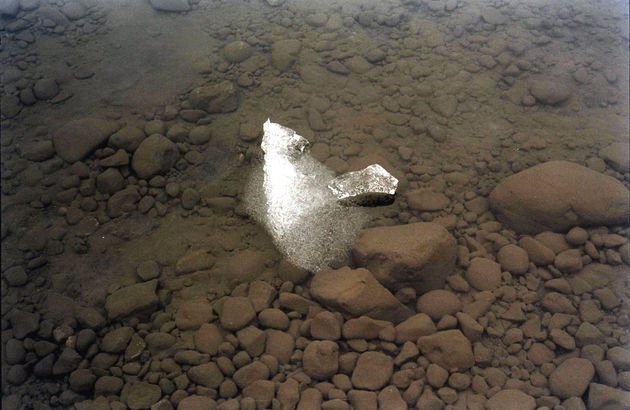 Olafur Eliasson's ice melting series, 2002. Image from Thyssen Bornemisza Art Contemporary Collection
Do practitioners have a responsibility to promote environmental causes?
Every one of us has a degree of responsibility for climate change and this exhibition aims to work as a wake-up call. The work of artists, architects and designers is particularly relevant to promote environmental causes and can be used to reach a wider audience. However, their work might be irrelevant if we don't take action on an individual level to reconsider our daily consumption habits and if governments don't take measures to reduce carbon emissions, which according to the UN should reach zero by 2050.
Eco-Visionaries runs at the Royal Academy of Arts, London, from 23 November 2019 to 23 February 2020. Get tickets and find out more here
---