The crash left Detroit bankrupt. Now a Unesco City of Design, can local creatives drive its rebirth?
The ghostly outline of Cadillac Place, the former General Motors Building, designed by Albert Khan looms over Woodward Ave. All photographs of Detroit from the series Prairie and Pavement by Ian Brown
Words by Benoit Loiseau
In McDougall-Hunt, a half-derelict neighbourhood east of Detroit, a pile of worn-out stuffed animals is precariously assembled on the remains of a motor boat – an oddly urban iteration of the flood myth. The installation is one of many at the Heidelberg Project, an outdoor community art initiative spread across two blocks, first organised in 1986 by local artist Tyree Guyton.
Now a popular destination for residents and tourists, this microcosm of creativity has responded to the decline of the area over the past 30 tumultuous years and fostered a unique voice and sense of local resistance. Disused houses have been decorated with colourful polka dots and courtyards are filled with found-object sculptures made of shoes, vacuum cleaners and clocks. On one sculpture in the form of a wooden cross with strings of vinyl LPs suspended from it are painted the words: 'Soul Never Dies'.
Since the golden age of the auto industry, the population of Detroit has drastically thinned, from 1,850,000 in 1950 to some 670,000 today. Ten years on from the global financial meltdown and five since Detroit defaulted on its debt in the largest municipal bankruptcy in US history, Motor City is now reinventing itself to tackle persistent urban decay while, at the same moment, addressing rampant gentrification.
In 2015, Detroit became the first city in the US to receive a Unesco City of Design designation, thanks to its ambitious proposal to become a global leader in 'inclusive design'. With a rich legacy shaped by the likes of Albert Kahn, Eero Saarinen, Herman Miller and the Cranbrook Academy of Art (where Charles and Ray Eames met), Detroit's design community is at the centre of efforts to rebuild the city. But in this majority African-American city, blighted with a deep history of social segregation, this is a sink-or-swim test for the much vaunted yet often ill-defined notion of inclusive design.
'The designation needs to mean something to both the design community and the broader community,' says Olga Stella, executive director of Design Core Detroit, who led the Unesco application process, at a downtown creperie during Detroit Design Month. 'We can help shape what this really looks like.'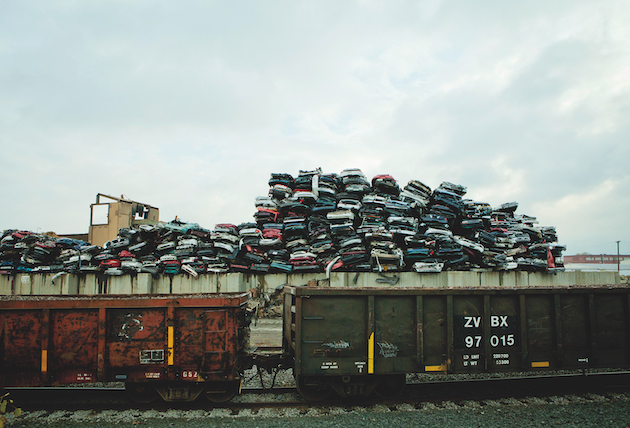 The one-time powerhouse of the US auto industry has been synonymous in recent years with urban decay. Photo: Ian Brown
Since 2010, Design Core, an organisation attached to Detroit's College for Creative Studies, has worked towards strengthening the local economy through design-driven initiatives. 'If design can create spaces that are welcoming, enhance opportunities and provide solutions that work for everybody, then we will create a city that allows everybody to live their best lives,' says Stella.
Before promising the ability to deliver inclusive design, Detroit's design industry needs first to look inwards, according to architect Tiffany Brown. The Detroit native co-founded Urban Arts Collective, an organisation that encourages under-represented communities to explore careers in technology, arts and architecture. Last year, she was awarded a $50,000 matching grant from the John S and James L Knight Foundation for her initiative, 400 Forward. A nod to the recent 400th African-American licensed female architect in the US, the project aims to provide mentoring for the next generation of black women architects (a group that currently represents a thin 0.3 per cent of the profession). 'I try to be the face I was looking for when I was growing up,' says Brown.
In the context of Detroit, the industry's blatant lack of diversity has all too often meant that a few individuals – predominantly white and suburban – dictate a design vision on behalf of the multicultural many. The result of this undemocratic elite leading without an official mandate is visible in the city's rapidly expanding regeneration, and the gentrification that comes with it: 'If the culture isn't kept in place, it will be lost. You need to make sure that the people who created that culture are not pushed out,' Brown says.
To many Detroiters, that urban renaissance is the brainchild of one man. In 2010, billionaire Dan Gilbert moved his company Quicken Loans to then-deserted Downtown Detroit and the following year, launched his real-estate business Bedrock. Today, it has invested a total of $5.6 billion across hundreds of properties in Downtown and surrounding neighbourhoods, while Gilbert's portfolio of companies has become the city's largest employer.
Currently under construction is City Modern, an ambitious redevelopment of the historic Brush Park district in Midtown. Once an upscale, 19th-century neighbourhood known for its Victorian mansions – many subsequently abandoned and lost to decay – the area will soon be home to 410 residential units spread across 20 new buildings and four remodelled historic houses.
This is Bedrock's first development outside of Downtown, and certainly not the last.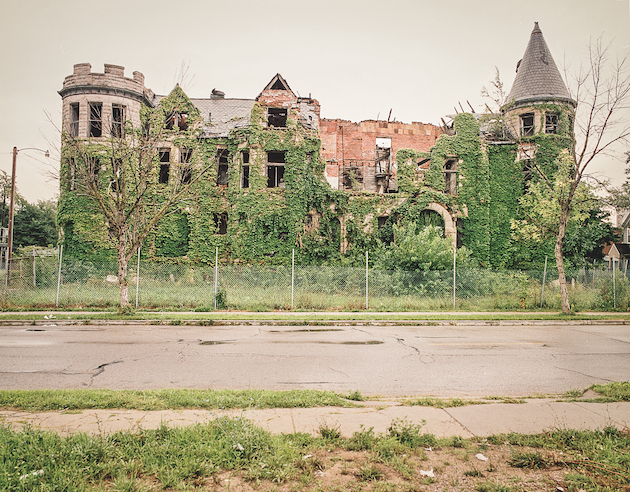 A historic mansion awaits redevelopment in Brush Park, Midtown. Photo: Ian Brown
'Our leadership really understands and appreciates the historic and financial value of design,' says Bedrock's chief design officer Melissa Dittmer, as she guides a tour around one of the remodelled historic homes, soon available for rent (although an exact price was not available when requested). But with a population in constant decline since the 1950s, is this rapid development of new homes—predominantly designed by out-of-towners—what Detroiters really need? 'It's the opportunity for a lifestyle they want,' argues Dittmere, explaining that 25 per cent of future residents are from the area, while the majority are from other parts of the city and south-east Michigan. 'It's here now.'
This summer, Bedrock received permission to expand with the redevelopment of the now-defunct Brewster-Douglass Projects, once the largest city-owned social housing complex. Across the street from City Modern, the redbrick towers of Brewster-Douglass were locally famous as the location where Diana Ross first met the other members of Motown girl group The Supremes, but were bulldozed between 1991 and 2014 after falling into disrepair. It is set to become a new residential complex with 900 units, made up of townhouses and maisonettes, and 3.2 acres of parks. Architect Brown suggests Bedrock's intervention looks like nothing more than a developer seeking a quick buck, at the expense of the local community, who risk displacement. 'The city might require that they do social housing,' she muses. 'But it's unlikely to happen.'
In the North End district, one of the oldest African-American enclaves in the city, a different kind of development is taking place. There, the Oakland Avenue Urban Farm (OAUF) is collaborating with architectural-duo Akoaki to revamp a six-acre civic commons for sustainable farming and cultural history projects, with the aim of developing the local economy. 'When you think about the landscape in Detroit, the behind-the-scenes [process required] for a more equitable and generative design take quite a bit of time,' says Akoaki co-founder Anya Sirota, an associate professor at the University of Michigan's Taubman College of Architecture and Urban Planning.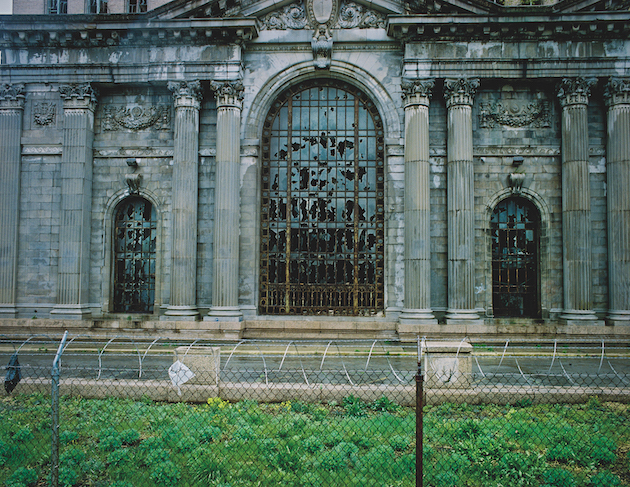 Can design help revive Detroit's landmarks for a future that is more inclusive? Photo: Ian Brown
Together with co-founder and husband Jean-Louis Farges, Sirota started working with Jerry Hebron, a local community organiser, five years ago. Like most urban farmers in Detroit, OAUF were old-school squatters, with little prospect of legally claiming the land. Backed by a group of moral investors, the partnership purchased a selection of plots at auction to save the site from possible speculative investments, and were able to secure a $500,000 grant from ArtPlace America's National Creative Placemaking Fund. They now hope to raise an additional $2.5 million to support the realisation of this multidisciplinary, equitable regeneration project, titled 'Detroit Cultivator'.
'It's difficult to talk about top-to-bottom dynamics,' says Sirota, reflecting on the complex and often divisive urban-design strategies implemented across the Motor City. 'There's entire districts that have been designed in the vision of single developers,' she continues. 'Neighbourhoods, on the other hand, are struggling to develop their own models.'
And as inclusivity has become a commodity, the diverse original residents stand to lose out. Now easily accessible since the installation in 2017 of a streetcar, the QLine, the depopulated North End has gained regeneration potential. OAUF's pre-emptive land purchase has protected them but other grassroots initiatives that have shaped the area face an uncertain future.
'Everybody wants to do social enterprise to exploit the black experience and what happens here,' laments Detroit-born artist Tiff Massey. Massey's large, metal-based sculptural works can be found in private and public spaces, including at The Belt, a formerly desolate alley in the heart of Downtown that was redeveloped with murals and street art, courtesy of Library Street Collective and — naturally — Dan Gilbert's Bedrock. 'We didn't need to be saved, if this is what saving is,' she says, in her studio in the West Side district. 'We still have the same problems, just now we have coffee shops and the property values are higher.'
Meanwhile, back in east Detroit, Tyree Guyton recently announced that the Heidelberg Project will soon be dismantled. The public art installation currently showing at the Museum of Contemporary Art Detroit will end after 30 years – having overcome 12 arsons and two city-organised partial demolitions – so that Guyton can focus on his own work. In its place, Heidelberg plans to launch a residency programme and gallery space in one of the surrounding houses – if fundraising targets are met. 'We are using the art project as a catalyst to start another type of development in the community,' says the project's chief executive Jenenne Whitfield, also Guyton's wife. 'One that is based on art, equity and diversity.'
Change was inevitable at the Heidelberg, as it is for the rest of the city. But for 30 years, it offered a vision of what was possible. One of resilience, hope and sustainability – imagined by and for the community. The future will tell whether an inclusive Detroit is a political fantasy or a reality built on this legacy.
---