The Stirling-shortlisted Cork House is carefully crafted, materially rich, and almost entirely compostable. Jay Merrick looks at what it means for circular building materials
ork House, one of the six buildings shortlisted for the 2019 RIBA Stirling Prize, puts an intriguing spin on two of the greatest and most influential design maxims. In 1896 the American architect Louis Sullivan wrote, 'Form ever follows function' (since reduced to 'form follows function'), and in 1947, the great German designer Mies van der Rohe uttered the ultimate modernist statement: 'Less is more.' But in our environmentally fraught times, what should the essential form-cum-function of architecture reflect? And what kind of less is genuinely more?
Cork House, very simple in form and graced with some superbly crafted details, was designed by Matthew Barnett Howland, supported by Dido Milne and Oliver Wilton, and joins a meagre list of environmentally inspired buildings that have made it into the Stirling's final reckoning.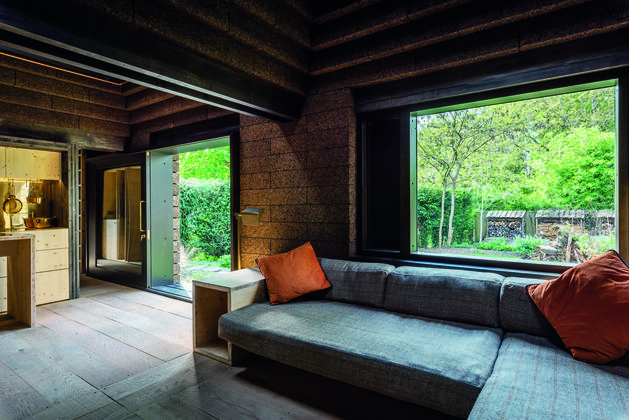 One of the rooms inside the Cork House. Photo by Ricky Jones
In 2002, there were the green oak gridshells of Edward Cullinan's Weald and Downland Museum in West Sussex. A year later came Bill Dunster's innovative BedZed zero-carbon housing scheme in south London, and last year, Waugh Thistleton's Jewish Cemetery buildings at Bushey, which made simple but emotionally resonant use of rammed earth structures.
But Cork House is a quantum leap ahead of these buildings in terms of environmental, and perhaps architectural, significance. The material that comprises 90 per cent of the walls and roof of the house is made of waste bark from the trunks of quercus suber, the Portuguese cork oak, whose outer cambium layer is harvested and then regrown naturally every nine years. In other words, cork recycles itself, either as newly forming bark, or as a material that degrades in an implicitly fertile, ecologically coherent way.
Cork House is simultaneously a small home and a kind of living organism. Whether the building stands for 100 years (perfectly feasible, according to Barnett Howland) or is dismantled and given a new form, or even left to degrade, the architecture of Cork House remains fundamentally subservient to a cradle-to-cradle environmental existence. Or as Barnett Howland puts it: 'Form follows lifecycle.'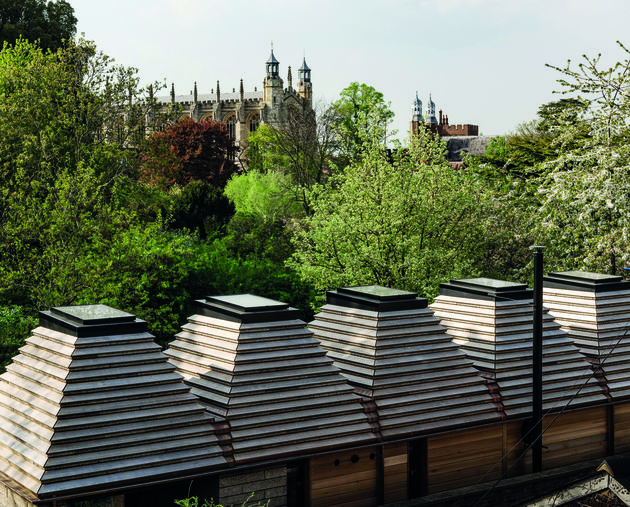 The view over the roof of the Cork House. Photo by Ricky Jones
The project originated in a longstanding obsession: 'I've always had an issue with contemporary construction – the commodification of walls, the shopping for this hideous conglomeration of products,' he explains. 'The aggregate performance [of these materials] is never quite what you think it will be.'
A series of questions plagued him. Could a building be designed to achieve a whole-life zero or negative carbon impact, in both embodied and operational energy? Could it be made of a plant-based waste product and contribute directly to ecological continuity? How closely could building materials remain connected with the landscapes and biospheres they come from? And could a single biorenewable substance act as a dry-jointed structure, insulation and vapour mediator?
Barnett Howland encountered cork by chance. He and his architect partner, Dido Milne, live in a grade II-listed Georgian house which stands next to a Thames Water pumping station between two side-streams off the north bank of the Thames in Eton. The north wall of the building had a damp problem, and they lined the exterior face with panels of cork, which is both hydrophobic and hygroscopic: vapour can pass through it, but its outer surface repels water.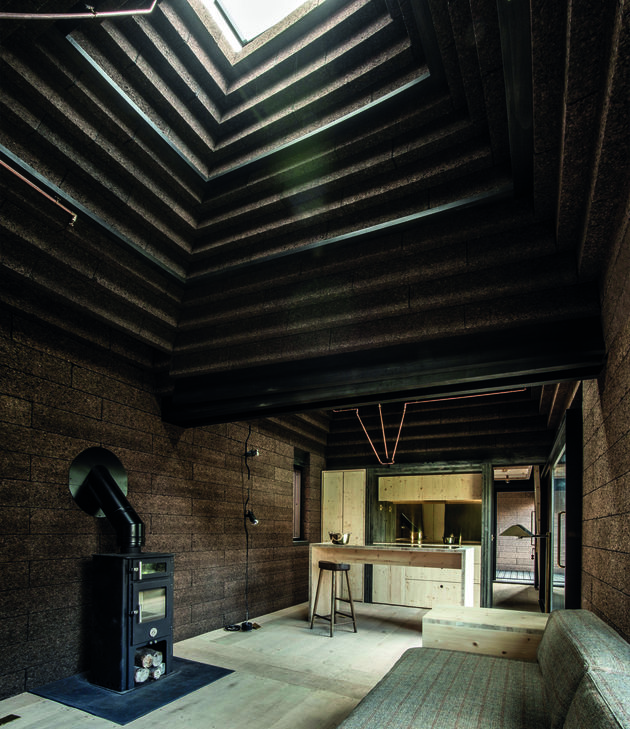 Inside the Cork House. Photo by Magnus Dennis
That was the genesis of the six-year research-and-build project that led to Cork House. The process initially produced two very small prototype cork structures in Barnett Howland's front garden, leading to a series of increasingly sophisticated structural, fire and cork-shaping tests involving Oliver Wilton, the Bartlett School of Architecture's technology director, as well as Arup, the Building Research Establishment and the University of Bath. Research funding came from Innovate UK and the Engineering and Physical Sciences Research Council; CSK Architects – Milne and Barnett Howland are directors – paid for the materials and construction of the house.
The first modern use of cork was in 1891 in patented American life jackets, and by the 1950s it was being used in the ceilings of American homes. Today, top-quality cork is used for wine bottles, and lower-grade material is found in products such as corkboard, designer lampshades and insulation and facade panels. It has also been used, though not as a 'total' material, in other buildings completed last year, such as Studio Bark's Cork Studio in London and Rundzwei Architekten's Cork Screw House in Berlin.
The walls of Cork House are composed of simple, rectilinear cork blocks, and the five ziggurat-like domes that form the roof are made with asymmetrically sectioned blocks cut to tolerances as precise as half a millimetre by CNC robots at Wup Doodle in Diss, Norfolk. Both types of block – there are 1,268, each weighing only 13kg – are cut from standard metre-long billets of compressed cork granules which are bound together by suberin, a natural waxy substance in the bark that becomes gluey when the granules are heated. Today, however, most cork products are bound using polyurethane fillers, some of which are biodegradable, but potentially toxic if treated with flame-retardant.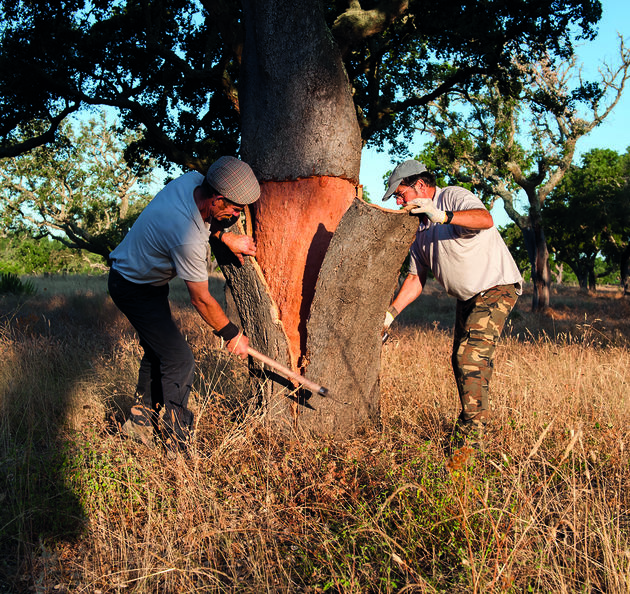 Harvesting cork bark. Photo via Amorim
The roofline of Cork House suggests a row of ancient Mesopotamian or Mayan temples, though Barnett Howland prefers to think of the architecture as a descendant of clocháns, the stone, corbel-roofed beehive houses built in Scotland and Ireland across the last two millennia. He thinks of the cork walls as pseudo stone blocks, and the oversized, very cleanly sectioned Accoya wood window frames are a nod to those in the living room of Alvar Aalto's 1936 house and studio in Helsinki.
How do you make a durable, weather-proof house almost entirely out of cork? Relatively straightforwardly, it turns out, though the block profiles and joint details must be very precise. Cork House stands on a base of cross-laminated timber that was pre-routed to created channels for services. This raft is then anchored to a grid of 14 narrow screw-piles which prong down into the ground to a depth of about 12ft.
The cork wall blocks rise from this base, and the three ground-floor rooms are locked to the five pyramidal roofs by two stiff wardrobe-like wooden structures. Each ziggurat is strengthened by two wooden rig-beams and an Accoya-framed rooflight. The external top edges of the cork-block roofs carry Western red cedar slats to maximise water runoff and minimise long-term damage from solar radiation.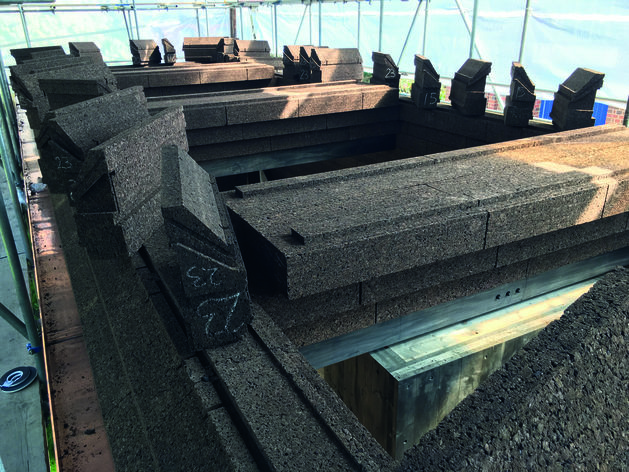 Assembling parts of the Cork House
As you approach Cork House, its form and texture might seem rather brusque, but only for a moment. The entrance sequence has an almost classical Japanese quality. Having passed through a delightfully planted garden, one walks over three large slabs of Purbeck stone, across part of which runs a beautifully made copper rain-drainage tray that leads water to a hand-cut rill in the limestone. The largest stone steps up to a small wooden deck, open on two sides, and from here a corridor links the bathroom, living room and bedroom.
There are four other moments of what might be called 'high craft'. The bath, basin and sink are sheathed immaculately with polished brass by Sean Gelder of Dalesman Fabrications, their dazzling sheen reflecting the op-art geometry of the room's painted ceiling. In the kitchen, the work surface is of patinated brass and the stools were handmade using storm-felled Sussex oak. Most exquisitely of all, stepped copper drainage trays descend from the valley gutters between the roof ziggurats. 'The copperwork by Sergio Tobia of Good Directions was pure craft,' says Barnett Howland. In the case of the drainage tray across the stone slab, 'He made the pieces on site using copper, scissors and bits of card.'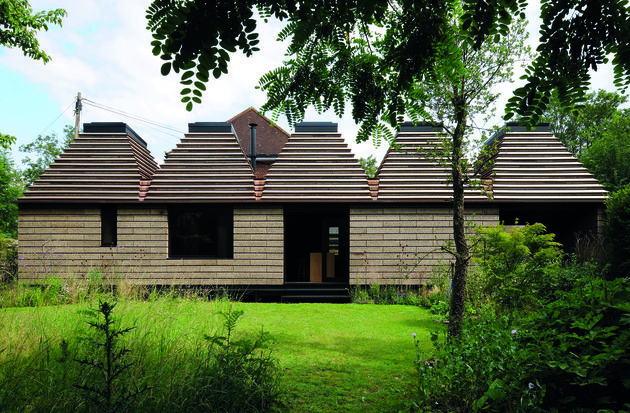 The exterior of the Cork House. Photo by David Grandorge
It is the contrast between the primary raw material of Cork House, its finely contrived secondary features, and the internal atmosphere it generates, that transforms this environmental research project into a finely tuned architecture of charming ambiguity. It's a gingerbread house made with dark muscovado sugar that is also a profoundly alternative, unexpectedly sensual machine for living in. The interiors generate an eerily ancient sense of space and texture – something enduring, yet with the after-image of an environmentally benevolent ruin.
It is easy to predict that variants of Cork House are going to appear, not
as architectural novelties but – rather like the innovative self-build timber houses designed by Walter Segal in the 1970s – as a bold demonstration of deeper engagement with the materials that surround us in our homes. The polemical force of Cork House also highlights a vacuum in the relationship between construction and the environment: there are still no regulations covering the whole-life carbon impact of buildings.
---