In the 1950s, Argentinian architect Claudio Caveri forged colonial and modernist influences into buildings that were modest and organic, warm and humane. The style soon had a name: casablanquismo, writes
Vanessa Bell

. Photography by: Hernán Rojas

Over a ten-year period from 1955-1965, a handful of Argentine architects began to develop and explore new approaches to construction. A critical response to first-world modernism, they were driven by a desire to create, for the first time, an autochthonous style with a local cultural identity. 'Casablanquismo', as it became known, re-evaluated the country's primitive colonial architecture as well as drawing on the vanguard European influences of the time, incorporating characteristics from both to create a style that strived to be uniquely Argentine.

The movement's principal exponent was Claudio Caveri, a rebellious and eccentric architect who dedicated his entire life to designing edifices that faithfully reflected his spiritual and ideological values. In order to fully appreciate the dynamics and reasons for the development of the movement and its style, it is important to understand the trajectory of Caveri's life, his personal and religious convictions and the cultural and socio-political backdrop in Argentina at the time.
Claudio Caveri was born on 9 March 1928 in Buenos Aires to a middle-class family, his father a well-known architect in his own right. Claudio senior built the majority of the cinemas on the famous Calle Lavalle, which until the late 1980s was the destination for cinemagoers. His buildings were important early examples of rationalist architecture in Buenos Aires.
Following in his father's footsteps, Caveri studied architecture, graduating in 1950 from the State University of Architecture and Urbanism, which was founded only three years earlier as an initiative under the Populist government of Juan Domingo Peron to encourage social projects. Caveri felt a great allegiance to the core values of the Peronist party. In 1955 there was a coup d'état, and Peron was overturned and forced into exile in Europe. By this time Caveri was lecturing at the university, but he began to feel uncomfortable with the new de facto government, whose elite and neoliberal approach was at odds with his personal beliefs and approach to architecture. This led him to resign from his post in 1957.
Caveri's first building, a private residence completed in 1952 in the suburb of Beccar, took inspiration from Mies Van De Rohe's 1923 Brick Country House. His second project, Casa Urtizberea, a private residence in the suburb of San Isidro, was built in 1955. It subscribed to Frank Lloyd Wright's 'breaking the box' philosophy by creating a more fluid relationship throughout, yet it did not create a seamless transition between interior and exterior spaces. Instead of industrial materials such as steel columns and glass facades, Caveri opted for rustic brick walls daubed in white chalk paint.
The rigorous compositional interplay between space and voids in this work was heavily influenced by Le Corbusier's Maison Jaoul (1951-56) and Villa Sarabhai (1951). It was with the Casa Urtizberea that Caveri began to experiment with the idea of creating organic hospitable environments with a sense of purpose for real people, as opposed to creating clinical spaces for abstract use.
Caveri cited Gaudí and Argentine artist Antonio Berni who used recycled materials and rubbish in his artworks as influences; Nietzsche's Thus Spoke Zarathustra and GK Chesterton's Manalive were two key texts that shaped his architectural formation and vision. A trip to Europe in 1955 and a visit to Le Corbusier's chapel at Ronchamp resulted in a lifelong reappraisal of modernist architecture and its influences in his work, as well as its relevance and efficacy in Argentina. Caveri constantly referenced the thinker Rodolfo Kusch, who argued that America was the land of miscegenation, an idea which Caveri himself explored in the numerous books he wrote on the subject.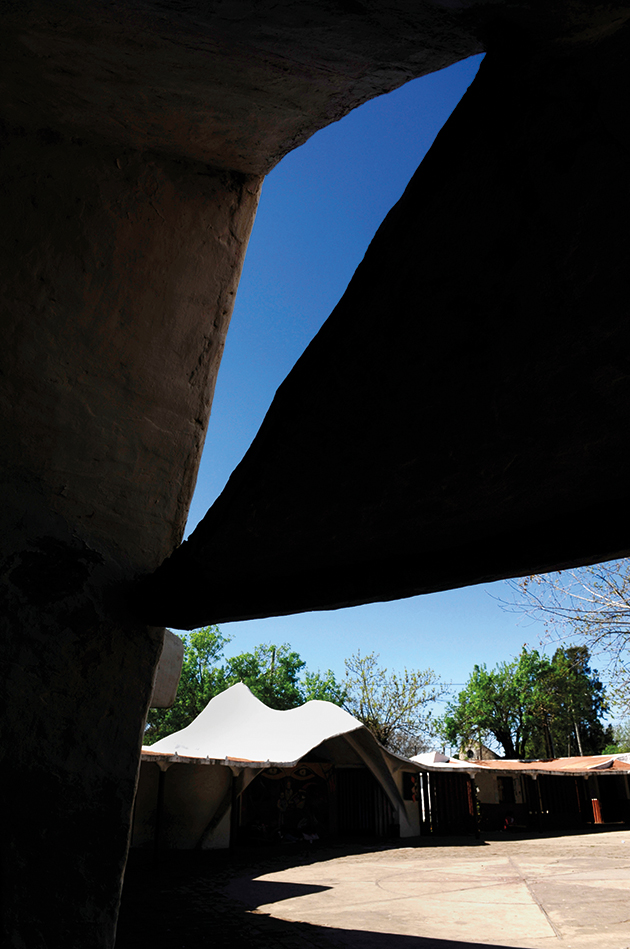 Caveri's buildings were often considered rationalist or brutalist due to his penchant for using reinforced concrete and white painted exteriors, yet he favoured rudimentary and organic materials inspired by the domestic white houses or 'casas blancas' found in Italy, Greece, Spain and the northern provinces of Argentina; a vernacular architecture characterised by its primitive design, suggesting a connection to the earth, the elements and their surroundings.
In an interview in 1959, Caveri discussed his humanistic approach to architecture. 'Man gives a home meaning when he fills it with tears and sorrow, and with joyful laughter. One could argue that when a building encapsulates human experience and reflects the essence of humanity, it becomes a key discipline in the development of architecture: the concept of home.'
In that same year, he began work with Eduardo Ellis on the Iglesia Nuestra Señora de Fatima, which would become regarded as the most emblematic work of the casablanquismo movement and a potent symbol of Argentine architectural identity. Caveri was a devout Christian and his profound spirituality played a huge part in determining the projects he took on. For him, Ronchamp represented a false piety, a building lacking any human elements of spirituality or connection with the earth.
With Fatima, his focus was on creating a congenial space, breaking with the conventional Latin Cross formation, with the elevated altar isolated in the nave at one end. Instead, he opted for a 'Christocentric' layout, which placed the altar at ground level in the middle of the congregation, allowing for a more interactive relationship with the priest. The project was commissioned by Father Horacio Moreno who approved of Caveri's experimental plans. Small skylights and recessed windows restricted the natural light, resulting in a faint illumination and the mystical climate he strived to create, which was consistent throughout his religious works.
Around this time, Caveri closed his studio in the city centre and relocated to the marginalised and impoverished suburb of Moreno. Here, he founded a community project called Fundación Tierra, and over the next 20 years he gradually built his own house with minimal funding and rudimentary materials, distancing himself from the orthodoxy of his trade. He helped to develop a 10 hectare complex where he lived and worked until his death in 2011, aged 83, and which now operates as a community cooperative. His unconventional working practices saw him turn away written contracts and formal paid commissions, focusing instead on social and religious-based projects in the modest outskirts of Buenos Aires.
Caveri's last formally commissioned work, the Fundación Conciencia y Ciencia, gave him the opportunity to collaborate once again with Father Moreno, more than 40 years on, on a spiritual retreat in the suburban neighbourhood of Ingeniero Maschwitz. The concepts of community and Christianity come together in this work, an amalgamation he had explored in the Comunidad Tierra and in his spiritual retreat El Jacaranda in the province of Santa Fe (1965), as well as the Santa Maria de Guadalupe Church in Moreno (1964-66). He wanted to create architecture with a truly autochthonous identity, and enable the Church to be more in touch with its community through buildings that would be considered inviting and warm.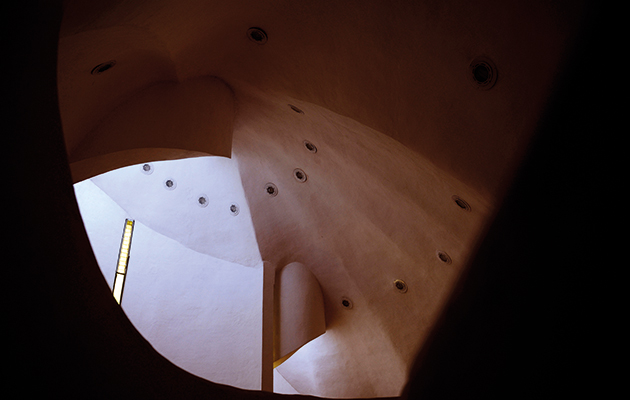 The Fundación Conciencia y Ciencia includes a series of buildings interlinked via circular patios, and a chapel, Nuestra Señora de Fatima, which is affectionately known as the second Fatima and is reminiscent of a seahorse in shape, as well an auditorium and a residential block. Wright's flying saucer shaped homes and the Guggenheim Museum (1959) are marked influences, as are the circular and spiral features of his unbuilt Huntington Hartford resort in Los Angeles (1947).
This final work was a culmination of a process that began with Fatima in 1959 and was followed by decades of experimentation using meagre resources. Caveri proposed a new direction in Argentine architecture, yet he never imposed an ultimate objective. His spiritual legacy discounts a formal evaluation of his works as mere soulless structures, and rather invites reflection on the ideological and humanistic message they hold.
---