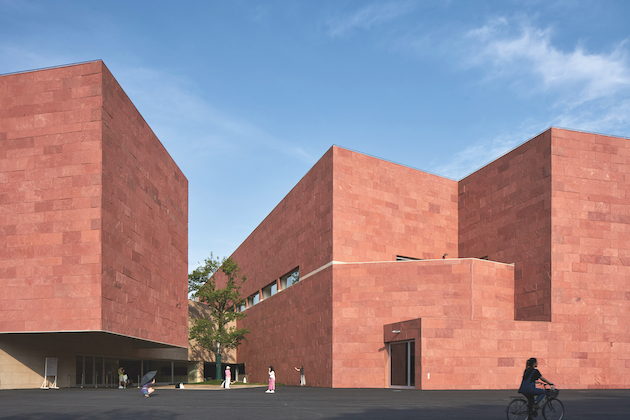 China Design Museum in Hangzhou. Photo: Qian Yunfeng / Shi Zheng
It is a fortress designed by Portuguese Pritzker-winner Álvaro Siza to house a collection of Bauhaus and other 20th-century artefacts. How, asks
Zara Arshad

, is this focus helping to revive China's contemporary design scene?

This spring, the China Design Museum in Hangzhou finally opened its doors. The institution has been about six years in the making. Unlike many Chinese museum projects, however, which often adopt a 'build it now, figure out the content later' approach, construction of the China Design Museum followed the purchase of a sizeable collection by the China Academy of Art, Hangzhou's prestigious art and design university, in 2011.

Comprising around 7,000 objects – furniture, graphics and everyday household products associated with 20th-century modern European design movements such as the Deutscher Werkbund, the Bauhaus and De Stijl – the set was bought from German collector Torsten Bröhan using government funds, and is reported in the Chinese media to have cost a staggering €55 million.

Today, the China Design Museum defines itself as a museum of 20th and 21st-century design, with this modern European collection forming its core, and its new permanent space is a physical manifestation of this approach. Designed by Portuguese architects Álvaro Siza and Carlos Castanheira, the museum building, located on one edge of the China Academy of Art's campus in Xiangshan, has a distinctive exterior, with strong geometric contours and a red and beige sandstone finish. When viewed in plan, three interlocking buildings take on the form of a triangle, creating a central open-air courtyard, while some of the rooftop spaces have been transformed into green areas. Interiors, meanwhile, are mostly white and lined in marble, offering light and open areas that can be reconfigured for various museum activities.

As a standalone building, it undeniably has the stamp of Siza, boldly jutting out from the university grounds into public visibility. This was the effect that Xu Jiang, president of the China Academy of Art, intended when he invited Siza to design the complex following his 2012 visit to the Academy. Museum director Hang Jian explains that 'at the time, the work of architects like Koolhaas and Zaha in China exemplified a postmodern style [but] Siza was the last remaining modernist, the grand master'. When Siza eventually accepted the project, the commissioning team accepted the architect's design choices in full, including the need to hide air conditioners, fire hydrants and smoke detectors inside the building. Though such requests presented challenges for the domestic construction team delivering the project, Xu Jiang's hope was that efforts would eventually pay off, or as Hang Jian notes, that 'China would have a complete modernist master's work', reflecting the modern European design collection it was built to house.

The China Design Museum is the second museum to be built on the Xiangshan campus, joining the Academy's crafts-oriented Folk Art Museum, designed by Japanese architect Kengo Kuma and completed three years ago, in September 2015. In contrast to Siza's building, a sure expression of the architect's own aesthetic, Kuma's approach entailed integrating the buildings of the Folk Art Museum into its natural surroundings, all the while avoiding modifications to the existing terrain. The architect worked with local materials too, such as cedar and reclaimed roof tiles, once used to cover old homes in the region. The result is a cascading arrangement of buildings (the museum sits on a sloping site), made to evoke a village.

Kuma's Folk Art Museum closely resonates with the school buildings encircling it, too. Famously designed by Chinese architect Wang Shu, the Xiangshan university complex was created in response to its immediate environment, including a central elevated mound (around 50m high), naturally flowing streams, and the city's humid, subtropical climate. Rather than remove or impose on the surrounding natural landscape, Wang Shu proposed working with it instead, creating a series of buildings connected on ground level and via raised open walkways (offering brilliant views), semi-enclosed shaded spaces that still make full use of natural light, and more private, enclosed courtyards, all constructed with recycled bricks and old roof tiles.

Where the Folk Art Museum was designed to mirror Wang Shu's construction techniques, the China Design Museum is a statement piece. It is an embodiment of clean modern design, expressed not only through the style of the building, but also in what it has been made from: new, rather than salvaged, materials. Both museums, meanwhile, supported both financially and politically by the local government, form part of a larger top-down effort to develop the city of Hangzhou into a national centre for the cultural and creative industries.

This is not all to say that the China Design Museum's curatorial team has neglected its content. Since 2011 the institution has organised numerous exhibitions and events, mainly aimed towards specialist audiences. Intriguingly, most of these activities have centred on the Bauhaus, despite only a small fraction of the museum's collection being associated with the famous German design school. Initiatives have involved, for instance, establishing a temporary Bauhaus-branded gallery while the permanent space was under construction; hosting various symposiums, starting with The Bauhaus and the Orient, held in 2011, followed by Bauhaus and Creativity (2015) and, more recently, Bauhaus in Asia (2018); and publishing research outputs via a range of Bauhaus-focused titles.

This has all been in addition to mounting two major temporary exhibitions. From Manufacture to Design: 20th Century German Design hosted by the He Xiangning Art Museum in Shenzhen (2013-14), and Design as Enlightenment: China Design Museum Bauhaus Collection Exhibition, shown at the National Museum of China in Beijing (2014). When considered together, these exhibitions offer a glimpse into the museum's curatorial strategy. While the Shenzhen exhibition investigated 'how "Made in Germany" became synonymous with outstanding design and excellent quality', the Beijing show presented a deep-dive study of the Bauhaus approach towards design education. Both were exercises in reflecting on historical narratives to extract lessons for resolving anxieties of the present.

As Hang Jian explains: 'So, for the Shenzhen exhibition, the emphasis is more on industry […] while the Beijing one is more about thinking.' In other words, the former provided instruction as to how designers and manufacturers in China today could be encouraged to create innovative products, while the Beijing exhibition would offer ways of improving domestic design education programmes, which train the country's future designers. These ideas were further reinforced by the cities in which each exhibition took place: Shenzhen, China's first Special Economic Zone, currently dominates in manufacturing, while Beijing, the country's political and cultural centre, is a city in which education and intellectual pursuit are especially strong.

Studying the Bauhaus, however, is seen as just the first step for the China Design Museum team, and part of a longer-term curatorial approach that has been directly shaped by its host institution, the China Academy of Art. Established in 1928, the university's first president was a painter called Lin Fengmian, who strongly advocated a 'balance' between Chinese and Western learning in the arts. Lin Fengmian believed this could be realised in four stages: first, the introduction of Western art to China; second, the study of Chinese art history; third, 'balancing' Chinese and Western art; and fourth, the rebirth of contemporary Chinese art. It's a method that the China Design Museum is mirroring, as noted by Hang Jian, who confirmed that the introduction of a 20th-century European design collection to China is the first step for his institution.

A review of modern Chinese design, through research and eventually acquisitions, will soon follow, allowing for a comparative study of the museum's European and Chinese collections thereafter. Hang Jian intends for this process to eventually lead to the 'rebirth' of contemporary design in China by giving emerging designers better access to design history.

It might be a while, though, before we witness this so-called rebirth. When the China Design Museum's permanent space was unveiled in April, five exhibitions were organised to coincide with the official opening, all of which involved presenting European design to Chinese audiences. But now that the museum has a dedicated physical space, perhaps we can look forward to more meaningful collaborations: initiatives that move beyond institutional rhetoric (like celebrating the fact that a Pritzker Prize-winner was involved in the project) and instead earnestly reflect on China's place in and contribution to the world – not just historically, but in contemporary terms, too.

Perhaps these considerations might offer different perspectives on our globalised present, a condition within which the China Design Museum's high-priced core collection of canonical modern European design has come to find a new home, and a new purpose, in China.
---