The aluminium-clad Infrabel Academy by Atelier Kempe Thill references industrial shed architecture – and connects to an adjacent train station
Rotterdam-based Atelier Kempe Thill has completed the Infrabel Academy Brussels, a training centre for staff that work on the infrastructure of the Belgian railway network. Located parallel to Brussels West station and above metro lines, the Infrabel Academy comprises areas for both theoretical and practical training, including a ground floor featuring train tracks.
Due to the metro lines running underground, construction of the building proved a complex technical challenge. The structure is thus situated directly in line with the outer walls of the underground tunnel, which serve as outer supporting structures. But the architects designed the building to be sufficiently lightweight, and 90% of it is designed as prefabricated elements in order to be able to complete the construction on site quickly.
The facade is made from corrugated sheet metal, anodised aluminium slats and glazed elements, and aims to reflect the industrial architecture of the surrounding area. The building is structured around three double-height atriums, which receive natural light via shed roofs. The flat parts of the structure's roof have been greened to soften the building's appearance and address sustainability (the project satisfies the passive house environmental requirements that apply to all new buildings in Belgium).
Internally, the material palette combines exposed concrete with whitewashed concrete block walls, white suspended ceilings and glazed walls. Acoustic curtains create privacy in the upper-floor classrooms.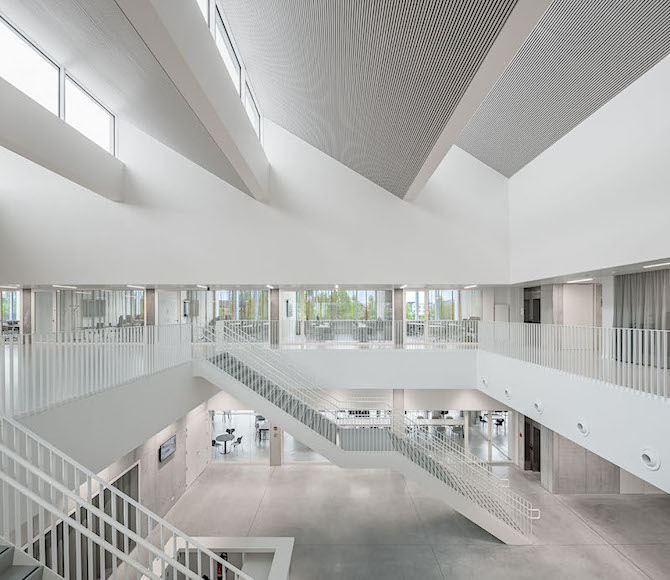 The project directly connects to Brussels West station, removing the need for a car park as staff can arrive via train. A public park is due to be created directly in front of the building and a new pedestrian bridge will connect the areas from both sides of the adjacent railway tracks.
Photography by Ulrich Schwarz
---