In a new book, Jared Green showcases the innovative architecture and design harnessing sustainable and renewable energy around the world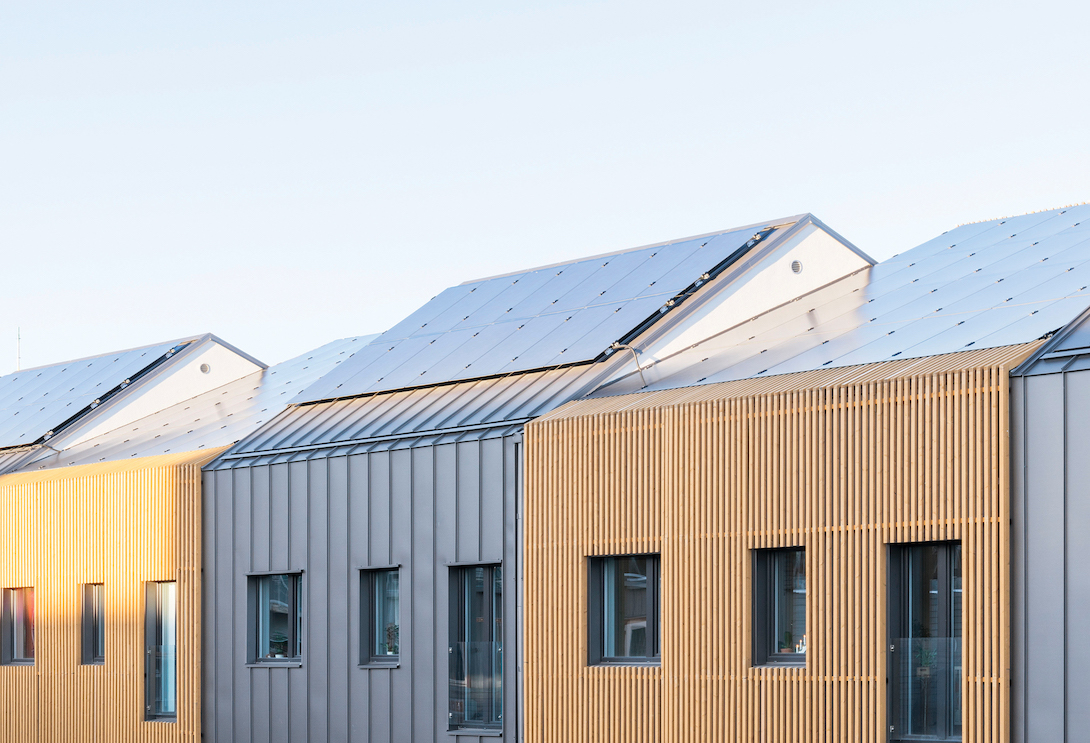 Power of 10, Örebro. Photograph: Mathias Hamrén
Words by Francesca Perry
In his new book, Good Energy: Renewable Power and the Design of Everyday Life, writer and editor Jared Green spotlights 35 net-zero or energy-positive developments from the last decade that demonstrate the potential of architecture and design to play a proactive role in tackling the climate crisis. From Japan to Kenya and from Sweden to Singapore, the projects cover a variety of scales, climates and income levels, showing that seemingly bold sustainability steps can be affordable and easy to implement. Many of the showcased developments also have wider positive impacts, including social, community and economic benefits. Here are six of our favourites.
Power of 10, Örebro, Sweden
Stockholm-based Street Monkey Architects designed this series of 10 net-zero-energy passive houses in 2016. The houses are built from prefabricated units of recycled steel, and the architects oriented the roofs to face south so they could install rooftop photovoltaic (PV) panels to maximise energy generation. The development generates 4 megawatt hours of electricity annually, and energy generated by the rooftop PV also powers electric vehicle (EV) chargers in the units' parking areas. Any excess energy is collected by each house's 40-kilowatt battery cells. When the batteries are full, energy is sold to Örebro's grid.
Sweetwater Spectrum, Sonoma, US
Photograph: Marion Brenner
In 2009, a group of families collaborated with civic leaders and professionals to create a non-profit organisation called Sweetwater Spectrum, with a vision to plan and design a new kind of residential community complex for adults with autism. Four years later, this complex opened on 1.1ha of infill property in Sonoma, California.
The net-zero energy community, designed by Leddy Maytum Stacy Architects and Roche + Roche Landscape Architecture, has four houses and a community centre, as well as a therapeutic swimming pool, an organic vegetable garden and an orchard with a greenhouse and chicken coop. The buildings are oriented to maximise daylight and natural ventilation, as well as optimise renewable energy production through rooftop PV panels. To improve energy efficiency, buildings incorporate high levels of insulation and high-performance windows, as well as exterior sunshades. Homes include air-to-water heat pumps and energy-efficient lighting.
Avasara Academy, Pune, India
Photograph: Ariel Huber and Case Design
In 2013, economist Roopa Purushothaman collaborated with architect Samuel Barclay – founder of India-based Case Design – to create Avasara Academy, a large and sustainable secondary school for disadvantaged girls near Pune, India. The school – which continues to grow with new structures – hopes to equip these girls with skills to become the future local, national and global leaders. Using smart, low-tech strategies complemented by rooftop PV panels, Avasara Academy is working toward net-zero energy use.
An innovative system was devised that uses daily temperature changes to cool the spaces, eliminating the need for mechanical systems and simultaneously saving money. The design includes solar chimneys, earth ducts and windows with shade structures for cooling and ventilation, as well as floors and ceilings that use thermal-massing strategies to absorb and store heat during the day. Another benefit of the cooling and ventilation, which enables continuous airflow, is that it creates a healthier environment for students and teachers. Case Design also incorporated recycled and reused materials to reduce the greenhouse gas emissions from the construction of the school and support the thermal massing of the spaces.
Belfield Townhomes, Philadelphia, US
Photograph: Sam Oberter
In the Logan neighbourhood of North Philadelphia, the developer Onion Flats designed and built three affordable four-bedroom townhouses, which when launched in 2012 were the first new affordable residences in North Philadelphia for five decades. They were also the first certified passive houses built in Philadelphia and the state of Pennsylvania. Onion Flats codeveloped the project with Raise of Hope, a local community development corporation, for previously homeless families.
To reduce cost and speed up construction time, the firm partnered with a local modular factory that constructed the houses in prefabricated pieces that were assembled on-site. The townhouses include rooftop PV panels, super-insulated walls, triple-pane windows, and a heat-recovery pump. If residents stay within their energy budgets, then the houses can produce as much energy as needed, making them net-zero in terms of energy use.
SMA x ECO Town Harumidai, Sakai City, Japan
Photograph: Daiwa House Industry Company
SMA x ECO Town Harumidai, completed in 2014, comprises 65 energy-positive houses alongside a community centre. Each house is both a self-sustaining power plant and a storage facility: energy produced through rooftop PV panels is stored in a lithium-ion battery, while a fuel cell provides an additional energy source. Given the risk of major earthquakes, each house is built to be not only energy-positive but also resilient. Within the first three years of its use, the development had produced 15% more energy than it used, reducing its carbon emissions from electricity generation by an estimated 95%.
The development's public spaces host PV panels that help power shared infrastructure such as streetlights. The buildings are laid out and oriented to reduce the need for air conditioning in the summer, by maximising the cooling effect of the surrounding forest and the prevailing winds. Street trees are planted outside residences and along roads, while common buildings and walls are covered in greenery. Each family's share in the community's energy conservation efforts is displayed in a ranking; families with a high ranking are awarded points they can use for the development's EV car-sharing service.
EV charging station, Fredericia, Denmark
Photograph: COBE and Rasmus Hjortshoj – COAST
Partnering with electric-mobility provider Clever and energy company E.On, COBE Architects created an EV charging station on a motorway passing through Fredericia, a city in the southeast of Denmark's Jutland peninsula. Completed in 2019, the charging station is the first of 48 planned on Scandinavian highways; currently equipped with four high-speed chargers, these will eventually be replaced with super-high-speed chargers.
Designed to recall a grove of trees, the structure comprises modular elements of sustainable woods that provide shade and shelter. Underneath these tree-like structures, the high-speed chargers – powered by Denmark's solar and wind energy – can charge up an EV in 20 to 30 minutes. COBE worked with the Danish Society for Nature Conservation to plant diverse native tree, shrub, and grass species to enhance biodiversity in the motorway environment.
Good Energy: Renewable Power and the Design of Everyday Life by Jared Green, foreword by Walter Hood, is published by Princeton Architectural Press
Get a curated collection of architecture and design news like this in your inbox by signing up to our ICON Weekly newsletter
---