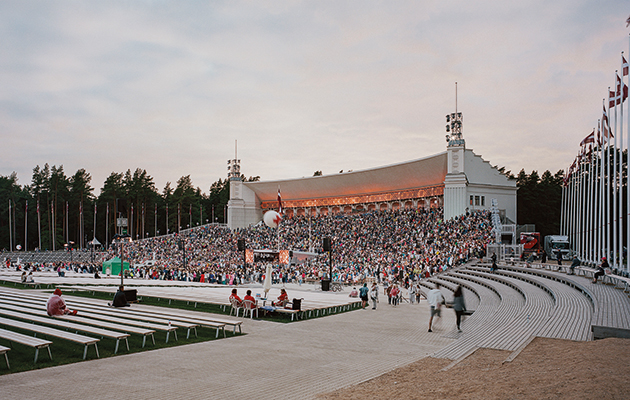 Austris Mailitis has found inspiration in nature and folklore for Riga's National Open Air Stage, a project of huge cultural and emotional significance for Latvia. They are themes he is now keen to develop into a contemporary vernacular for the Baltic state, writes
Lemma Shehadi
'In Latvia's pagan traditions, we have forest mothers and wind mothers. The grass is sacred and you can talk to trees,' says architect Austris Mailitis during our meeting at his studio in Riga. Since setting up his practice Mailitis Architects in 2007, the 34-year old architect has emerged as a leading voice in Latvia's cultural scene, through his attempts to create a contemporary vernacular that is often rooted in nature.
In June this year, Mailitis unveiled the first phase of the reconstruction of the National Open Air Stage, his biggest Latvian commission to date. This venue hosts the Song and Dance festival, a week-long national festival of traditional Latvian song which takes place every five years in the Mežaparks forest in northern Riga. The festival, which is inscribed on the Unesco list of Intangible Cultural Heritage, closed this year with a 16,500-strong a cappella choir concert.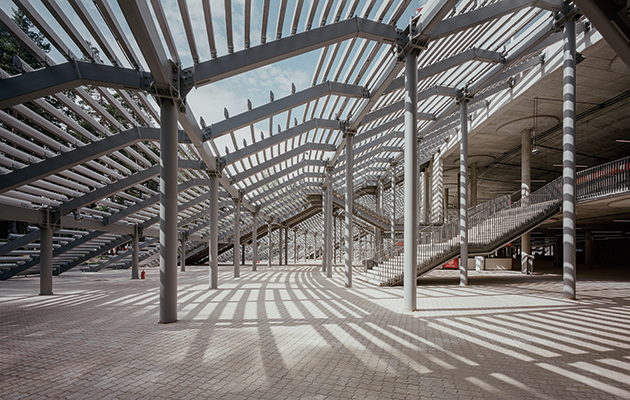 The steel structure provides a partial shelter while keeping the venue exposed to the sky
Mailitis Architects partnered with Riga-based practice J. Pogas Birojs on the redesign of the Open Air Stage, which is publicly funded by Riga City Council. 'We're rebuilding the entire venue in stages in order to accommodate the growing audience and choir, and to update the existing facilities,' Mailitis explains. The newly completed areas include an enlarged audience field of 23,900 seats and 57,400 standing places, and a service area with shops beneath it. A temporary wooden raised platform was built to grow the choir's capacity for this year's festival. The second phase, the rebuilding of a larger stage, will be unveiled in 2020. To accommodate a choir of this scale, the architects are collaborating with sound engineers Andris Zabrauskis and Müller BBM. 'The acoustics will be unique,' says Mailitis. 'The stage serves as a backdrop but also as an instrument for the choir.'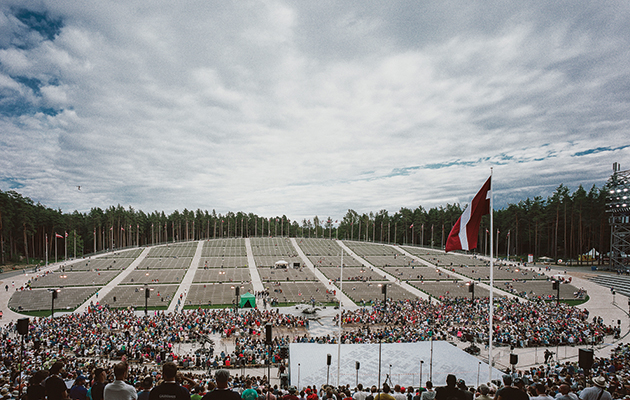 The National Open Air Stage include an audience field of 23,900 seats and 57,400 standing places
The Open Air Stage is surrounded by dense forest, and the new designs embed the venue with the surrounding environment. 'The stage acts as a metaphor for Latvia's natural environment: calm, slow and smooth,' says Mailitis. A circular structure made of steel branches rises from the ground. This provides a partial shelter while keeping the venue directly exposed to the sky. 'Nature appears through a set of abstract symbols: there's the shape of the horizon, the hills, the trees and the foliage,' says Mailitis. The architects drew on representations of nature in Latvian folklore. 'The forest in Latvia is a sacred place. It's a forest of purity, of honesty, mythology and ideas.' Yet the anthropomorphic conceptions of nature that prevail in folkloric and pagan traditions are absent here. The emphasis is on simplicity and abstraction, which feels distinctly modern, secular and objectified.
Mailitis views a direct correlation between the stage's history and state reform. The festival has been held in several venues in Riga since its inaugural year in 1873. A permanent stage was established in Mežaparks in the 1950s, under Soviet rule. 'The original building and its ornaments imparted a strong message of Soviet imperialist propaganda,' says Mailitis. 'We wanted to move away from this political messaging and speak to the surrounding nature.'
The Shaolin Flying Monk Theatre in Henan Province, China. A vertical wind tunnel allows monks to 'hover'
The stage was rebuilt in the 1990s after Latvia's independence. Yet the decision to root the new designs for the stage and auditorium in nature and Latvian folklore also has political nuances. As an influence, Mailitis cites the 'silver forests' mentioned in a Latvian daina, a traditional folk song. These dainas also formed part of Latvia's Singing Revolution of the late 1980s, a series of sung mass-demonstrations which played a significant role in the Baltic states' move towards independence.
Mailitis's decision to base his practice in Riga could appear risky. Latvia's population dropped significantly after it joined the EU in 2004, with many young people choosing to study and work abroad. The country was recently at the heart of an EU-wide banking scandal, which put further strain on its fragile economy. Moreover, Riga has yet to experience the construction and property development booms seen in other European capitals.
The Latvian pavilion, Shanghai Expo 2010. The facade was composed of 100,000 transparent plastic plates
But Mailitis finds inspiration there despite this context. 'Riga is a quiet city, but the silence is captivating,' he says. 'I don't feel limited by being here. I've developed a place for my work and I've won commissions for international projects. A few designers have started coming back to Riga, after a successful career abroad.' Working in Riga affords Mailitis the space to experiment, and work at the intersection between architecture and art. He collaborated with the Latvian artists KatrĪna Neiburga and Andres EglĪtis on the design of the Latvian pavilion for the Venice Biennale in 2015. The large, kinetic wooden temporary structure, which breaks out into different levelled platforms, was later presented at Coachella in California.
In an attempt to create a locally rooted architecture, Mailitis responds to Latvia's modern architectural history. 'Modernism had such a strong presence in Latvia that even postmodernism couldn't fight it,' he quips. Riga's medieval and fin de siècle city centre is controlled by a rigorous conservation programme, while Soviet-era social housing and factories populate the outskirts of the city. 'Modernism values unity, perfection and interconnectivity. Yet I am interested in the local, the specific, the imperfect and what is left unfinished. There is beauty in the unknown and the mystical.'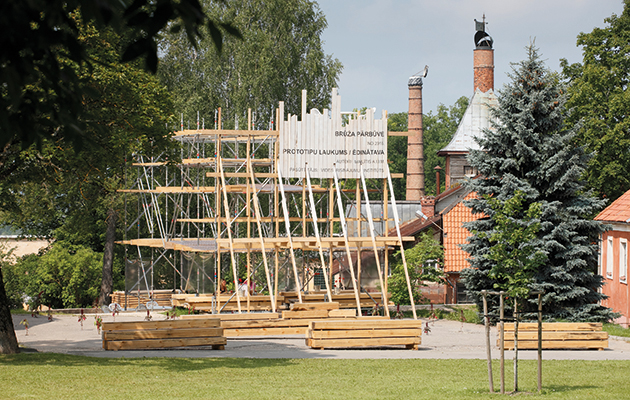 The redevelopment of the Cēsis Brewery in north-east Latvia as a cultural centre will be complete in 2025
As such, a sense of transience forms part of both his temporary and permanent buildings. In his designs for a temporary tourist information centre in Riga's Esplanade Park, for which he was nominated for the EU Mies Van der Rohe Award in 2015, the simple, scaffolding-like structure was changeable and transparent, encouraging visitors to be active participants in the cultural process. A similar principle of a mutable architecture will apply to Mailitis's designs for the restoration of the Cēsis Brewery, a complex of disused factories in the town of Cesis, north-east of Riga.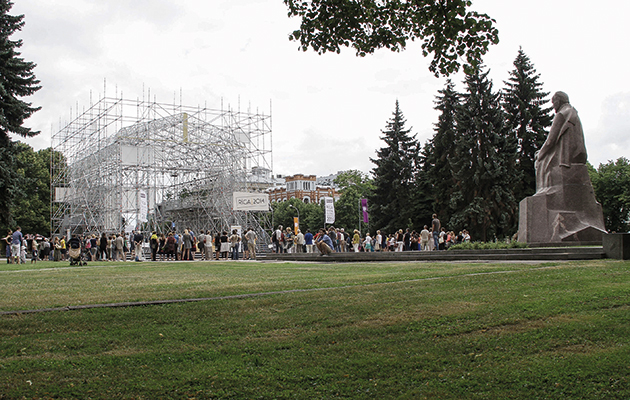 The Riga 2014 Pavilion, a multi-purpose stage for the European Capital of Culture celebrations
Mailitis's interest in local traditions and embedding his buildings in nature also extends to his international projects. He recently completed the Shaolin Flying Monks Theatre in the Songshan, a mountain range in the Henan province of central China. This amphitheatre sits on top of a hill in a cypress forest, and was designed to echo the lines of the surrounding landscape. Its main attraction is a vertical wind tunnel, which allows martial artists and members of the public to 'hover' above the building as if in flight. 'The Songshan mountains are the birthplace of Zen Buddhism and Kung-Fu. They feature in some Chinese creation myths,' says Mailitis, 'I wanted to create a building that engaged with these narratives.'
While Riga's economy recovers slowly, Mailitis has developed a business building temporary and permanent structures for the cultural sector. Local readings of nature are often at the heart of these projects. In the forests of northern Finland, he is currently working on a biodegradable amphitheatre for a Tree Opera, a publicly funded Finnish and Latvian co-production. 'This avant-garde opera and scenography project also aims to raise awareness and protect Finland's ancient and uncultivated forests,' he says.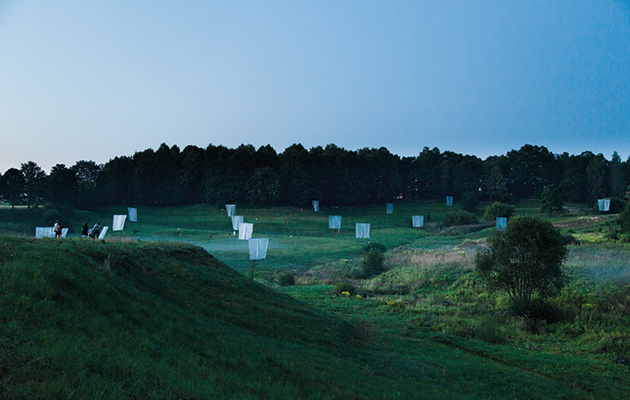 Supernatural, a kinetic installation in Cēsis inspired by Pagan traditions (2015)
As Mailitis builds his own voice as an architect, both locally and internationally, it is apparent that he is also engaged in developing a contemporary vernacular for Latvian architecture. He has a strong sense of how he wishes to shape its aesthetic: 'It should be clean, natural and sensitive, drawing on philosophy and poetics.' Mailitis's eagerness to experiment with this vision suits the cultural projects he is involved in. The question is whether it can withstand the demands of potential corporate partners as his practice grows.
---