A month-long series of online events from Hong Kong's M+ museum explores and celebrates Archigram's radical approach to citymaking

Words by Francesca Perry
The London-based experimental architectural group Archigram – led by Warren Chalk (1927–1987), Peter Cook (b. 1936), Dennis Crompton (b. 1935), David Greene (b. 1937), Ron Herron (1930–1994), and Michael Webb (b. 1937) – has long been a source of inspiration and provocation since its period of activity in the 1960s and 1970s.
The group's surreal, speculative and sci-fi visions aimed to reframe how we think about architecture and cities. Now M+, a new museum in Hong Kong, is staging a month-long series of online and offline events about the group's fantastical urbanism, having acquired Archigram's archives in 2019.
Dedicated to art, design, architecture, moving image, and visual culture in 20th- and 21st-century Asia, M+ will open in 2021 in a monumental building designed by Herzog & de Meuron in Hong Kong's evolving West Kowloon Cultural District.
Archigram Cities – which takes place throughout November – comprises talks, screenings, presentations, and a full-day symposium. It aims to introduce Archigram's work to new audiences. 'Through its dense layering of infrastructure, media, and commerce, Hong Kong can be read as an Archigram city, and the archive's presence here offers the potential to trace new, situated lines of inquiry in architecture and visual culture,' says M+ chief curator Doryun Chong.
ICON briefly spoke to architect and Archigram founding member Peter Cook about the programme – and Archigram's relevance today.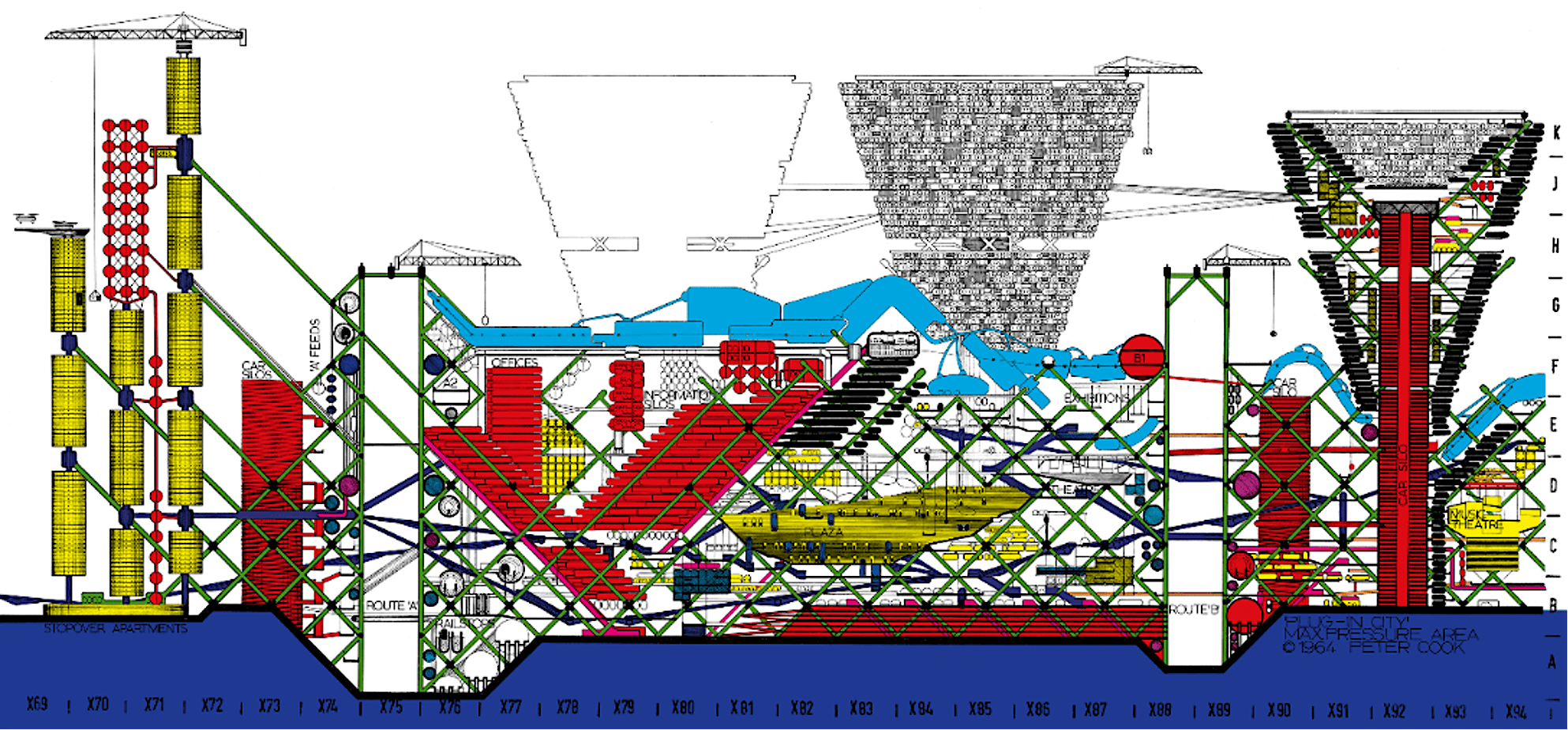 In terms of research or projects, what was the extent of Archigram's engagement with Asia during the time it was active? 
The main engagement was with Japan – in fact very little engagement elsewhere, apart from occasional drop-ins to Hong Kong and Kuala Lumpur. But the Tokyo connection was more far-reaching: from the meeting with Arata Isozaki in Milan in 1968, teaching together at UCLA and the many invitations to Japan as critic, building a pavilion, running workshops, etc.
The depth of intellectual strength combined with the high sophistication of the built work – not to speak of the wit and conceptual range of so many Japanese architects – places them for me at the very top of the 'architecturally significant' countries. Hong Kong by comparison is rather flashy and superficial, apart from an elite few.
With Archigram's archive now in M+, what opportunities do you feel this can bring in terms of new audiences for the work?
It is especially significant that the M+ repository be supported by constant ongoing discussion, seminars, lectures (when allowed) and some clever researchers at work. The Archigram collection should be seen as but one of a series of collections – and why not commission some experimental works in the gardens or rooftops of M+? Like the Serpentine Pavilion, but done by real newcomers? Then, maybe, non-commercial architecture might be given a chance in HK.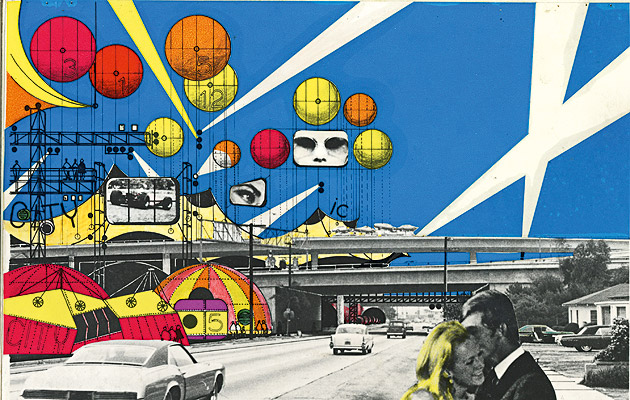 Archigram has long had a cult following in the architecture world, but do you think the radical changes happening to cities as a result of this year's pandemic has created the opportunity for a new appreciation of the group's speculative visions? 
Sure. I would like [Archigram co-founder] David Greene to take out his pen and write and draw about this: instinctively, he has been anticipating the scene. The city will evolve. It MUST evolve.
Do you think the approach of Archigram would even be possible today, especially in light of the climate crisis?
Archigram is always about a subtle combination of response, invention, and thinking outside the box. It's 100% not likely to look like 1960s/1970s Archigram, but probably to do with eating habits, clothing, artefacts, animalised jogging machines, main-carrying kites, new ways with wearable omelettes…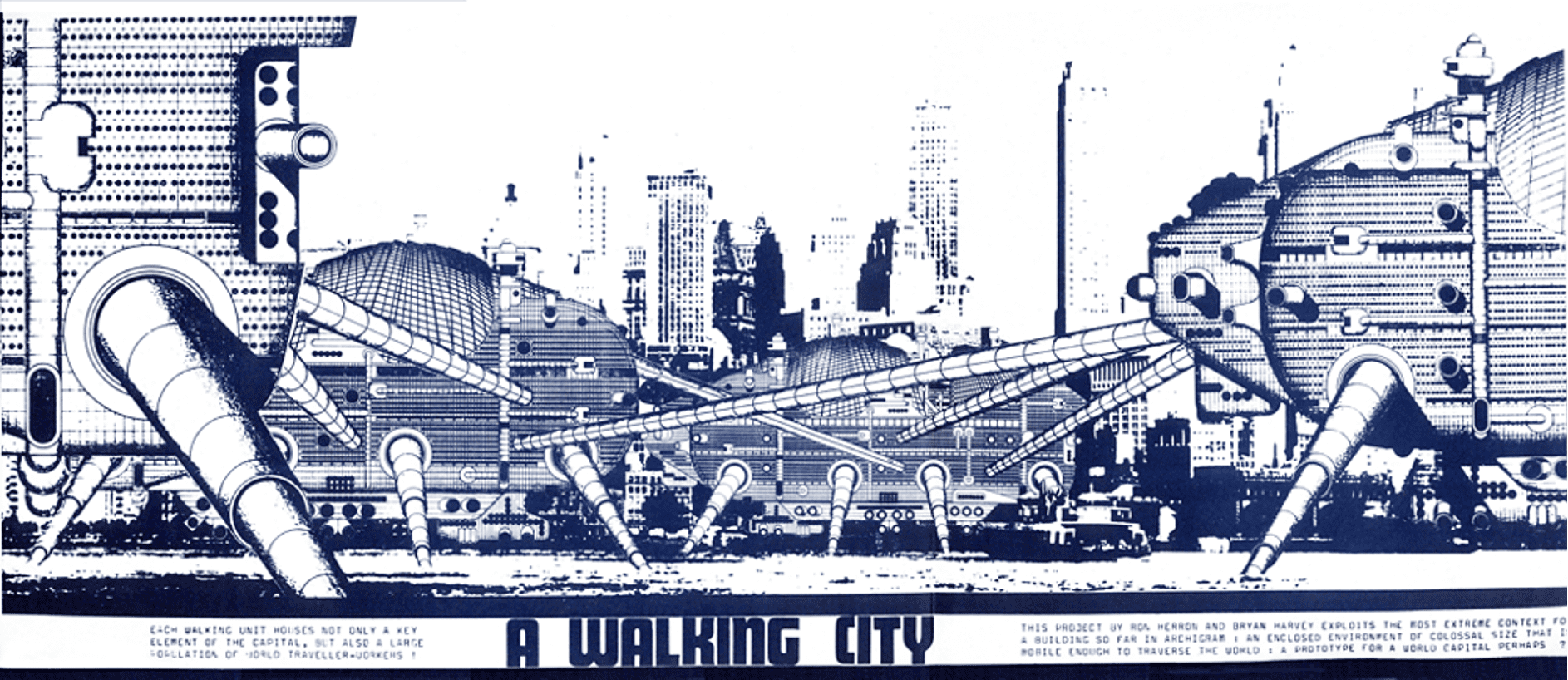 What role can radical, experimental visions play in the day-to-day worlds of architecture and planning?
So much architecture is 'follow my leader' stuff, we should encourage individual experiment, speculation and research. Architecture needs its OWN new vaccines. Most planners are unimaginative bean-counters.
–
Archigram Cities is hosted in collaboration with the University of Hong Kong and Power Station of Art in Shanghai. Imagery © Archigram archives
---