Owen Hopkins. Courtesy of Newcastle University
Get a bitesize overview of the week's headlines and events with Icon's round-up
SCENE
ICONIC EMPLOYABILITY
Senior curator at the Sir John Soane Museum and Icon contributor Owen Hopkins has been appointed the head of Newcastle University's Farrell Centre for architecture and urbanism. Hopkins will be starting his new position next year, and is expected to develop the new venue, which will host exhibitions and discussions on architecture, as well as Sir Terry Farrell's archive, which comes with £1 million donation from the man himself. Another noteworthy appointment this week: David Chipperfield will be taking over from MVRDV's Winy Maas as Domus's guest editor next year and Tim Abrahams, another Icon stalwart, will be his deputy.
EVERYONE'S A WINNER
In an unprecedented move, the Turner Prize has been awarded to all four nominees. The artists, Oscar Murillo, Tai Shani, Helen Cammock and Lawrence Abu Hamdan, successfully argued their case with the jury that they should all be declared winners and share the £40,000 prize money. The artists decided on this course of action after meeting for the first time during a preview of their respective exhibits at the Turner Contemporary in Margate earlier this year.
Bags for life blamed for rise in supermarket plastic packaging use. Photo by Edouard Hue
BAG PROBLEM
Plastic 'bags for life' were supposed to curb the single-use plastic habit many of us developed when visiting supermarkets. But the latest research shows that the amount of plastic packaging used in UK supermarkets has increased by 17,000 tonnes between 2017 and 2018, mostly driven by the increase in the use of paid-for plastic bags. Environmental campaigners are now calling for either a complete ban on plastic bags or a price rise to at least 70p – from the usual 15p or so – to mitigate the problem.
DIARY
Biennial of Design, Museum of Architecture and Design, Ljubljana
Curated by Thomas Geisler and Aline Lara Rezende, the 26th edition of Ljubljana's design biennale, titled 'Common Knowledge', focuses on knowledge production and information transmission in a digital world. Until 9 February 2020
bio.si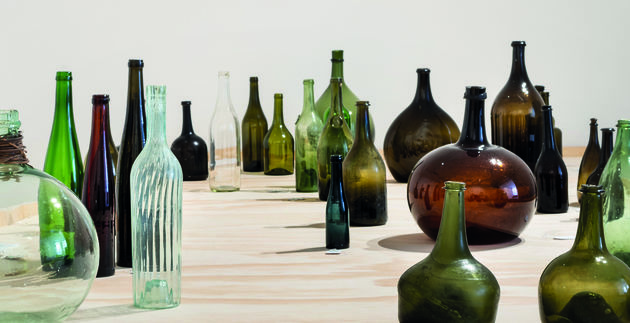 Vitra Design Museum is exploring common objects. Courtesy of Typologie Magazine
Typology: An Ongoing Study of Everyday Items, Vitra Design Museum, Weil am Rhein
This new exhibition examines the evolution of undesigned archetypal items such as wine bottles, cork stoppers and fruit and vegetable crates. 7 December until 3 May 2020
design-museum.de
Gingerbread City, Somerset House, London
An annual festive fixture organized by the Museum of Architecture, in which some of London's top architects construct an ideal city out of gingerbread. This year's theme is transport. 7 December until 5 January 2020.
thegingerbreadcity.com
A section of the Gingerbread City. Photo by Luke O'Donovan
---