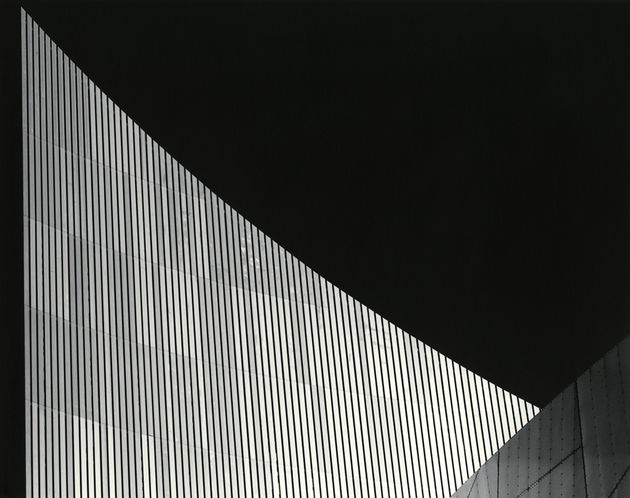 Detail of the Imperial War Museum North. Photo: Adrian Ensor
Adrian Ensor's unusual photographic career began with decades in the darkroom before he ever set out with a camera. Ensor has worked as a master printer for more than half a century, first developing and printing film for his uncle aged 13 and, later, twice winning the Printer of the Year Award given by specialists Ilford for his work on black and white images.
During the last three decades he has built an impressive career as a professional photographer in his own right, including exhibiting at the Royal Academy, Photographers Gallery, and a new show, running until 10 May at the Framers Gallery, London.
Reflecting back on a self-guided career behind the camera, during which time Ensor followed his own passions to capture landscapes and city skylines, he explains what it takes to get the perfect architecture shot.
Adrian Ensor: I have been looking at images almost every day for 60 years, whether I am looking at contact sheets or printing. The main thing about printing Black and White is balance: trying to balance light and shade. When it comes to photography, I try and do the same.
Detail of the Bullring shopping centre Birmingham. Photo: Adrian Ensor
I am also interested in a narrative: telling a story in a series of pictures. In my landscape work, I'm trying to get a sense of place. I was doing a project in Ostende, Belgium, which entailed doing a series of night shots of the landscape, and while I was there I came across a photograph taken by David Heald of the Guggenheim Museum in Bilbao. I remember it so well: it was a shot looking down a street and at the bottom of the street was the incredible building. It reminded me of photographs taken in the fifties and sixties where, at the bottom of a street of terrace houses, there was a big ship being built.
So I went to Bilbao and tried to capture the narrative of this building. Looking at the negatives when I got back and the abstract quality of the images, I knew exactly how I wanted them to look like in the print. I am not an architectural photographer but I like to use buildings as a subject matter.
I think the framing and style is very personal, I frame a picture that works for me. To quote the famous American photographer Alfred Stieglitz: 'The image should reveal what you saw and felt at the time'.
---