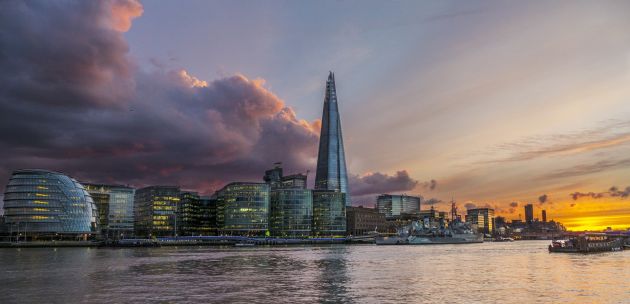 Renzo Piano is a renowned Italian high-tech architect and designed the Centre Pompidou one of the movement's most famous buildings
Now into his 80s, Italian architect Renzo Piano is showing no signs of slowing down. Amongst his most famous buildings are the Shard in London, the Centre Pompidou in Paris designed with Richard Rogers, and the Whitney Museum in New York.
Piano was a prominent figure in the high-tech architecture movement, which began in Britian before spreading across the world. Engineering, technology and the structural elements of architecture are both hugely important in his work.
Piano's work is characterised by a sense of lightness and transparency, which can be seen in the composition of his buildings. From the glass form of London's Shard to the floating roof of the Beyeler Foundation in Basel, his buildings have a way of seeming both consequential and lightweight, structurally innovative and contextually sensitive. Piano has spoken often about avoiding creating a 'signature style,' and his projects are vastly varied, though his work is often recognisable. Amongst other notable honours, Piano was awarded the Pritzker Prize in 1998.
Read more: Interview with Renzo Piano
Piano was born in Genoa, Italy in 1937 to a family of builders: his father, grandfather and four uncles were all in the construction industry. He grew up in and around building sites, enchanted by the idea that building was a worthwhile career, and that architecture was just an expression of the trade. He was also fascinated by boats, and has built his own throughout his life.
He studied architecture a the Milan Polytechnic in the 1960s, while also working on building sites for his father, and stayed on to teach after he graduated. Piano then worked for a long time with the legendary modernist American architect Louis Kahn.
In 1969 Piano moved to London with his wife and children, and there he met Richard Rogers and his then-wife Su Rogers. They teamed up and founded the studio Piano & Rogers.
In 1971 the small studio won a competition to designate Centre Pompidou, a major exhibition centre that was intended to revitalise Paris in the years after the student riots and demonstrations of 1968. Their winning design – created with the input of Italian architect Gianfranco Franchini and One Arup & Partners architects Peter Rice and Edmund "Ted" Happold – focused on ideas of transparency and flexibility.
The 10-storey building was designed with the services like elevator and corridors on the buildings exterior, which meant that the internal gallery spaces could be rearranged easily depending on the needs of the exhibition. Piano described it as an 'exercise in freedom.' By exposing the means by which people moved around the building, it made visiting the gallery a theatrical experience. People come to see other people, as well as to see the art.
The building's exterior is comprised of huge quantities of prefabricated steel components. The exposed structure is colour-coded for purpose: yellow for electricity, blue for the air-conditioning, red for escalators and elevators and green for water pipes.
After the Centre Pompidou was completed, Piano and Rogers went their separate ways and though they remained friends they never worked on another project together. Piano stayed in Paris, and is still based there today. He opened up his own studio, Renzo Piano Building Workshop.
Soon after the Pompidou, Piano went on to work on another impressive art gallery: the Menil Collection in Houston, Texas. The building allowed huge amounts of natural light into the gallery spaces, which are arranged around a central winter garden. He also completed the Kansai International Airport in Osaka, Japan in 1994. It is the world's longest airport terminal, stretching 1.7km.
Read more: Renzo Piano at Kansai International Airport
London's Shard, which opened in 2012, is named after the eight sloping glass facades that make up its body. The Shard marked the beginning of a regeneration effort in the London Bridge area. The Shard was Piano's first British commission and combines offices, the Shangri-La Hotel, luxury residences and restaurants into a tower that Piano describes as a 'vertical town'. Its viewing terrace has become a popular tourist attraction.
He has since also completed Central St Giles, a series of colourful office buildings that houses Google, NBC Universal and Mindshare and centres around a shared piazza. He also designed the Whitney Museum of American Art and the unusual looking Pathé Foundation in Paris – an 'organic creature' made of glass with arcing timber ribs. As wel as cultrual buildings, he has undertaken affordable housing projects in Paris: the Rue de Meaux is a complex with 220 low-cost residential units.
Amongst his current and ongoing projects, Piano is finishing off the replacement of the Genoa Ponte Morandi Bridge, which is scheduled to be finished in 2020 and the Academy of Music of Motion Pictures in LA.
As well as the Pritzker Prize, Piano has also received the Royal Gold Medal from RIBA, the Erasmus Prize, the Praemium Imperiale, the AIA Gold Medal and the Gold Medal for Italian Architecture, amongst others.
---